Today I finally made a trip to Stroudsburg PA. I have been interested in Stroudsburg for quite some time because it is as close as you can get to New York City while still being in Pennsylvania. Stroudsburg might be the ideal city for me. If I lived in Stroudsburg I would enjoy a low cost of living while being able to make trips to New York City as often as I want. It would cut two hours from the travel time. I have seen the signs for the Stroudsburg exits on every bus trip to New York City. As a matter of fact, my next trip to NYC is in just two weeks on June 28th, 2014.
Downtown Stroudsburg is impressive with an attractive main street. There are several Irish pubs and retail establishments. There were plenty of benches to sit on and you could cross the streets using modern pedestrian traffic signs. I parked on Ann Street and 9th Street where there was a small stripmall and a few farmer's market stands set up.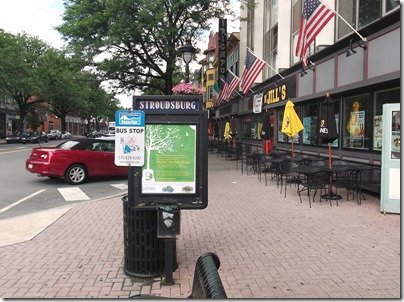 I took many photos of various establishments on Main Street because I couldn't always find any decent photos online. I took a good photo of Jock N Jill's Sports Bar, Sarah Street Grill, Cedar's Mediterranean Grill, and Marco Antonio's. I walked on each side of Main Street twice to make sure I had plenty of photos to use for my custom travel guide. I arrived in Stroudsburg at around 9:00 a.m. so I had to wait until 10:00 a.m. for most stores to be open. At 10:15 a.m. I went into Carroll & Carroll Booksellers because I can never resist a bookstore. I bought a two volume set of the Italian playwright Dario Fo's plays, a rare find, but it was expensive, almost $40.00. I wanted to buy a copy of the local newspaper, the Pocono Record, but I had quite a struggle with a newspaper vending machine so I had to go into a corner tobacco shop to buy a newspaper for further research.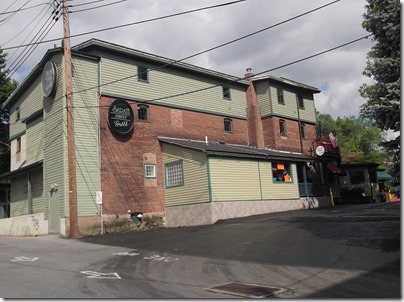 I was going to have lunch at a downtown restaurant, Marco Antonio's, but it didn't open until noon so I decided to skip it. When I returned to my car with my books and newspaper, I cut short my stay in downtown Stroudsburg and proceeded to follow my detailed instructions on how to drive to the Frazetta Art Museum in East Stroudsburg. It was an annoyingly complicated route but fortunately Google Street View helped me to plan my route. I had to cross Pocono Creek, drive through East Stroudsburg, and drive quite a ways along Milford Road.
The Frazetta Art Museum was an amazing discovery I made while researching my trip. Frank Frazetta was an artist famous for his fantasy artwork used for pulp paperback book covers. I am quite familiar with his artwork for the Edgar Rice Burroughs books, especially the John Carter of Mars series, and his many Conan the Barbarian book covers. The art museum has the original paintings for these book covers in livid color. They even had many Edgar Rice Burroughs and Conan the Barbarian paperback books on display. This art museum is a must for any science fiction or fantasy fan and it was especially appealing to me because I have such fond memories of those paperback book covers. It is amazing that such a nifty museum was only two hours drive away from me and I never knew about it until now. This just goes to show how worthwhile it can be to explore your home state.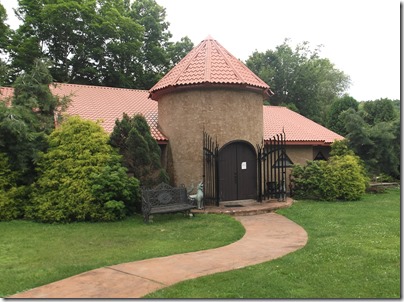 I was the only visitor at the Frazetta Art Museum and I think it was Frank Frazetta's son who welcomed me. I think the museum has only been open for a month. I hope they get enough visitors to keep the place open. After leaving the art museum I did stop in at Pocono Candles but after that I just wanted to go home so I found my way to Interstate 80. I regret not spending the entire day in Stroudsburg but there didn't seem to be much more for me to do there.
To make up for my early departure, I forced myself to make a detour in Danville and finally visited Mom's Dutch Kitchen, a rustic restaurant which I've often seen on bus trips to New York City because the bus would pick up passengers across the highway from this restaurant. Mom's Dutch Kitchen serves PA Dutch cuisine so I ordered a breakfast platter with scrapple. The scrapple was surprisingly good. Scrapple is usually something to avoid eating, but it is a genuine regional specialty. I'm pleased that I am making progress in my exploration of the region. It will definitely help me the next time I need to look for a job.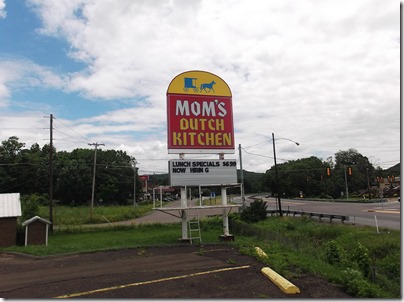 I plan to continue my research on Stroudsburg PA. I may even make more trips to the Pocono area. In order to establish a relationship with the Poconos, I plan to look for a web development client in Stroudsburg. There does not appear to be much IT work in the area, but I will dig real deep to find the key to moving to this city.