By my sixth and last day in Venice I had run out of things to do. I had done all the things listed on my itinerary. I wanted to do less walking this day but I still had to leave the hotel while my room was being cleaned. The first thing I did was walk up Calle Fabbri to see how to reach the Rialto Bridge that way. I should mention that this street had many modern stores. It was a narrow alley but the stores looked similar to what you would find in a mall. I found this aspect of Venice to be especially surreal. Venice was like the fusion of a shopping mall with cramped medieval streets.
I had to find something more substantial to do so I took a vaporetto to the San Samuele stop (line 2) and waited a half hour for Palazzo Grassi to open. Palazzo Grassi is a museum of contemporary art. I was the first visitor of the day so I wandered the empty galleries all alone except for the museum staff who made me slightly nervous. The first thing I saw was an immense white room designed to give no sense of perspective. You were allowed to walk into this white void but I decided not to. There was also some artwork made from neon tubes and a giant video of a nuclear explosion, the usual conceptual art crap. I liked the special exhibit of black and white photos better. This was L'Illusione della Luce e Irving Penn. I'm not familiar with the major photographers so I  will have to google Irving Penn. His work has been exhibited internationally, and continues to inform the art of photography. Well that is certainly true since I saw his work exhibited in Venice! Penn's repertoire also includes ethnographic photographs from around the world. True, I saw many photos of tribes people. I was most pleased to see his photograph of Tennessee Williams.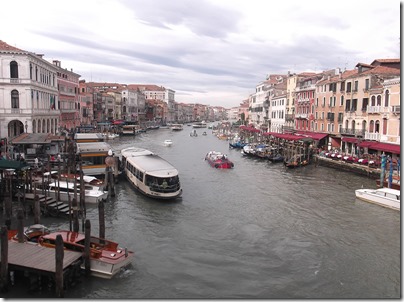 After leaving Palazzo Grassi I took a vaporetto to the Accademia stop and found Campo Santa Margherita where I had a cappuccino at a small cafe. I had to go inside to pay for my drink. Then I took a vaporetto to the Ca d'Oro stop and walked along Strada Nova. Strada Nova is a long street lined with stores in a part of Venice I had not seen yet. I saw a statue of Paola Sarpi which I had not encountered in my research. I found a restaurant that appeared to cater to tourists and ordered salmon and prosecco. The waiter put a basket of bread on my table and some sparrows began to fly onto the table to eat the bread. I found this very amusing and even some tourists passing by noticed it and had a laugh. There was a street performer nearby who was painted entirely in gold and wearing a top hat, one of those living statues. Why would anyone want to stand stock still in the hot sun for just a few coins? I was given a carafe of prosecco which was half full and I drank the entire thing which left me slightly drunk.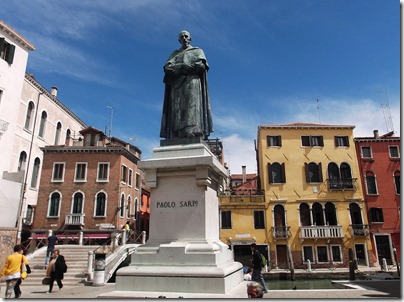 After lunch I walked back to the Rialto Bridge area and crossed the bridge to return to Piazza San Marco. With nothing better to do I went in search of a square I had not seen, Campo Santa Maria Formosa. I walked pass the laundromat where I had washed my clothes so I took some more photos of that. When I got back to Piazza San Marco I spent some time taking carefully composed artistic photos since it was my last day. I took lots of photos where the streetlights fill the foreground and something like the bell tower fills the background. I then found the Palazzo Contarini del Bovolo again to take more photos in better lighting and I located the Teatro Goldini again. I don't think I had anything for dinner on my last day in Venice.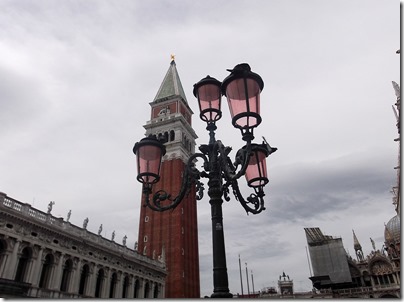 I might as well describe how I left Venice the next day. I forgot to mention that I did go to a ticket booth near the Royal Gardens to buy an Alilaguna ticket for the airport for 15 Euros. I bought that ticket the day before because I was worried that the ticket booth would be closed early in the morning, as in fact it was. I checked out of my hotel just before 7:00 a.m. and did not have breakfast because I wanted to leave plenty of time to reach the Marco Polo airport. I dragged my suitcase across the Piazza San Marco to the San Marco vaporetto stop which also has a pontoon for Alilaguna boats. I had to wait quite a while before a boat showed up. The crew just shouted aeroporto to make sure you knew they were going to the airport. It took over an hour for the boat to reach the Marco Polo airport because there were several stops along the way. The boat even went to the islands Lido and Murano before reaching the airport dock. I was a little worried I would not make it in time for my flight but my plane did not leave until 11:35 a.m. so I had plenty of time to get there.
After arriving at Marco Polo airport there was a long walk to reach the terminals. I just followed everyone else but it was a long ways to drag my luggage. Once inside I had to check in and get my plane ticket. I checked one bag in so I only had to lug my carry on satchel around. Then there was passport control and security which was slightly easier than security in American airports. By this time I was starving but I had time to get something to eat so I went upstairs and found a Bricco Cafè. I had a cotto baguette (prosciutto or ham) and a bibita media (a medium drink). There was a bookstore up on the second level which tempted me but I did not buy anything. I had to wait at the gate for a long time but I did get one of the few seats. As usual, they loaded the plane by zones and my zone was practically the last one called. I saw they were conducting random security checks of passengers but fortunately I was not stopped. The man in front of me dropped his coat in the walkway, or jetway I think they are called.
During the flight the pilot keep pointing out things we could see out the windows like the Alps or the Eiffel Tower. He was the chattiest pilot I've ever encountered. I was able to finish watching the movie Wolverine during the flight. That movie makes me want to make a trip to Tokyo. I also watched Captain Phillips which was sort of travel related and most of Goodfellas which I didn't particularly like.
When I finally got off the plane at Philadelphia International Airport I had to go through passport control. I can never remember this process so I will try to describe it. There were several lines for the booths and I remember there was a scrolling LED sign indicating which line you should be in for US citizens. We were given a U.S. Customs and Border Protection Declaration Form 6059B on the plane before we even took off so I already had that filled out. Then I went to the baggage claim area and found my checked bag. Then I went through customs which was just a line where you handed them the form.
I had considerable trouble finding a bus for the Economy Parking Lot. I will have to study the airport layout some more because when I left the terminal I had no idea where I was. I must have walked all the way around the terminals before I found my way to the familiar F terminal where I got on a shuttle for the Economy Parking Lot. Parking for two weeks cost me $165.00 which I paid with a credit card. One thing I had studied very carefully was how to get on the right highway from the Economy Parking Lot exit. It requires a difficult left turn across traffic and then another immediate left turn onto Interstate 95 South. I almost followed my directions but I did not turn left soon enough so I had to turn around. I hate driving around Philadelphia because I always make driving mistakes there! But after that I managed to make the correct turns to reach the Pennsylvania Turnpike.
Except for the blisters on my feet, my trip to Italy was perfect. There were only a few slight annoyances which is about the same for domestic trips. I made some improvement in my travel smarts by doing some laundry on this trip. But I still need to work on my Philadelphia International Airport knowledge.