On the fifth day of my stay in Venice I took the vaporetto to the San Toma stop. I found the Scuola Grande di San Rocco but the woman in the booth told me it was closed. She did not speak English well enough to explain why it was closed. That was the only instance of a complete communication breakdown. Of course I saw the nearby church, Chiesa di San Rocco, but I didn't attempt to go inside.
I wandered around the San Polo sestiere for quite awhile until I found one of the Chorus churches, sixteen churches managed by Associazione per le Chiese del Patriarcato de Venezia.  I know it was a Chorus church because they gave me a map but its hard to identify which church it was. I'll have to guess it was San Giacomo dell'Orio because I remember thinking I had strayed too far north. According to my photos I definitely came across the church Chiesa di San Giovanni Decollato, vulgo San Zandegola which would not have been far from that other church.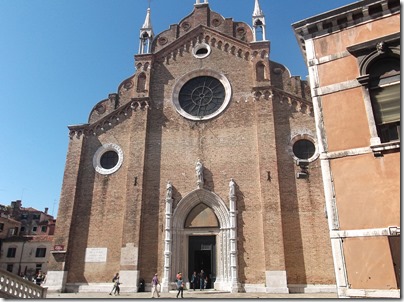 I also saw Campo San Polo and Chiesa di San Polo which I did not try to enter. And then I found the Basilica di Santa Maria Gloriosa dei Frari which was definitely on my list of places to visit. I saw Titian's masterpiece, Assumption, at the Frari and the tomb of Antonio Canova.
Eventually I found Carlo Goldoni's House but it was very difficult to find. This was another museum covered by the VeneziaUnica City Pass. Carlo Goldoni was Venice's greatest playwright in the 18th Century, the 1700s. I have only read one of his plays in translation, The Coffee Shop. The museum was fairly small with just a few rooms but it had a puppet theater which was interesting.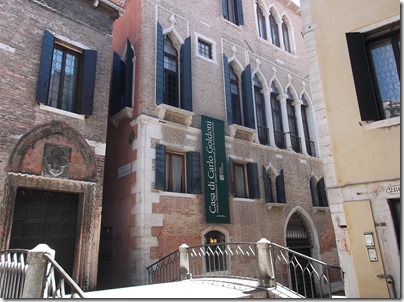 After leaving Carlo Goldoni's House I was ready to get out of the San Polo sestiere since I was getting too lost there. At some point I found a farmacia and bought more aspirina. I needed to keep taking aspirin due to the blisters on my feet. After crossing the Rialto Bridge I found a vending machine where I bought a bottle of Coke because I was very thirsty. Unfortunately the bottle of Coke erupted on me when I opened it because the bottle had been shaken as it fell in the vending machine. I had to go back to the hotel to get sticky coke off my fingers. I remember one of the hotel staff surprised me in my room because it was too early in the day.
When I went back out I went to Pier Dickens on Campo Santa Margherita where I ordered four cheese pasta and a seafood salad. After lunch I walked all the way to the San Marta vaporetto stop. This was clear across the Dorsoduro sestiere so I must have walked very far west from Campo Santa Margherita.  I saw some cruise ships docked along Calle Dietro Ai Magazzini and there were even cars in this part of Venice. But I had strayed far from the tourist areas. I took a vaporetto to Piazzale Roma and from there I got on another vaporetto to Stazione FS Ferrovie. Finally I got on a vaporetto which went down the Grand Canal to San Marco. I was done for the day because all that walking was torture for my aching feet.