I began my fourth day in Venice with breakfast at the hotel. I had yogurt, cheese and a small croissant, coffee with milk. I took a vaporetto to the Accademia stop and quickly found the entrance to the Peggy Guggenheim Museum because I used Google Street View the previous evening to figure out where it is located. I made sure to take several photos of the entrance because it bugs me when I have to hunt for something despite my efforts to be well prepared. But then I had to wait on a park bench at Campo San Vio until 10:00 a.m. for the museum to open.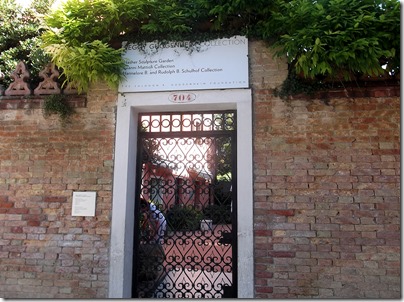 Although I would have visited the Peggy Guggenheim Museum anyways since I like modern art, I had an additional reason to be interested in the Palazzo Venier dei Leoni. Luisa Casati, an eccentric Italian heiress, muse, and patroness of the arts in early 20th century, used to live there. I read a book about her life, Infinite Variety: The Life and Legend of the Marchesa Casati. I took a few photos of the Peggy Guggenheim Museum garden before wandering through the galleries. I also went out on the terrace for the view of the Grand Canal. I didn't find any books in the gift shop that I had to buy.
After that I proceeded to yet another museum, Ca' Rezzonico. I was able to use my Venice City Pass again so I really got some value out of it. At Ca' Rezzonico I saw many rooms in the palace and there was an extensive art gallery of old paintings. I only found Emma Ciardi's work striking enough to memorize her name.
From Ca' Rezzonico I was able to find Campo San Barnana. This is the square where Katharine Hepburn falls into the canal in the movie,  Summertime. I liked that movie because it was about a lonely American on vacation in Venice. You could see the shop on the square where she buys a Venetian glass but it is a magic shop now. I also found the bridge nearby, the Ponte dei Pugni, and after crossing the bridge I found Campo Santa Margherita. There are many restaurants on Campo Santa Margherita so I had lunch at Pier Dickens. I ordered sardines and spaghetti with cuttlefish ink. It was a messy meal but probably the most authentic Venetian cuisine I ate in Venice.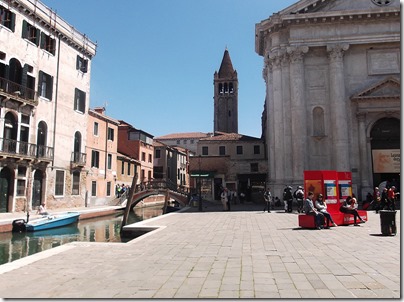 After lunch I went further up the Grand Canal, pass the Rialto Bridge to Ca d'Oro. This museum was a little disappointing but you do get a good view of the Grand Canal from the palazzo's Byzantine loggia. When I left Ca d'Oro I wandered around until I found Santi Giovanni e Paolo, a large church, which I entered. This church has a vast interior which is filled with funerary monuments and paintings. From there I eventually found my way back to Piazza San Marco.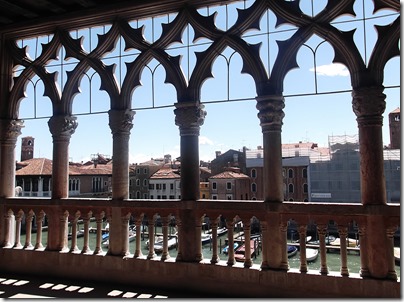 I bought some gelato in a cone on my way to the hotel but walked pass it to find the Goldini bookstore where I bought a Touring Editore travel guide on Amsterdam. Amsterdam will be my next destination in Europe but it may be several years before I can afford another extravagant trip. I must have returned to the hotel to put the book in my room and then I went out again to have dinner at a restaurant on the Riva degli Schiavoni. I just choose a tourist restaurant at random and had a pizza and a lemon soda. The final landmark I searched for that day was the Palazzo Contarini del Bovolo, famous for its spiral staircase. It was not far from my hotel and there were signs pointing the way.