I began my second day in Venice with breakfast at the hotel. I had yogurt, scrambled eggs and bacon. Coffee was something they served and I had a cappuccino. I planned to visit several museums on Piazza San Marco since it would be easy to find everything in the vicinity.
First I tried to visit the Correr Museum at 9:00 a.m. but it was not opened promptly. So I went up the Campanile instead but I was wearing the wrong pair of glasses. I have prescription glasses and reading glasses that I use when working on the computer. I accidentally left the hotel wearing my reading glasses. There is a small building located at the base of the bell tower known as the Loggetta. I was unable to find any decent photos of the Loggetta online so I made sure to take lots of photos of it. It bugs me when I have to spend a lot of time searching for a photo of something while researching my trip. The Campanile gives you an excellent aerial view of Venice so I took lots of photos. There was a vending machine up there so I bought a bottle of water.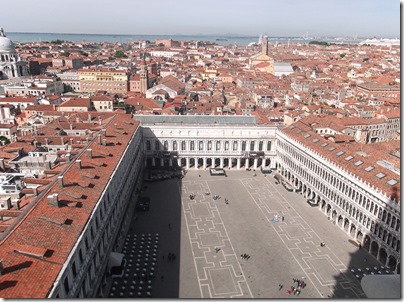 I then tried to find a laundromat based on directions I found online. I only packed three shirts for my trip and they were getting kind of grungy by the second week. Unfortunately the laundromat was hard to find so eventually I gave up. But I did find a farmacia and bought some more stuff for the blisters on my feet. I went back to my hotel to get my prescription glasses.
I returned to the Correr Museum which was finally open. I also saw visited the National Archaeological Museum and the Monumental Rooms of the Biblioteca Nazionale Marciana which are connected to the Correr Museum. I used my VeneziaUnica City Pass which I bought online. I just had a print out of the PDF but that got me into many museums so I got my money's worth. At the Biblioteca Nazionale Marciana there was a special exhibit, Il Mondo Fantastico di Fosca. The "Fantastical World of Fosca"was a set of anthropomorphic animal drawings illustrating the history of the library. Fosca must be a contemporary Venetian artist. http://www.foscaworld.com/biography.html I only took one photo in the National Archaeological Museum where there was an Egyptian mummy in a small room which looked secluded enough for sneaking a photo.
After than I went to the Doge's Palace which is also a museum. My VeneziaUnica City Pass got me into the Doge's Palace as well. I saw the courtyard which you can only see with admission and the Giants' Staircase, although that was roped off. I'm not quite sure if I saw everything in the Doge's Palace but I did find the Doge's Apartments and the Senate Chamber. I followed a large tour group, French I think, and crossed the Bridge of Sighs, where I got a view out the window, and saw the prisons.
Next I visited St. Mark's Basilica which is free to enter since it is a church. But I did pay to see the Treasury, the Pala d'oro, and the St. Mark's Museum with access to the roof. You were not allowed to take photos but I saw many tourists disregarding the signs so I took a few photos as well. Of course, you can take as many photos as you like from the roof. I saw the original Triumphal Quadriga or Horses of St Mark's in the museum. I bought a Venice travel guide in English at the St. Mark's Museum store, mostly for the map which was not very detailed.
I had lunch at Caffè Florian. Caffè Florian is super expensive but very classy. They even charge for the musicians playing if you sit outside, supplemento musica 6 Euros. I ordered club sandwiches and peach ice tea. The whole thing cost me 32 Euros. But I think it is worth it to get an essential Venetian experience. Just don't take all your meals on the Piazza San Marco.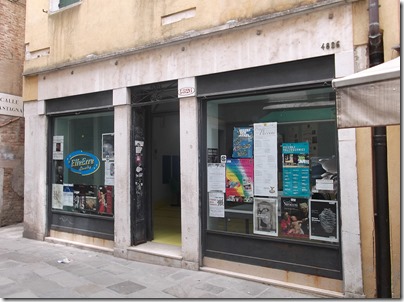 After lunch I made another attempt to locate the laundromat Effe Erre and finally found my way to it. I rushed back to my hotel and packed my carry on bag with dirty clothes. Then I retraced my steps to the laundromat. Some locals or maybe young backpackers helped me with the washing machine. I don't think I've ever gone to a laundromat in my life so I had no idea how the procedure may work. The washing machines and dryers in Europe are very modern. You have to buy soap from a dispenser and then put it into the top of the washing machine. There were instructions in English so I might have eventually figured it out on my own. It took about an hour to wash and dry my clothes. They didn't even wind up totally clean or dry. But I was immensely proud of myself for getting this taken care of. This was a huge advance in my travel smarts. Of course, I had to return to my hotel to drop off my carry on bag before going out again.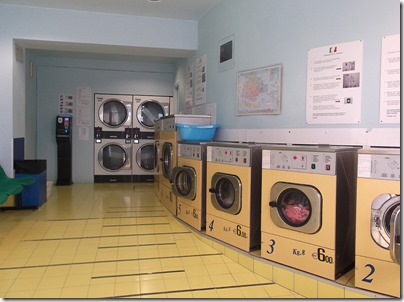 I went to Harry's Bar and ordered a Bellini and grilled ham and cheese sandwiches. The Bellini alone cost 16.50 Euros which is outrageous for a small drink. My total bill was 32.40 Euros. I only went to Harry's Bar because it is a famous establishment and I wanted to be able to say I've been there and done that.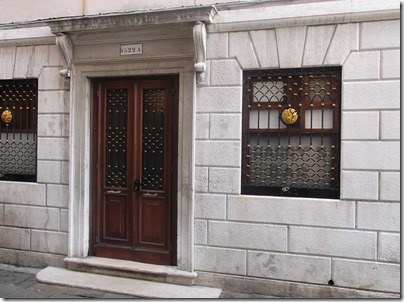 For the rest of the afternoon I walked far to the west until I found the Ponte dell'Accademia. I came across the Museo della Musica which has free admission. I saw lots of musical instruments in the museum, mostly string instruments like violins and cellos. I bought an opera DVD, La Traviata by Giuseppe Verdi, but I have not watched it yet. This opera was first performed on 6 March 1853 at the La Fenice opera house in Venice.