Sunday was my last day in Rome and my first day in Venice. So the initial goal for the day was to get from Rome to Venice. I checked out of my hotel in Rome around 8:00 p.m. without taking advantage of the continental breakfast. I had to pay a hotel tax in cash when I checked out but it was only two Euros per night I think so it only came to 14 Euros. I then went to the Roma Termini train station to wait for my train to Venice. I didn't have to drag my luggage very far because my hotel was very close to the train station. It was very convenient. While waiting for my train a female beggar with no nose pestered me so I gave her a coin. She was probably one of those Romani gypsies I've seen on every trip to Europe.
I had to wait until 9:50 a.m. for my train to Venice. I was way early but I did not want to miss my train. I waited until the departure board showed which platform it was arriving at. Boarding the train was much easier than I expected. First I had to find the right carriage which turned out to be the very last one. Then I just had to find my seat. There was plenty of storage racks for my luggage which I kept near me. Nobody said a word to me until long after we left the station. The train announcements were made in English and Italian. I got a free drink and a bag of cookies as a first class passenger. Eventually the conductor came through the train and only had to see my print out with its booking number. It was a high speed train and cost me $121.00 which I paid to ItaliaRail before my trip to Italy. It took most of the morning to reach Venice. The train went through many tunnels and I saw a bit of the Tuscan countryside on the way. Unfortunately I did not meet Angelina Jolie on the train to Venice like in the movie The Tourist.
When the train arrived in the Stazione di Venezia Santa Lucia my immediate concern was getting to my hotel. I didn't stop to take any photos or to look around until I got that done. I bought a €50/7-day pass for the Actv and then found a vaporetto heading towards Piazza San Marco. I had intended to go down the Grand Canal but unfortunately that vaporetto went down the Canale della Giudecca. It even made a stop at the Lido before I finally arrived at Piazza San Marco an hour later. This wasn't too much of a problem since I could not check into my hotel until 3:00 p.m. I dragged my luggage across Piazza San Marco and found Calle dei Fabbri, an alley just to the left of Gran Caffè Quadri. There were several twists and turns to Calle dei Fabbri before I found my hotel, Antica Locanda al Gambero, which translates to "Ancient Inn at Gambero". I was uncertain as to where the hotel entrance was because there is also a restaurant there but I found it around the back between the restaurant tables. I was able to check in right away and a porter carried one of my bags up to the fourth floor. I gave him a coin for that.
My room was much nicer than my room in Rome. It was a bit small and cramped but it had its own balcony. Unfortunately there was nothing to see out there except some roof tops. The room lighting was still a bit dim but not too bad. There was a room safe in the armoire but I didn't use it. I thought the room was rather stylish and a bit fancy. However, the climb to the fourth floor was very tiring for me. There was no elevator. During my stay I tried the television to see what Italian TV was like but I could only get a few stations. There was a SKY cable box which may have gotten more channels but I could not figure out how to use it. I wasn't there to watch TV anyway.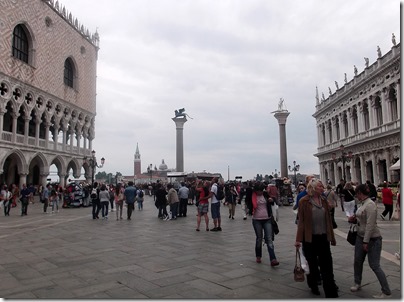 After unpacking a bit and freshening up, which certainly meant changing my padded socks to give my feet a fresh start, I went out to take some photos. I should mention that I had to turn my key in at the desk every time I went out. I first encountered this procedure at the bed and breakfast I stayed at in Montreal. I easily found my way back to Piazza San Marco where I took photos of the Campanile (the bell tower), the Loggetta (the elegant small building used as the entrance to the Campanile), the Torre dell'Orologio (Clock Tower), St. Mark's Basilica which was unfortunately half covered in scaffolding, and the Doge's Palace. I then walked along the Riva degli Schiavoni and crossed the  Ponte della Paglia where I saw the Bridge of Sighs. I also saw some famous hotels; Hotel Danieli, Londra Palace Hotel, and the Pensione Wildner. There are lots of tourist stalls along Riva degli Schiavoni and I bought a map at one of them. The map was in Dutch and not quite as detailed as I would like. My next trip to Europe will be to Amsterdam so I didn't mind having a map in Dutch. I walked all the way to the Arsenal before turning back. Going far in the other direction I found the Giardinetti Reali (Royal Gardens) a small park near Piazza San Marco and Harry's Bar.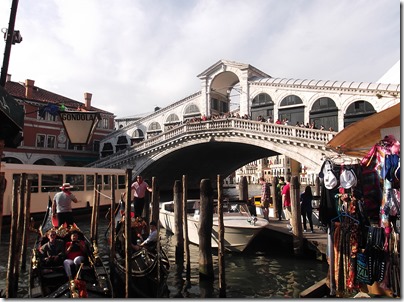 After that I must have tried to find my way closer to Santa Maria della Salute because my next photos show Chiesa di San Moisè followed by Teatro La Fenice. Then I must have gone to Campo Manin and even found my way to the Rialto Bridge which I crossed to find the San Giacomo di Rialto and the Hunchback of the Rialto, a granite statue of a hunchback. After that I went back over the Rialto Bridge and found Campo San Bartolomeo with its statue of Carlo Goldoni. From there I found my way back to Piazza San Marco.
I think I had dinner someplace on the Riva degli Schiavoni where I ate an entire pizza pie since I had not eaten much all day. Then I returned to my hotel. So I managed to see practically all the major sights in one afternoon in Venice. If you just want to photograph a few landmarks then you probably can do Venice in one day.