My goal on the fourth day of my week in Rome was to see the Spanish Steps and to visit the Galleria Borghese. I had a reservation for the Galleria Borghese at 1:00 p.m. so the day's planning had to work around that.
But first I went to the Despar grocery store and the Farmacrimi farmacia in the Roma Termini to buy some over-the-counter medicines and health supplies. I bought aspirin, cough drops (tosse sedativo), antacid, and stuff for my blisters (Compeed brand). I don't remember what I bought at Despar but it was a single item that I could put in my pocket which is why I was able to visit Farmacrimi afterwards. It was hard to find these items and I had to look up the Italian words the evening before. On my next trip I will do more research on pharmacies.
I took the metro Line A to the Spagna Station. Spagna is Italian for Spanish so it is actually the subway station near the Spanish Steps. It was hard to figure out where the metro entrance is located using the few photos I could find online so I made sure to take a few photos to show its location relative to the Spanish Steps. I was too early for the Keats-Shelley Memorial House or Babington's Tea Rooms so I walked down the Via dei Condotti. I walked pass Antico Caffã Greco but I didn't go inside. I just took a few photos of this famous café On my way to Piazza del Popolo I found the museum Casa di Goethe but I didn't go there because it is of more interest to Germans. After taking many photos of the Piazza del Popolo it was time to return to the Spanish Steps where the Keats-Shelley Memorial House would be open by then. I encountered a large group of teenagers entering the museum so I decided to wait until later and went over to Babington's Tea Rooms instead.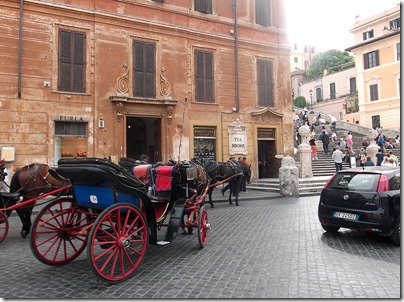 At Babington's Tea Rooms I ordered a traditional English Breakfast. This tea room was practically an institution on the Grand Tour but now it is popular with tourists. This was the largest meal I had in Italy and I could not finish everything. I remember I had American coffee instead of tea which I regret. Nobody came around with the check so I went up to the cashier to pay. I was kind of in a hurry to make it to the Galleria Borghese in time. After breakfast I went back to the Keats-Shelley Memorial House.
It only cost 5 Euros to visit the Keats-Shelley Memorial House but then there are only three rooms to see. I liked this museum because it was devoted to poets and the rooms were lined with books except for the bedroom of John Keats where he died. I didn't spend much time in this museum because there wasn't much to see and a tour group was expected.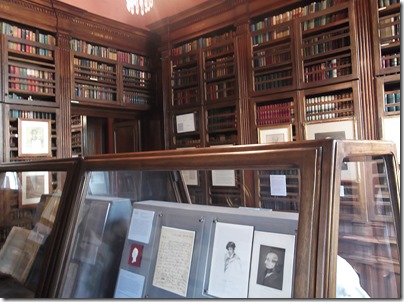 After that I decided to find the Galleria Borghese because it is located deep within a large park, the Villa Borghese. I was worried about not being on time for my reservation. I climbed the Spanish Steps and wasted some time taking photos of Rome from the road leading to the Villa Borghese since there is an excellent view from there. Although there are some signs in the Villa Borghese park it is difficult to find the Galleria Borghese. It was a long walk along many roads without always being sure I was going in the right direction. Fortunately I made it with over an hour to spare so I sat outside the Galleria Borghese until a half hour before my reservation time, 1:00 p.m. It was not obvious where the museum entrance was located. I saw several people turned away from the museum exit up a flight of stairs so I knew it was not up there. The museum entrance is actually below the staircase. I got a ticket after showing my email confirmation. I saw that they were sold out of tickets for that day and were only taking reservations for next week! So you would definitely be out of luck if you just showed up without a reservation. I had to go back outside and wait another half hour until it was time to enter the museum. I remember seeing some Germans having themselves a little picnic and I overheard a tour guide talking to some tourists in English while I waited.
I was uncertain as to where you actually enter the museum since I only saw the ticket booth when I first went in but the actual entrance is further inside there. No cameras or backpacks were allowed in the museum but I did have a camera in my pocket the whole time. Fortunately they do not search you or make you go through security. You are only allowed two hours in the museum. I spent the entire first hour on the top floor looking at old paintings and wondering where the famous sculptures were. It was not clear how to reach the bottom floor but eventually I found my way down there. This was probably the most frustrating museum to visit in Rome. I was just lucky that my visit went well. On the ground floor I saw the famous works of art which make the Galleria Borghese an essential part of any trip to Rome. I saw the Bernini sculpture Apollo and Daphne, his The Rape of Proserpina, Antonio Canova's Pauline Bonaparte, and the four Caravaggio paintings. Caravaggio is one of the most famous painters in art history and seeing his masterpieces in Rome is considered a must.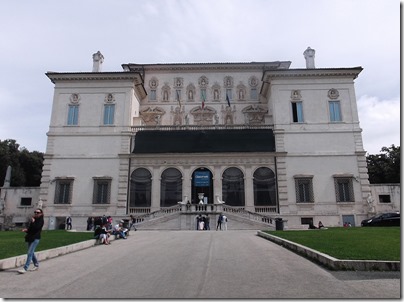 After leaving the Galleria Borghese I spent some time exploring the park. I saw the small Temple of Asclepius in the middle of a lake. Eventually I found the Museo Carlo Bilotti, a museum I wanted to visit because they have many paintings by Giorgio de Chirico. Visiting this museum was also slightly frustrating because there was virtually nobody there and the admission procedure was ridiculous. A man on the museum staff helped me to get a ticket. First I had to feed a 10 Euro bill into a machine to get 50 Euro coins in change. Then I had to feed 8 Euros worth of 50 Euro coins into another machine to print out a ticket. That was sixteen coins I had to feed into a machine! The museum was actually quite small and contains little of interest except for one Andy Warhol print and the Giorgio de Chirico paintings. But Giorgio de Chirico is one of my favorite painters because his work is so mysterious and metaphysical.
When I finally left the Villa Borghese park and back tracked my way to the Spanish Steps. I think I took the metro to the next stop, Piazza della Repubblica. Or did I walk to Piazza della Repubblica? No, I'm pretty sure I walked from there to the Roma Termini. I found the Fontana dell'Acqua Felice and the church Santa Maria della Vittoria which I entered to see the Ecstasy of Saint Teresa by Bernini. After returning to the Piazza della Repubblica I entered the Basilica of Santa Maria degli Angeli e dei Martiri which is a vast Catholic church built within the remains of a vast Roman Bath.
When I walked to Roma Termini I saw two museums which were not far from my hotel; the Baths of Diocletian (National Roman Museum) and Palazzo Massimo alle Terme which I would visit later on in the week.
I had supper at Ristorante Donati again. That evening I had pork and something fried with cheese that was really good, probably the only exceptional thing I ate there. Ristorante Donati was convenient but not someplace any foodie would want to visit.