Yesterday I made my annual bus trip to Washington DC. I keep going to Washington DC in April because the local bus company offers a trip for the Cherry Blossom Festival. I may go on an overnight trip to the Washington DC area in the summer. My goal is to spend less time in the museums and more time exploring the city itself. But on this trip I did go to the International Spy Museum because I found it on a previous trip. The International Spy Museum is close to the Smithsonian American Art Museum which I visited on that previous trip.
I made more extensive use of the Metro on this trip. The bus left us off in front of the National Air and Space Museum and I walked to the Smithsonian Station. I happened to notice that there is an entrance to this station on the National Mall itself so I did not have to walk a block to the entrance on the corner of Independence Avenue and 12th Street. I bought a One Day Pass for $14.00 and got $1 coins in change for a 20 dollar bill. You rarely see $1 coins in circulation so this was a bonus. It took me several attempts to use the paper fare card. Eventually I figured out that the magnetic strip needs to be facing up. I will scan the fare card and update my notes. I made three different trips on the Metro. To get to the International Spy Museum I took the Blue Line going in the direction of Largo Town Center to the L'Enfant Plaza Station. There I transferred to the Green Line going in the direction of Greenbelt to the Gallery Place Station. I tried to look at the Metro map in my notes using my smartphone but it was a PDF and my smartphone does not display PDFs. So I have to convert that into an image.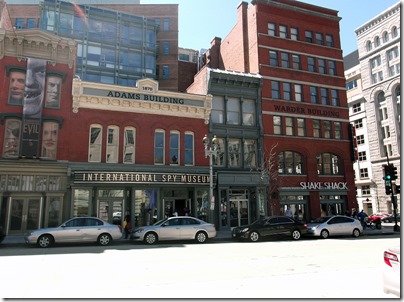 I noticed a Shake Shack next to the International Spy Museum. Shake Shack is a famous burger joint in NYC which is expanding into other East Coast cities. There is always a long line for Shake Shack in NYC so I only ate there once at their Madison Square Park location. Although many Smithsonian museums in Washington DC are free, it costs $20.95 to enter the International Spy Museum. But I figured I better learn more about counter-espionage now that we are living in a mass surveillance police state. The museum's exhibits cover spying throughout history with an emphasis on Cold War spies and spying during wartime. The ground floor was devoted to James Bond. I have most of the Bond films on DVD but I saw some unfamiliar clips and memorabilia from a Pierce Brosnan film. It may have been the Die Another Day film which I have so I'll watch that movie soon.
At the spy museum bookstore I bought two books; The Snowden Files by Luke Harding, because I have been following this story in the technology forums of Reddit. And I bought an autographed copy of Among Enemies: Counter-Espionage For The Business Traveler by Luke Bencie. This was a book I saw on their web site but it took me awhile to find it in the museum store. I don't suppose I need to worry on my trip to Italy since I am a tourist and not a business traveler. Programmers can potentially be the victims of targeted espionage if they are math geniuses working in cryptography, but I don't do anything terribly advanced.
After leaving the International Spy Museum I used the Metro to go to Dupont Circle, my first venture into a Washington DC neighborhood. I took the Red Line in the direction of Shady Grove to the Dupont Circle Station. I forgot to mention that it can be difficult to tell if you are on the right platform for the direction you want. I think the top part of the signs tell you in which direction your platform will take you while the bottom part of the sign indicates the direction of the opposite platform. But I find this a little confusing. In the NYC subway the signs only pertain to your platform.
When I emerged at Dupont Circle I was quite close to where I wanted to be so I only had to get my bearings. First I had lunch at Raku, an upscale Asian Diner. I had considered a French restaurant called Bistrot du Coin but Raku was right there and I was parched. I tried to order Saki but had to settle for a glass of beer. I also ordered their Bento Box special of the day; an interesting candy box of exotic Japanese food. There was some raw fish which I did not care for, but also some fried chicken and one fried scallop. The pickled cucumber shavings were tasty. And of course there was some sticky rice. I had to eat everything with chopsticks but fortunately they were the kind of chopsticks that are stuck together making them easy to use as a clamp. That meal came to around $27.00 with tip.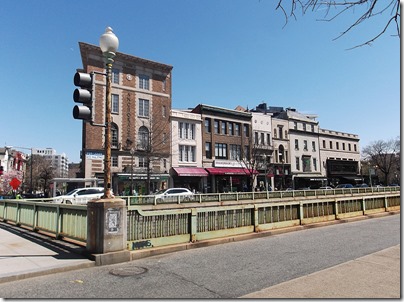 Then I went just around the corner to Kramerbooks where I bought Living Language Italian: Essential Edition for $29.95. They were having trouble with their cash register and could not accept credit cards, but fortunately I was planning to pay with cash. It is a bit late to be learning basic Italian for my trip but I did make a custom CD on Italian numbers. This CD combines audio ripped from videos, spliced audio snippets, and children's songs on the numbers. Making the CD presented several technical challenges so I added a few tips and tricks to my media notes. So far this CD does appear to be effective in training my ears to hear the numbers. I listen to this CD on the drive to work.
Before leaving Dupont Circle I walked around the park and took photos of a few mansions and the fountain. There was a Books-A-Million store on Dupont Circle which tempted me but I had just been in a bookstore. Books-A-Million replaced the Borders at our local mall so I know what sort of selection they have. I could have walked along Embassy Row taking photos of the embassies but the interesting embassies like France, Italy, and England were all far away. I decided to head back to the National Mall because I wanted to see some Titian paintings at the National Gallery of Art. Just the day before I finished reading the book Titian: The Last Days by Mark Hudson. I bought that book on my trip to London. Titian was one of the most famous painters in Venice so I was reading that book to prepare for my trip.
I spent around two hours at the National Gallery of Art. I rushed through several galleries without looking at anything until I found a gallery filled with paintings by Titian. A few of these paintings were described extensively in the book so it was thrilling to see them in real life. You appreciate things more when you know their history. I also found a few other Italian paintings mentioned in the book like The Feast of the Gods by Giovanni Bellini and Titian. The National Gallery of Art has a recently acquired Van Gogh which had a crowd around it. I unexpectedly came across The Family of Saltimbanques by Pablo Picasso. I recognized this painting immediately because I have a framed print of this Picasso. However, I framed it myself and not very well. I did not know that the National Gallery of Art had this painting in their collection.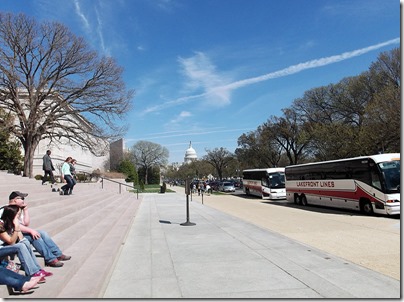 I also saw the Garry Winogrand special exhibit. I'm not very familiar with professional photographers so I've never heard of Garry Winogrand or seen his work. But he took lots of interesting photos, mostly character studies of average people in America's major cities during the 1960s and 1970s, so that was entertaining. My favorite photo was the monkey in the convertible on Park Avenue. A monkey in your photo will always make it a more interesting shot.
Before leaving the National Gallery of Art I bought a book on Titian at their store. Titian by Ian G. Kennedy, published by TASCHEN. I wish I had this book when I was reading Titian: The Last Days by Mark Hudson because it has many full color photos of the paintings which I had to look up on the Internet. I buy lots of books on my trips but I don't always get around to reading them. There are several books I bought on previous trips to Washington DC which I have not read yet.
In conclusion, I should mention some observations that may be of interest to anyone planning a trip to Washington DC. The scaffolding has been removed from the Washington Monument but you still can't go up the Washington Monument. They are building a new museum near the Washington Monument. It will be a Smithsonian museum on African Americans.