Yesterday, March 15, 2014, I made my first trip to New York City in 2014. I have not gone anywhere since my New Orleans vacation in October. I have been very bored. I have been busy preparing for my major trip to Italy in two months so I didn't do much preparation for this trip to NYC.
I did visit another borough of New York City this time. I went to Queens to visit the Museum of the Moving Image. I took the R train from 7th Avenue and 49th Street to Steinway Street in Queens. The museum doesn't open until 11:30 a.m. on Saturday and I arrived over an hour early. I wandered around a few blocks trying to find the museum. I did find the Kaufman Astoria Studios and the Frank Sinatra School of the Arts High School while looking for the Museum of the Moving Image. I had a cheese danish and a coffee at a nearby Starbucks while waiting for the museum to open. I also made another unnecessary walk around the block. I don't think there is much to see in Queens except an endless number of shabby storefronts, but the Queens Plaza might be interesting.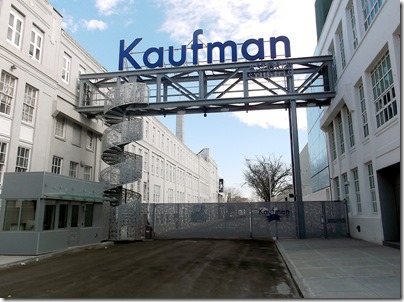 The Museum of the Moving Image wasn't terribly interesting. I would rank it as one of the minor museums in New York City which you should only visit after seeing all the major museums in Manhattan. Only one floor of exhibits was open so I probably only spent a half hour there. They did have lots of old movie industry photos which were interesting. They had a collection of video arcade machines which doesn't seem to have a relationship to the movie industry. Well I guess that qualifies as "moving images". The neatest thing I saw was a model of a movie theater in the design of the old movie palaces. It would be cool to own such an elaborate theater model for puppet shows. I wasn't going to buy anything at the museum bookstore but I did see a small book on Samurai Films. I have a collection of samurai films on DVD so I bought this book for under $20.00.
After leaving the museum I walked to the elevated train tracks for the subway and took the N train back to Manhattan. My next destination was the Rizzoli Bookstore where I wanted to buy more Italian language materials. I bought a copy of Chi and Gente magazines, Italian gossip magazines. Chi is the Italian question word for Who? and Gente is Italian for People as in People magazine. I am mildly fascinated by foreign gossip magazines since they reveal who the contemporary celebrities are in that culture. I also bought a Michelin Guide to New York City published in Italian. This book cost me $40.00 which is ridiculously expensive. I should have checked the price before buying it. I can obtain any Italian book or DVD at a reasonable price from Amazon or Deastore. A few Italian companies sell things on Amazon without charging extra for shipping and Deastore offers free international shipping. Anyway, I bought this Italian guidebook to New York City because it will give me the Italian vocabulary for many things that I am very familiar with.
I continued my book shopping spree at Kinokuniya Bookstore near Bryant Park. I bought a thin Eyewitness Travel guide for Tokyo. I don't have any plans to make a trip to Japan. I wouldn't be able to read anything in Japan. You can't even guess what something means. But I do like various aspects of Japanese culture and you can experience Japan in New York City by going to various Japanese establishments. I know you can really expand your knowledge of the world by reading travel guides and discover lots of obscure things.
The final bookstore I visited was the good old Drama Book Shop which I now visit on every trip to New York City. This time I bought a thick paperback book from the bargain bin, Ridiculous!: The Theatrical Life and Times of Charles Ludlam by David Kaufman. I've seen this book in the bargain bin on every previous visit to the book store. The sales clerk said something I couldn't make out but he was probably glad they finally got rid of this book. I'm somewhat familiar with the Ridiculous Theater Company because I read a book of their plays. That book was one of the first theater books I ever bought and it made New York theater seem like a wild and wacky world of strange, creative people.
Since I did not prepare for this trip, I had nothing else on my itinerary after the book shopping spree. I did locate the Gotham West Market and took some photos since this building is too new to appear on Google Street View. I was tempted to have lunch at the Ivan Ramen's Slurp Shop but it looked too crowded with no place to sit. I did discover that they have public restrooms downstairs, always good to know. Another building I located was the Strand apartment building where there was a fire that killed a gay playwright. You can still see two boarded up windows in this high rise where the fire started. I took some photos of that because it is tragic if you go to New York City to pursue your playwriting dreams only to die in an apartment building fire.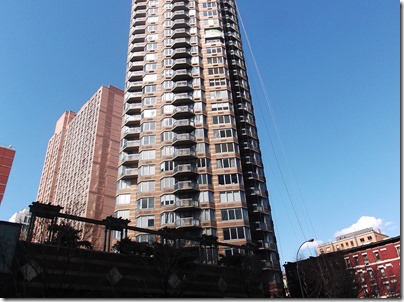 I have been doing a little research on Little Italy since I plan to visit Italy this year. So I walked to the Times Square subway station. I intended to take the Q train down to Canal Street but I accidentally got on the N train and got off at 8th Street – New York University when I realized my mistake. I should have stayed on that train to Canal Street. But I managed to walk down Broadway to Broome Street anyways. Broome Street is definitely in the Little Italy neighborhood so instead of walking to Canal Street I followed Broome Street to Mulberry Street and found the entrance to the Little Italy neighborhood where there is a large sign strung across the street. I took photos of Italian restaurants until I reached Canal Street and then I decided to see a little bit of Chinatown. From there I reached the Bowery so I decided to walk up that street to find the site of CBGB. I had recently watched the Alan Rickman film on Hilly Kristal and CBGB. This film made me a little sad because in the mid 1980s I was a big fan of Blondie and eventually New York City punk rock. Contemporary New York City is a completely different experience from anything the punk rock era suggests. I did walk pass a heavily graffitied building which is also seen in the movie so that was cool.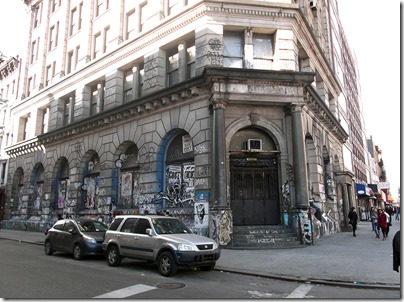 After photographing 315 Bowery, the site of what was once CBGB, I found my way to the East Village to see more vestiges of the New York City punk rock era. Of course, this was just a repeat of my other trips. I did get some great photos of the futuristic skyscrapers and buildings which have gone up in this neighborhood. I stopped in at Pinkberry again for some frozen yogurt and ate it outside while staring at Search and Destroy across the street. I saw an old punk rocker with a professional camera. He looked like a rock photographer but he wasn't taking any photos. I didn't spend too much time in the East Village. But I didn't take the 6 train to get back uptown since I now know how crowded that train can be on a Saturday. Instead I walked all the way to Prince Street until I found another subway station entrance.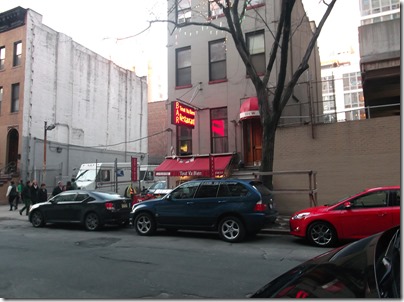 I needed to be uptown by 6:00 p.m. for my reservation at a French restaurant, Tout Va Bien, on West 51st Street. The bus which takes me to New York City always passes this place so I was curious about it. I took the subway all the way up to 49th Street but I was still early so I decided to locate the Osteria al Doge restaurant first. I don't have a good photo of this restaurant so I wanted one for my notes. They serve Venetian cuisine so I thought of eating here but ultimately decided on the French restaurant. By the time I walked up to the West 51st Street I was almost late for my reservation. I realized I was far east of Broadway when I reached the St. Patrick's Cathedral. Tout Va Bien is west of Broadway.
Tout Va Bien is an authentic French restaurant where French is spoken. I read that this place is popular with the French expatriates in New York City and this seems to be the case because many of the customers were speaking French. The waitress spoke English with a heavy French accent, especially the word reservation. It is a very small restaurant with only a few tables so you better make a reservation. I ordered the Scampi Mediterranean, a sauté of shrimp and tomatoes. For some reason I was expecting scallops. I guess I don't know what scampi is. I also had a glass of Coke instead of wine which was probably a mistake. For desert I had crème brûlée. At the end of the meal they placed a huge punch bowl filled with wine and fruit in front of me as if to tell me something. That meal cost $40.00. I have to admit, that after New Orleans, I'm not impressed with New York City fine dining. I've never eaten anything in New York City that was really special and worth $40.00. But I liked Tout Va Bien for its ambiance. French is still the language which I am the most committed to learning. I did understand the waitress when she used the verb commander, which means to order, so she was asking me if I had ordered yet.
After that meal I had to wander around the Theater District for an hour and a half until it was time for the bus to leave. This is getting kind of old but I don't want to be left behind so I always need to be in the area after 7:00 p.m. I am now extremely familiar with everything in the vicinity of 7th Avenue and 51st Street.