For my final day in New Orleans I decided to visit Magazine Street. I began my day with breakfast in the hotel courtyard since they left me a card to order it again. I then walked to Canal Street and took the streetcar to Audubon Park. Actually, I had to transfer to a bus before I got there. I walked around the park for about an hour and saw many of the old live oak trees. I saw the Audubon golf course and the entrance to the Audubon Zoo. Maybe I should have visited the zoo but it wasn't going to look like the zoo in the movie Cat People. Instead I wanted to go to the Maple Street Book Shop. The book store didn't open until 10:00 a.m. so I found a nearby PJ's Coffee shop again and had an iced coffee to give the book store time to open. I bought an "Eyewitness Travel Rome" guide book at the  Maple Street Book Shop. Rome is the city I am actively researching at the moment and I plan to concentrate on expanding my travel notes starting this week. I would love to see the ruins of Ancient Rome and the Baroque architecture.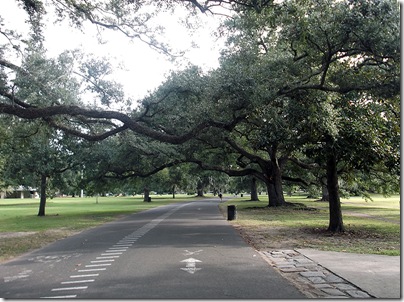 After leaving the bookstore I found my way to Magazine Street. I had to walk several blocks around Audubon Park just to reach this street and then I began an arduous trek along its entire length. Eventually I came across Casamento's Restaurant where I had a half dozen charbroiled clams and Abita Gold beer. I should have ordered more of the clams because they were really good. I then walked countless blocks along Magazine Street until I reached Washington Avenue in the Garden District. I had plenty of time so I revisited many of the places I saw on Sunday. I found the Ann Rice house again and then stopped in at the Garden District Book Store. There I bought a book that caught my eye on Sunday, "Roma Osservata" by Errol Barron. This is a book of drawings of Rome published by the Tulane School of Architecture. It appears to be a companion volume to New Orleans Observed: Drawings and Observations of America's Most Foreign City also by Errol Barron. I think my copy might be autographed by the author but I can't tell if the signature is printed or written. I then revisited the Lafayette Cemetery No. 1 and took more photos just to be sure I had some good photos.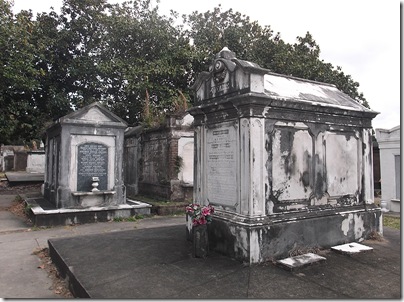 I returned to Magazine Street and continued to look at the small shops along its entire length. I had an iced coffee at a Community Coffee House on Jefferson Avenue but that would have been before I reached the Garden District. I finally left Magazine Street at Felicity Street and walked north to St. Charles Avenue where I found the Eiffel Society building and the Pontchartrain Hotel. I took a very crowded streetcar back to Canal Street. I had to stand for most of the ride which didn't do my feet any good after walking the entire length of Magazine Street. Once on Canal Street I went to Royal Street and stopped at Café Beignet. I was infuriated when they gave me a small cappuccino instead of the iced cappuccino I ordered because I needed a cold drink, not a hot drink. Eventually I made it back to my hotel room where I rested my sore feet. I must say that my padded socks, Dr. Scholls shoes, and gel insoles did a great job of keeping my feet from getting blisters even though I did way too much walking.
I had dinner early at Pere Antoine Restaurant were I ordered a Royal Berger and a rum drink. By this time I was tired of spending so much money on fancy meals so I tried to cut back on the extravagant spending. I then walked to Frenchmen Street to see what was going on for Halloween and then back to my hotel. At around 6:00 p.m. I went to Jackson Square to see the Jim Monaghan's Halloween Parade. A few film crews were there to catch the action. I followed the parade down Decatur Street until I saw Peaches Records which tempted me for a final bit of shopping. I bought a Die Antwoord CD. Die Antwoord is a South African rap-rave band formed in Cape Town. I only bought the CD because the cover looked kind of gothic.
I still wanted to catch some more of the Halloween party so I walked down Bourbon Street and saw lots of people in costumes. Eventually I came to Voodoo Authentica near my hotel and watched a live voodoo performance which had attracted a small crowd. Then it started to rain so I reluctantly returned to my hotel room and started packing to leave the next day.
In conclusion, New Orleans is a great place to spend Halloween. I saw people in wacky costumes all week and the French Quarter was full of spooky old buildings. I got to met the horror writer Anne Rice and saw the Garden District landmarks described in her novels. The New Orleans cemeteries were fantastic and reminded me of the old goth rock photo spreads which made New Orleans seem so enchanting. I have to admit that I sort of forgot the French origins of New Orleans and didn't experience much Cajun culture. But I'm sure this experience will enable me to appreciate any novels I read which are set in New Orleans. The next American city I would like to visit is San Francisco. As long as I'm going to take a plane I might as well go all the way to the West Coast and see one of  the most important cities in American culture.