On Tuesday I walked to Walgreen's and bought a bar of soap and some sunscreen lotion. On future trips, I may pack more supplies instead of relying on local pharmacies. I bought three more Jazzy Passes from the convenience store across the street. Then I walked to the Community Coffee House at 941 Royal Street and bought a croissant with ham and Swiss cheese and a coffee because my hotel stopped giving me breakfast. Unfortunately the table wobbled and I spilled my coffee twice and made quite a mess. After breakfast I walked to Canal Street and took the City Park streetcar to the New Orleans Museum of Art. I arrived at City Park early so I spent an hour waiting for the museum to open. I was uncertain about where the entrance was located because I did not see anyone waiting to go in, but eventually I discovered that you enter through the front entrance as you would expect. I saw all three floors of artwork at NOMA. I especially liked the French Art, the small number of modern art masterpieces including one Picasso, and the Japanese Art on the third floor. But the museum wasn't very big so I think it only took me an hour to see it all. I then took the streetcar all the way back down Canal Street.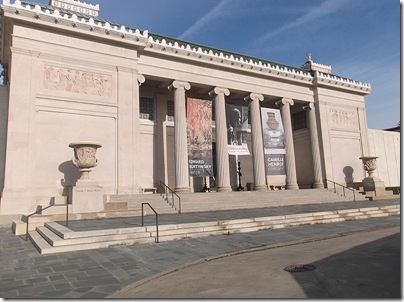 I went to the Librairie Book Shop and bought "The Eternal City: Roman Images in the Modern World". After my New Orleans trip, I plan to focus on the preparation for my trip to Italy. I may go on the Reflections of Italy tour offered by Susquehanna Trailways and Collette Vacations. That packaged tour would not require much preparation. But I plan to learn more Italian and research several major cities in Italy anyway.
I walked to the Beauregard-Keyes House just in time for the 1:00 p.m. tour. The Beauregard-Keyes House is one of the many old creole residences you can tour in the French Quarter. This house used to be the residence of the writer Frances Parkinson Keyes. She wrote many best sellers in the 1940s but I had never heard of her novels. I did read most of Dinner at Antoine's before my trip, a surprisingly well written murder mystery. I was given a free copy of her book "The Royal Box" just for visiting the place. Apparently they get plenty of copies of her old book club editions so they invite all visitors to take one. The tour of the house was interesting because it is furnished with antiques. It is an old house with creaking floors. The personal belongings of Frances Parkinson Keyes made it seem like a visit to your grandmother. It just so happened that I had a reservation at Antoine's Restaurant that evening so it was appropriate to see the Beauregard-Keyes House first.
Later I went to the 1850 House and went on a self-guided tour of even more old Creole rooms. That was only $3.00. There was a book store downstairs so I bought yet another book, New Orleans Goes To The Movies, but I sort of regretted this purchase since I don't need to do more research on the city. At this point, I had bought too many books for my suitcase. But then I did something really smart. I gathered up my books and walked across the street from my hotel to Royal Mail Service where I shipped them to my home address. I shipped six books using USPS Media Mail. This is definitely an option when you are traveling in your own country and have access to familiar shipping services. I don't think I would try it in foreign countries where the language barrier would create difficulties. It would also cost a lot more to mail something to another country. But this was not a problem for me in the United States. This allowed me to continue to go shopping for the rest of my trip without exceeding the capacity of my luggage. My package has not arrived yet but I have a tracking number so I know it is on its way.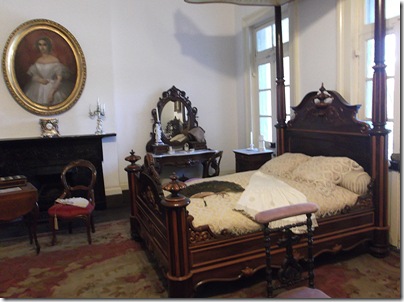 After sending off those books I resumed my sight seeing. I tried to find the Boutique du Vampyre, but apparently they moved after I added their store to my notes so I was puzzled when I did not find them where they were supposed to be. So instead I located the Avart-Peretti House where Tennessee Williams wrote A Streetcar Named Desire and the Gardette – Le Prete House which is a famous haunted house in the French Quarter. I returned to Community Coffee House and got a free refill of my iced coffee even though I hadn't kept my cup. I visited the small Voodoo Museum  next. After leaving the museum I noticed that I had somehow cut my hand on something even though I didn't touch anything in the museum. Maybe I scraped my hand on the door as I was leaving. Anyway, I had a small drop of blood on my hand and a bloodstain which seemed like voodoo to me! I went to the French Market for some idle browsing and stopped in at Funrock'n to buy a windup Dalek toy. That was the most pointless thing I bought. Then I walked almost all the way to Canal Street and bought an expensive DVD at the only video store to be found in the French Quarter. I could watch a DVD on my laptop.
I finally stumbled across the Boutique du Vampyre store where I bought the novel Bride of the Fat White Vampire by Andrew Fox. I was reading the Fat White Vampire Blues by Andrew Fox on my Kindle while waiting for my planes. Eventually I finished the book before getting home. That novel hasn't always gotten good reviews but I thought it was hilarious. Fat White Vampire Blues is the perfect blend of A Confederacy of Dunces with Interview With The Vampire. Seeing New Orleans really helped me to appreciate the many references to local geography.
My next goal was dinner at the old Creole restaurant, Antoine's Restaurant. My reservation was for 8:00 p.m. so I decided to sit in front of the St. Louis Cathedral before then but I was pestered by a hustler. She gave me a sob story about Hurricane Katrina and tried to sell me a CD or a cheap Voodoo doll. I eventually bought a Vince Gill CD just to get rid of her but the encounter put me in a foul mood. I went to Antoine's Restaurant early just to get off the street.
At Antoine's Restaurant I ordered soft-shelled crab, cafe au lait, and desert. The service was very attentive but a bit confused so I got coffee instead of cafe au lait although they immediately corrected that mistake. The soft-shelled crab was kind of mediocre but I think I just ordered the wrong thing. I looked up soft-shelled crab on the Internet and found that it is considered to be an over rated delicacy. I only looked it up because I was wondering if I should have been eating the legs. Yes, you can eat even the legs of a soft-shelled crab! I kept my receipt and the entire meal cost me $43.63.