Yesterday I made my 28th trip to New York City. This trip was sponsored by the Williamsport Area School District Alumni Association so I did not have to park at the transit center. Instead the bus picked us up at Cochran Elementary School. This school is located deep within a residential area that I've never visited before so I had to do a reconnaissance drive before the trip to see where to park. But the bus was still a Susquehanna Trailways bus. They were already playing the movie "Just Go With It" starring Adam Sandler, Jennifer Aniston, and Nicole Kidman when I got on the bus.
My focus on this trip was Japanese establishments in New York City. Recently I have been struck by a mania for Japan. This is inconvenient because I should be focusing on my upcoming New Orleans trip or my future trip to Italy. I'm not really planning on ever visiting Japan because the language barrier is very intimidating. I am completely baffled by their writing system which does not use Roman letters. But there are enough Japanese establishments in New York City to pretend it is Tokyo and I needed something new to do in the city.
We arrived in New York City at 10:00 a.m. I took the 1 Train downtown to Penn Station – 34th Street. The 50th Street Station is very close to where the bus left me off but I never realized this subway station was there because it is hidden in the southern sunken courtyard of Paramount Plaza. At the 34th Street Station I emerged from Penn Station and walked to West 30th Street. I took a photo of an innocuous building on this street for my custom travel guide. I also saw the Image Anime store but it was closed. I'm not very interested in Japanese anime. I would prefer to watch live action films about contemporary Japan. My actual goal on West 30th Street was the entrance to High Line Park. High Line Park is a new public park built on the remains of an elevated railroad line.The High Line Park has become very popular and it is frequently recommended to tourists so I finally decided to see it. I walked the entire length of the High Line and didn't get off it until Gansevoort Street in the Meatpacking District which is the southern end of the park. It was an unique experience but the views weren't that great unless you like to see urban decay.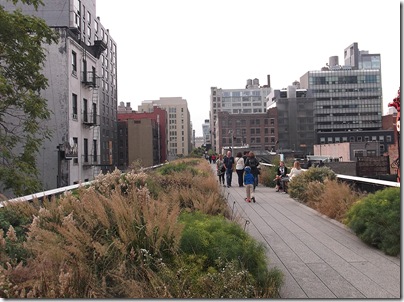 I didn't explore the Meatpacking District. Instead I entered the first subway entrance I found which must have been the 14th Street Station. I took the A Train Uptown to the 42nd Street Station and emerged from the Port Authority Bus Terminal where the Jackie Gleason statue is located. I have never been able to get a photo of the Jackie Gleason statue because there is always some scary homeless bum sitting beneath it. I quickly made my way to the Drama Book Shop for my ritual purchase. I bought a collection of Theresa Rebeck's plays as planned and the cashier told me she would make an appearance at the store on Monday. It is a shame that this was a day trip. I am almost always in New York City on Saturdays only.
After that I did some more shopping at another bookstore, the Kinokuniya bookstore on 6th Avenue across from Bryant Park. This Japanese bookstore sells a lot of books in English and Japanese. I saw mostly English books on the first floor and found books on Japan towards the back. I bought an overpriced paperback, The Encyclopedia of Japanese Pop Culture, because I definitely want to explore their pop culture. I didn't see what was on the second floor. The cashier was a cute Japanese girl with dyed hair who handled money like it was something sacred. Since the New York Public Library was nearby I decided to go there next and visit the Gottesman Exhibition Hall on the first floor which I overlooked on my previous trip. The exhibit was on children books and featured books from various cultures including Japanese children books. I saw a few children books set in New York City which I've never heard of before; Harriet The Spy by Louise Fitzhugh and From the Mixed-up Files of Mrs. Basil E. Frankweiler by E. L. Konigsburg. I saw a copy of The Cricket in Times Square by George Selden but I've read that book.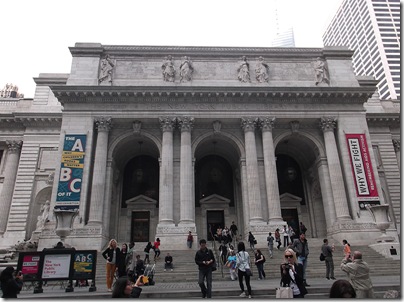 Next on my itinerary was the play "Philip Goes Forth" at the Mint Theater. I didn't intend to see a show on this trip but I was tempted by this play because it is a very obscure play which I happened to have read last year. I was quite surprised to find this play being given a production and considered it a sign since the chances of seeing this forgotten play by George Kelly so soon after I happened to read it were very slim. I reviewed this play on my blog (see http://williamsportwebdeveloper.com/cgi/wp/?p=1392). I wonder if someone at the Mint Theater happened to find my blog entry, since this play was long forgotten. If you had done a Google Search for "Philip Goes Forth" before the Mint Theater staged this production, I bet my blog entry would have been virtually the only search result.
I had to wait at a little street park on West 43rd Street for a half hour because I walked to the area too early, but didn't want to wander far. The Mint Theater is hard to find. It is located in a non-descript brick building with no signage. The building is being renovated so the entrance was enclosed in a construction shed. Fortunately, the theater emailed me some instructions the day before. They are located on the third floor and you have to take an elevator to reach the theater. I was very impressed by the set design though which was quite elaborate and realistic. There was one change of the set which was equally impressive because it was a small stage, yet they managed to completely change the set design from one elaborate room to a completely different room with a lot of furniture. I think they may have deviated from the script to avoid another change of scene but I'm not sure. The costumes were also very well done in the fashions that were popular in the 1930s.
"Philip Goes Forth" is a play about the playwright's aspirations. Even though George Kelly was a successful playwright, he adopts a strangely severe view of the profession in this play which makes writing a play seem like a foolish notion. As an aspiring playwright, I don't care for the message of this play. George Kelly seems to think that most people aren't cut out to be artists. Although he offers one example of the true artist, a demented poet, he portrays other creative spirits as silly bohemians. One character is so discouraged that he commits suicide which provides the most dramatic event of the play. There is something very old-fashioned about this play and its sensibilities. It was written after the Crash which caused the Great Depression so people must have been disillusioned back then.
Maybe I shouldn't mention this, but I was distracted by a constant need to urinate. I was worried that I might be coming down with a bladder infection. But I'm not sure if I should see a doctor because this discomfort is very sporadic. It was bothering me during most of the trip except while I was walking around. However I felt fine on the ride home and I still feel fine. My right knee has also been bothering me slightly but I was able to walk all day on this trip. I hate aches and pains that come and go and worry you even though they are probably nothing.
It was around 4:00 p.m. after the play and I had not eaten all day. So I walked several blocks north to Sapporo Restaurant on West 49th Street. This was one of the Japanese establishments I was particularly eager to visit. I ordered Tokyo Ramen which is classic Tokyo-style shoyu Ramen, topped with scallion, cha-shu pork, menma, naruto (fish cake) and seaweed. Menma is a Japanese condiment made from lactate-fermented bamboo shoots. Menma is a common topping for noodle soups, notably ramen. Naruto is a type of kamaboko, or cured fish surimi produced in Japan. Each slice of naruto has a pink or red spiral pattern, which resembles the Naruto whirlpools in the Naruto Strait between Awaji Island and Shikoku in Japan. I saw a slice of something in my ramen with a pink swirl pattern. I thought it was some sort of radish. Anyway, this came in a large bowl with a wooden spoon. I managed to finish the entire bowl except for some broth. It was a lot to eat but I was starving. I also drank an entire can of Asahi Super Dry, a Japanese Rice Lager style beer brewed by Asahi Breweries Ltd in Tokyo. I don't usually drink beer since I don't like it but this beer showed up often in my limited research on Tokyo. I almost forgot my books at this restaurant, but fortunately I missed them while considering a few Japanese publications I could have picked up at the door.
After that meal I did some more shopping. There was a 49 Street Station right down the street from Sapporo Restaurant so I took the R Train one stop north to the 57th Street – Seventh Avenue Station to go to the Rizzoli Bookstore again. I managed to find this Italian bookstore without any problem since I went here on my trip last month. This time I bought a copy of Chi magazine, an Italian magazine on celebrity news and gossip, like People magazine. I also bought a Japan Culture Smart book and a book in Italian, Beppe Severgnini's Italians. Although this book is available in English, I wanted the Italian version to help me in studying the language. After my trip to New Orleans I intend to concentrate on learning Italian and researching Italy. This level of preparation may be unnecessary if I go on the Collette Vacations trip. I have to admit that I'm finding it difficult to get inspired by Italy. That is probably why I feel drawn to Japan. Italy just doesn't have a pop culture that intrigues me, although I may need to dig deeper to find something interesting. I have been exposed to Japanese pop culture for years. I remember watching Ultraman and Johnny Socko and His Flying Robot on television back in the late 1970s. I also have a decent collection of Godzilla films on DVD and Samurai films on DVD.
When I left the Rizzoli Bookstore I walked along West 58th Street to take a photo of something on that street. I still had several hours to kill so I decided to just walk back to 50th Street rather than take the subway for just one stop. Eventually I came to the Radio City Music Hall and decided to explore the Rockefeller Center basement concourse. The basement concourse is like one of Montreal's underground malls. It would be a good place to hang out if it were snowing or raining. The Rockefeller Center isn't too far from where the bus always picks me up. They also have public restrooms which are hard to find. I'll have to add a map of the Rockefeller Center basement concourse to my notes.
I still had hours left in New York City so I decided to go to another restaurant, The Delta Grill. This restaurant serves New Orleans cuisine, i.e. Cajun and Creole food. I'm going to New Orleans next week so it wasn't strictly necessary to preview the cuisine now, but what the hell. I ordered the Alligator and Smoked Pork Sausage appetizer  because I wasn't very hungry after eating all that ramen a few hours previously. The sausage tasted more like pork than alligator but it was good. I also ordered a Delta Hurricane since I wasn't driving myself home. I was surprised that this hurricane on top of the beer a few hours earlier had no effect on me. I did not feel drunk but I might have been slightly more relaxed. That was a pretty quick meal so I also found a video store to buy a few Japanese DVDs. On the way to the bus pick up spot I saw a loud protest of the Church of Scientology on West 46th Street. The protestors were boxed in by a crowd control fence which appeared to have been provided for them. There was a young police officer nearby looking on so the protest appeared to be sanctioned. The protestors had video cameras trained on the church across the street. They held up their signs and loudly jeered at anyone leaving the building across the street. I think I saw someone inside the Church of Scientology with a video camera trained on the protestors. I was tempted to walk across the street and face the protestors. I feel a bit ambivalent towards the Church of Scientology. I slightly sympathize with them because of their anti-psychiatry crusade, but ultimately they are even worse than psychiatrists and just as big as frauds. But I don't totally despise Scientologists since I hate psychiatrists even more and appreciate the enemy of that pseudo-science, especially an enemy wealthy enough to challenge psychiatry.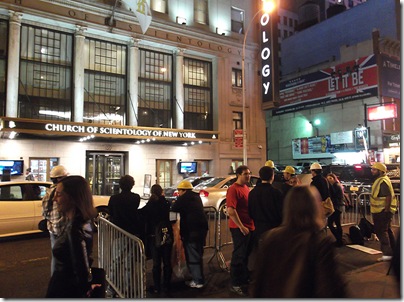 By this Saturday I will be on my way to New Orleans for a week long vacation. This will be a great way to spend Halloween since I associate New Orleans with the supernatural. I was originally inspired to visit New Orleans because it is the only place in the United States with an extensive French heritage. French is still the only language I am committed to learning.