Yesterday I made my monthly trip to New York City. This was my 27th trip but I still managed to see more sights in the city. Luck seemed to be on my side during this trip because I caught several lucky breaks which I will describe when I come to them.
Susquehanna Trailways had five buses going to New York City on Saturday so we stopped for breakfast at a McDonalds in Danville PA instead of the usual one in White Haven. I kept my receipt because it has the address and Danville is a city that I may need to visit in the future. The Geisinger Medical Center in Danville is an important regional medical facility which even comes up often in my job.We arrived in New York City pretty early at 10:00 a.m.
The first item on my itinerary was the New York Public Library. Although I've seen the New York Public Library on previous trips I had never gone inside. I walked down Times Square to 42nd Street since the New York Public Library is located at 5th Avenue and West 42nd Street. It looks like I missed the main exhibition hall on the first floor but I did see the Jill Kupin Rose Gallery on the second floor and I found the main reading room and the Edna Barnes Salomon Room on the third floor. There were many tourists taking photos in the reading room where regular library users were working. This struck me as a little awkward but I took a few photos as well.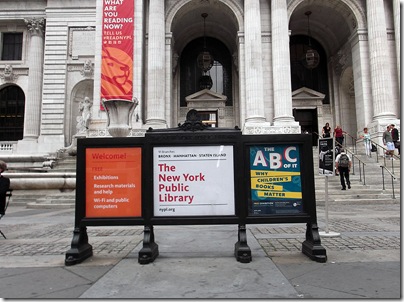 After leaving the New York Public Library my next goal was the Rizzoli Bookstore on West 57th Street. To get there I walked to the 42nd Street subway station and took the N train to the 57th Street Station near Carnegie Hall. I found it slightly difficult to get my bearings there but I soon found the Rizzoli Bookstore. Rizzoli is an Italian Publishing company and this store carries many magazines and books in foreign languages. I found the foreign magazine section towards the back on the first floor. I bought a copy of L'Espresso with Silvio Berlusconi on the cover. On the third floor I found Italian books. I bought La pagina breve which appears to be a collection of Italian readings for the intermediate student of Italian and an audiobook in CD of The Wizard of OZ in Italian. I will try to make a trip to Italy next year but I still can't afford an international trip. In the meantime, I need to concentrate on learning Italian and researching Italy's major cities. Currently I am working on my custom Rome travel guide. I am also slowly expanding my knowledge of the Italian language.
The next item on my itinerary was a play at 2:30 p.m. but I had plenty of time before then so I walked to Central Park. Although I have visited Central Park before I had not seen all of it so I explored the lower half of the park. I bought a map of Central Park for $2.00 because my notes did show me where the Literary Walk was located. I saw the Wollman Rink, the Literary Walk, the Bethesda Terrace & Fountain, and the Alice in Wonderland statue. A photo of the Literary Walk is the photo for September on my New York City calendar so it is appropriate that I saw it on this trip. I made sure to take a photo of the Shakespeare statue. There seemed to be a major chess tournament going on at the Bethesda Terrace since it was full of tables covered in chess sets. Taking a photo of the Alice in Wonderland statue was a little awkward since there were someone else's kids crawling all over it. I heard a marching band as I neared the edge of Central Park on Fifth Avenue.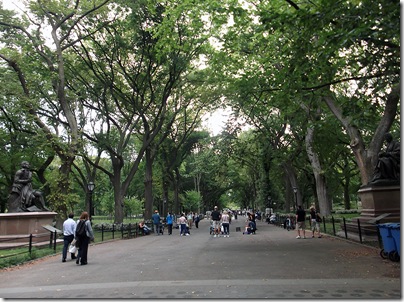 In a stroke of luck, the German-American Steuben Parade of New York was taking place at Noon on Fifth Avenue and I just happened to be in the area. I didn't even realize that this event was taking place on the day of my trip. I found a good spot along the parade route and took several photos of the German bands, parade floats, and various marchers. There were several German food establishments with floats and a few German language schools marching in the parade. I found it interesting even though my trip to Berlin was years ago and I'm not actively keeping up on my German language study. It was still great to see a New York City parade under excellent conditions.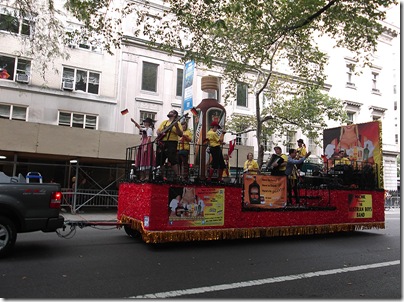 Unfortunately I could only spend an hour watching the parade. I had to walk all the way back down Central Park to the 59th Street Station and take the N train to Times Square – 42nd Street. I did have time to go shopping at the Drama Book Shop before my play began. I bought the Accidental Death of an Anarchist by Dario Fo, an Italian playwright, and Art and Decadence Plays by Caridad Svich, a Latina playwright associated with Primary Stages. I managed to walk to New World Stages on West 50th Street just in time to catch my play. There are several stages in this theater complex and they even have an escalator to the lower level. New World Stages may be the only theater in the world to have an escalator.
The play I had chosen to see was Tennessee William's The Two-Character Play. I could have seen the Glass Menagerie at the Booth Theater starring the actor Zachary Quinto who plays Spock in the new Star Trek movies but The Two-Character Play is rarely performed. I also thought it would be cheaper to see this play but a ticket cost me over $100.00. The Two-Character Play starred the famous actors Brad Dourif and Amanda Plummer. I was more familiar with Brad Dourif. He is sort of a character actor  you see in many movies without knowing his name. But I think I remember him best from the movie Dune. I was sitting only two rows from the stage so I had an excellent view and he was close enough to see his facial expressions. I thought his performance was masterful. He should be given lead roles in major movies. I am not very familiar with Amanda Plummer but she has been in many movies too.
The Two-Character Play shows Tennessee William's usual obsession with insanity and his sister but I thought it was an excellent play and just as good as Tennessee Williams' poetic masterpiece The Glass Menagerie. The critics have been too harsh on Tennessee William's later work. Maybe his work will be re-evaluated in the future and plays like The Two-Character Play will rank among his masterpieces. The stage set was interesting with a framework of a house exposing the back of the stage. The antique furniture managed to invoke an image of a old southern mansion. The costumes were shabby but fancy, creating a sense of decrepitude. Brad Dourif began the play wearing a frock coat and Amanda Plummer wore old furs. The subject of the play was also interesting; two abandoned actors getting lost in a play with the same title. It was very meta-theater-ish.
After the play I had dinner at Sardi's Restaurant just like the theater program recommended. Sardi's is probably the most famous restaurant on Broadway and a real treat for any theater enthusiast. I would have dined here before but I was worried that the place was too swank for me. Sardi's is a little too fancy for my taste but they are not too formal. I don't think you need a coat and tie and a platinum card to eat there. I made a reservation for 5:00 p.m. and arrived 15 minutes early. The restaurant was almost empty with just a few diners. I think there were more waiters standing around than customers and the service was extremely prompt. I ordered a special of the day, Seafood Cobb Salad Shrimp, Jumbo Lump Crabmeat and Sautéed Calamari over Mesclun Greens, Roasted Corn, Red Onions, Tomato, Carrot and Avocado drizzled with Orange Lime Vinaigrette $26.00 and a glass of prosecco, the Italian white wine popular in Venice.
That was as far as my planned itinerary went so I had to improvise for the last few hours of my trip. I walked to the Times Square – 42nd Street and took the 1 train downtown to Houston Street. I was annoyed to discover that I did not have the 1 train stops in my notes so I will have to add that. I then proceeded to walk east on Houston Street to see whatever I came across. I did manage to snag a copy of Chopsticks NY from a newspaper box although the first one I came across only had wet copies. Chopsticks NY is a great guide to all the Asian establishments in  New York City. I then came across the Feast of San Gennaro which I knew was taking place, but didn't plan to visit. I had heard that the Feast of San Gennaro was a disappointment but I thought I might find some Italian CDs, DVDs, or books being sold. Unfortunately, the rumors were right. The Feast of San Gennaro was insanely crowded with a line of people that could barely advance against the crush of people. The vendors were the typical New York City street festival vendors and most of them were not Italian or selling anything Italian related. I struggled along for a block or two and then got tired of the jam packed crowd.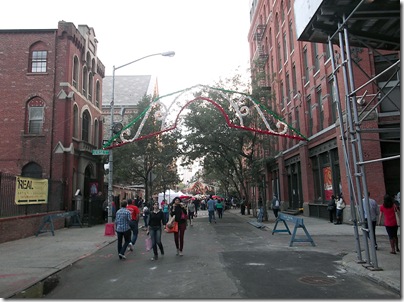 I found myself on Price Street so I entered McNally Jackson Books which I remembered from a previous trip. I bought a DVD of La Commare Secca by director Bernardo Bertolucci. This Italian film was made in 1962. I think I prefer more recent Italian films which give you a better sense of contemporary Italian culture. I'm not a time traveler after all, so I don't need to familiarize myself with the ancient Romans.
Eventually I found my way to the East Village and quickly walked to Kim's Video and Music which sells many art films and foreign movies on DVD. I found a DVD of A Policewoman in New York, an Italian movie which I thought would be fun to watch. Unfortunately the DVD was loose in the case and the cashier insisted on checking it for scratches. The DVD was scratched so I left the store empty-handed. I ordered a DVD of that movie on Amazon today. Before leaving the East Village I had a mango-pineapple shake at Pinkberry. At this point it was getting late and I was worried about catching my bus home so I rushed to the Astor Place Station to catch the 6 Lexington Avenue Local train uptown. The 6 Lexington Avenue Local line is notorious for its ridership being over its capacity. I found a New York Times article about the problem; When the Train Is Too Crowded to Board. This was definitely the case on Saturday when I found myself so squeezed in the subway car that I had people crushed against me. You could hardly board the train but I didn't have time to wait for a less crowded train. Fortunately the car became less crowded by the time it reached 51st Street. I think I will avoid the 6 Lexington Avenue Local train in the future. I had to walk several blocks crosstown to reach 7th Avenue. I only had 45 minutes to walk that far but fortunately it only takes 30 minutes. I'll put that in my notes because I was cutting it too fine to make my bus. I also need cards with my cell phone number on it to give to the bus escort. I don't think the bus company has my cell phone number. I do carry a cell phone with me now that I use Tracfone which is affordable.
My next trip to New York City will be on October 19th. This isn't exactly a Susquehanna Trailways trip. The trip was organized by the WASD Alumni Association but they will certainly use a Susquehanna Trailways bus. After that will be my vacation in New Orleans for Halloween. I really need to concentrate on preparing for that trip now. For some reason I am not psyched for this vacation. My custom travel guide for New Orleans has many topics but it is not quite complete yet. I still need to book a flight.