On Saturday I made my second trip to Niagara Falls. I wasn't going to blog about this trip, but it does represent a rare excursion north into New York state so it is worthwhile to record some notes. The bus only made one pickup after Williamsport, at the Landing Strip Family Restaurant in Liberty PA which is in Tioga County. We stopped for breakfast at a McDonalds in Bath, NY which is not far from the Pennsylvania border but pass Corning NY.
On this trip I crossed over the border into Canada. I had my passport and some Canadian currency left over from my vacation in Montreal last year. To reach Niagara Falls Ontario, you must walk across the Rainbow Bridge. The entire process of making the border crossing is not well documented and I saw people getting into trouble due to their confusion. One woman ventured out into the middle of the Rainbow Bridge and got yelled at by the police. Another woman went through a turnstile by mistake and couldn't get back. I observed both of those incidents on my return.
To walk across the Rainbow Bridge to the Canadian side, just go through the turnstile. It is unnecessary to show anyone your passport or to speak to anyone until you reach the Canadian side. Once on the Canadian side you must go through immigration (stop in front of the immigration booth) and answer a few questions. There is no metal detector and your bags will not be searched. To return to the American side you must pay a 50¢ toll. It is unnecessary to show anyone your passport or to speak to anyone until you reach the American side. Once on the American side you must go through customs and answer a single question about what you are bringing back from Canada.
Once in Canada I walked to the Skylon Tower. I had bought my ticket online but I just had a printout. It turns out that you need to redeem the printout for an actual ticket so I had to go through the line to the elevator twice. You should probably not bother buying a ticket online. I went to the observation deck of the Skylon Tower. It was just like several other observation decks I've seen with the usual waiting to squeeze between people to take photos. So far, I have been to the following observation decks; Eiffel Tower, Top of the Rock (Rockefeller Center), Fernsehturm (Berlin TV tower), the London Eye, the Olympic Tower in Montreal, the Empire State Building, and the Skylon Tower. Before leaving the Skylon Tower I went to a Starbucks and ordered an iced coffee since the building had no air conditioning. Then I found an ATM and used my debit card to get $100 more in Canadian currency (all new $20 bills).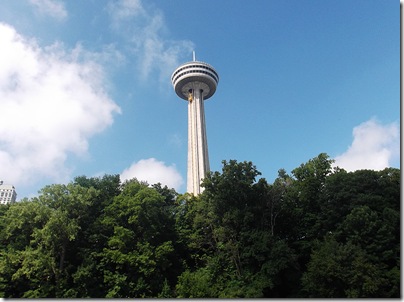 My next destination was the Table Rock Welcome Centre where I wanted to do on the Journey Behind the Falls attraction. There are four attractions you can do with an Adventure Pass including Maid Of The Mist but Journey Behind the Falls was the only one which is unique to the Canadian side. I bought my ticket at a welcome center closer to the Skylon Tower and then walked to the Horseshoe Falls. A huge cloud of mist rises from the Horseshoe Falls and you begin to feel the mist as you get closer to it. I had a little trouble finding the entrance to Journey Behind the Falls attraction. You actually have to enter the Table Rock Welcome Centre to get to the Journey Behind the Falls attraction. Then you stand in a line and get your plastic raincoat before being admitted to the elevator. The Journey Behind the Falls attraction consists of tunnels and observation decks. The tunnels lead to an opening behind the Horseshoe Falls but all you see is a solid wall of water. The observation decks give you a great view of the Horseshoe Falls from up close. You get sprayed with a lot of water on the observation decks. I took a few photos but the mist is likely to get on your lens. My glasses got clouded over with mist.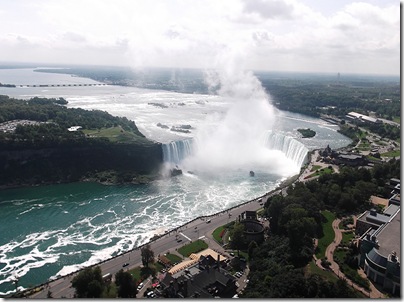 After that I walked all the way back to Clifton Hill, a steep street of tacky tourist attractions. There were many haunted houses and wax museums to choose from. I'm not sure what a haunted house and a wax museum have to do with one of the world's greatest natural wonders. It seems a little bizarre to me. It is as if the Canadians decided to build a funhouse version of American culture right on the border of the authentic American experience. It might make sense if they get a lot of international tourists who can't actually cross the border into the United States. I was heading for Victoria Avenue because I wanted to have lunch at an Italian restaurant. Once on Victoria Avenue I quickly found the Antica Pizzeria & Ristorante but I had to walk a long ways to find a place to cross the street. Eventually I scurried across without using a crosswalk out of sheer frustration. At this point I dropped my camera but fortunately it did not break even though it fell on hard pavement.
Antica Pizzeria & Ristorante was a classy Italian restaurant with plenty of tables. They had many posters and huge photos of Italy on the wall. I was particularly impressed by a huge photo of the Bay of Naples which covered an entire wall. You almost felt you were there. I picked this place for lunch because I need to resume my preparation for a trip to Italy. So far I have spent most of this year improving my notes on domestic destinations; New York City, Baltimore, Washington DC, New Orleans, etc. I really couldn't afford a trip to Europe this year but I should be using the time to learn Italian and research its major cities. For lunch I ordered some bruschetta and a strawberry frozen daiquiri. I didn't even pronounce daiquiri properly. The strawberry frozen daiquiri was the only drink I've ever had with whipped cream on top. The bruschetta is slices of bread soaked in olive oil and covered with diced tomato and sprinkled with cheese. This wasn't a full meal. I plan to visit several local Italian restaurants for further inspiration.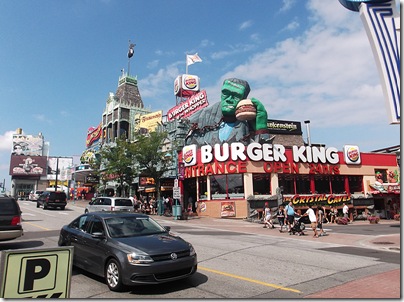 After lunch I wandered the streets looking for something to do. I bought a souvenir at one of the many souvenir stores. There were also many smoke shops selling bongs. I can just imagine trying to bring a bong through customs. It is as if the Canadians want to get you in trouble! What I bought was a Quartz Geode Crystal in a wooden stand. It was $46.00 which is kind of expensive but it is a nice souvenir. Everything else was tacky junk. I also stopped in at a Tim Hortons, the famous Canadian coffee chain, because I forgot to visit one on my trip to Montreal. I ordered a Tim Hortons Iced Cappuccino because I needed to cool off. Right next door was the Canada Trading Company with a slightly better selection of fine souvenirs. I bought a small Canadian Mountie teddy bear for $20.00, pretty expensive for such a small stuffed animal. I did get rid of several $2 coins but I wound up with even more Canadian small change.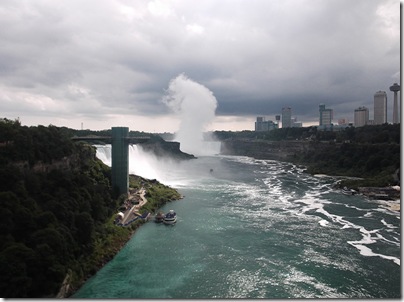 I walked back across the Rainbow Bridge with plenty of time to spare just in case I were detained but it was easier to return. For several hours I wandered around Niagara Falls NY. There was a Blues Festival taking place in front of the Seneca Niagara Casino so I watched a little of that. I saw many boarded up storefronts in Niagara Falls NY. I might be tempted to see this as a sad comment on the American economy but the truth is that the Canadian side is more built up because the views of the falls is better over there. Most of the restaurants and hotel chains over there are American companies so it is just a question of were the investment money went. On the trip home we stopped at Pembroke Travel Plaza on the NYS Thruway. So where was this? The New York State Thruway is Route 90 so we must have been east of Buffalo, New York.
My next big trip will be a week of vacation in New Orleans for Halloween. I need to concentrate on my New Orleans research for the next two months although a considerable amount of preliminary work has been done. This will be my first major domestic trip and there are a few things to consider. For example, I could do a lot of shopping if I mail my purchases from New Orleans rather than buying an extra suitcase. I can also see a play while I am in New Orleans but they don't have much theater. But after New Orleans I really need to focus on Italy.