Yesterday I made yet another trip to New York City. This time I finally took everyone's advice and ventured into Brooklyn but only to visit the Brooklyn Museum. I also attended a New York Fringe Festival performance which was an important goal.
Although everything went as planned, I did discover a few more deficiencies in my travel notes. I don't think my Android smartphone is capable of displaying PDFs so I don't have a large scale map of New York City which can be zoomed. I was looking for a map because I forgot to add a topic for my first subway entrance. I also need topics on the F subway line and the 3 subway line.
The bus arrived in New York City at around 10:00 a.m. but I had to be downtown for the New York Fringe Festival by noon so I didn't waste any time. I walked west to the Rockefeller Center and found the subway station entrance for the F train. I've never used this line before so I had to hunt for the subway entrance and find the right platform for the F train heading downtown. Neither of my MetroCards from my previous trips had enough for a fare so I had to buy a new MetroCard. I think you can just add money to your MetroCard but I have not tried that yet.
I got off at the 2nd Avenue station in the Lower East Side and then walked towards the Red Square apartment building. That building is an useful landmark because it has a large clock on the roof and a statue of Vladimir Lenin. I think it is funny to see a statue of Lenin in New York City so I took a few photos of that. My destination was on Clinton Street, The Celebration Of Whimsy a.k.a. The C.O.W. performance venue. This theater used to be the famous Living Theatre which finally had to close. I arrived an hour before the show started so I went to Katz's Delicatessen which was nearby. This restaurant is famous for a scene from When Harry Met Sally. I found the method of ordering food to be annoying since it is based on a ticket which you have to hand to the cooks and counter persons. I ordered a cheeseburger, a hot dog by mistake, and a Diet Coke. The food was quite unremarkable. It was like eating at a picnic. But I did use their restroom.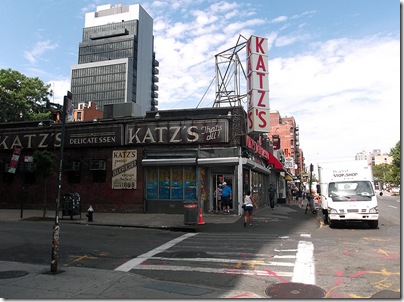 After that I walked back to the Celebration Of Whimsy performance venue and waited outside until they were ready to start the show. Because of my schedule I saw Manic Pixie Dream Girl: A Graphic Novel Play by playwright Katie May. This play was originally developed by a Playwright Incubator theater in San Francisco, the Playground. Since New York City is the center of the theater universe, lots of theater companies jump at the chance to present a show in New York City and the fringe theater festival is considered to be a great opportunity. I wanted to see at least one fringe festival show because they tend to be edgier than mainstream theater. I thought Manic Pixie Dream Girl: A Graphic Novel Play was slightly edgy but still very professional. The actors were quite attractive and talented so it did not look like an amateur production. The stage design was simplistic but they projected graphic novel panels on a screen which gave the show a little more visual appeal. There was a discussion with the cast after the performance but I left because I had other things to do.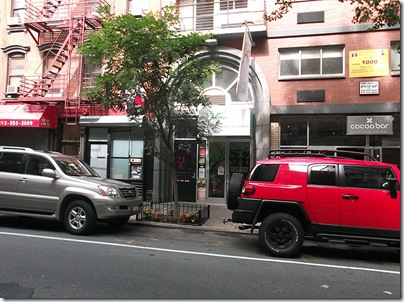 My next goal was to visit the Brooklyn Museum. Most visitors to New York City don't visit the Brooklyn Museum because they stick to Manhattan. Although this scarcely counts as a trip to Brooklyn, I did determine how long it takes to get to Brooklyn (around 45 minutes) and which subway lines to use. For this journey, I walked west to the Broadway – Lafayette Street Station and took the D train. The D train went above ground to reach Brooklyn by running across a bridge. According to my notes this would be the Manhattan Bridge. I do remember seeing the Brooklyn Bridge through the window and I could even see the Statue of Liberty which looked larger than I remember from this vantage point. I'm sure I saw the Statue of Liberty while walking across the Brooklyn Bridge in 2010. I got off at the Atlantic Avenue – Barclays Center station but I almost didn't because it wasn't as modern as I was expecting based on the redesigned entrance upstairs. Then I followed the signs to take the 2 train to Eastern Parkway – Brooklyn Museum station.
I didn't really see any of Brooklyn. The subway station entrance is right in front of the Brooklyn Museum so I didn't have to walk anywhere. The admission fee was $12.00 but that was only the recommended fee. I guess you don't have to pay anything if you want to be cheap. The Brooklyn Museum has been on my to do list for a long time so I'm glad I finally managed to visit it. This museum has an excellent collection of Egyptian artifacts and minor collections of American and European artwork. The first thing I did was grab a free copy of The Brooklyn Paper to wrap around my theater program because I was afraid my souvenir theater ticket would fall out of it.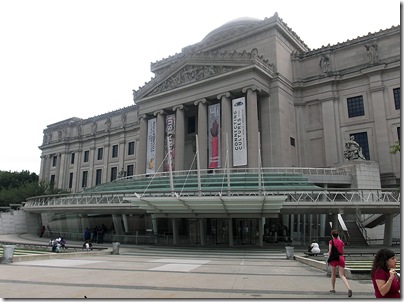 It was slightly difficult to figure out where to go. But I guess the Great Hall is to the right of the Museum Shop so just look for the sign that reads Art. Once you see the galleries on that level you must take the elevator to the second floor. I went through the Brooklyn Museum in a rush because I wanted to be back in Manhattan before 6:00 p.m. I can tell by my receipt that I arrived at 2:00 p.m. and left at 4:00 p.m. so I only spent two hours in the museum. I did visit all five floors though. I bought an out-of-print Brooklyn Museum Guide book before my trip so I'm sure I saw all the major pieces. I especially liked a Giovanni Bellini portrait from the era of the Belle Époque. The Belle Époque has begun to fascinate me after I read about the marchesa Casati. Giovanni Bellini also painted a portrait of Luisa Casati. Romaine Brooks also lived during the Belle Époque and after seeing her paintings at the Smithsonian American Art Museum I ordered a biography of Romaine Brooks which arrived during my trip to New York City. I found the book in my mailbox when I got home. At least I am finally following up on something I saw at an art museum. Usually I find a visit to an art museum very inspiring but I never do anything with that inspiration. I make no effort to learn more about the art I see or the artists who created it. I never even do the audio tours so I have no idea what I'm looking at except for modern art.
Before I left the Brooklyn Museum I went to the Museum Shop and bought two books; 100 Best Paintings In New York (although I've probably seen most of them by now) and Weekend Walks in Brooklyn which will be handy in planning future trips to Brooklyn.
I left the Brooklyn Museum at 4:00 p.m. because I wanted to leave myself plenty of time to get back to Manhattan. I wanted to visit the Drama Book Shop before it closed at 6:00 p.m. and I had a reservation at a restaurant at 6:00 p.m. I took the 3 train from the Eastern Parkway – Brooklyn Museum station to the 42nd Street Times  Square station which must have taken only a half hour since my Drama Book Shop receipt is dated 4:43 p.m. At the Drama Book Shop I bought Plays from Primary Stages which was exactly the book I wanted because I'm taking an online course offered by Primary Stages.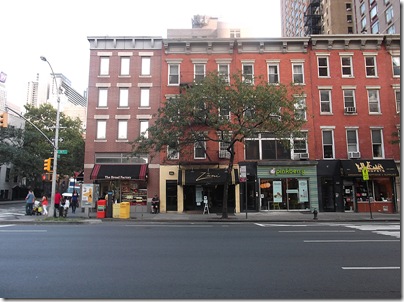 After making that token purchase at my favorite store I wandered up 8th Avenue taking photos of various establishments along the way since I'm always in that area waiting for my bus to leave. Eventually I reached 51st Street where I found Tutti Frutti Frozen Yogurt, the frozen yogurt café I visited on my last trip. I had some frozen yogurt there since I now know the procedure for using their self-service machines and it cools you down after a long, hot walk. But I probably shouldn't have done that since I then walked all the way back to West 42nd Street for my reservation at the restaurant. I had diner at Zuni which is not far from Theatre Row because I had read that this place was popular with the Off-Broadway theater crowd. This restaurant is on 9th Street, not 8th Street so I was slightly confused while trying to locate it. Zuni is a great place to eat. The food is "New American" so it is inventive twists to familiar dishes. And it really is a hangout for Off-Broadway theater workers because I overheard a guy talking about his idea for a musical. He is working on a musical based on the The Thing with Two Heads starring Rosey Grier and Ray Milland only featuring a Tea Party conservative joined to a Puerto Rican transvestite. Yeah, I'm totally stealing that idea! Not!
My next bus trip will be to Niagara Falls. I plan to visit the Canadian side since I've already seen the American side. On my next trip to New York City I may explore Brooklyn itself if there aren't any plays I want to see.