Yesterday I made my 7th bus trip to Washington DC. On the long ride I read Six Days of the Condor by James Grady. This book is finally available as a Kindle ebook which is good because paperback copies are hard to find and expensive. Six Days of the Condor is set in Washington DC. It was a short book so I managed to finish reading it long before we arrived in the city. I also watched a movie on my smartphone.
I spent most of the day at the National Portrait Gallery and the Smithsonian American Art Museum which are in the same building. Although I visited this place on my last trip that was kind of rushed. On this trip I took my time and saw all three floors of artwork. I walked all the way from the National Air and Space Museum where the bus dropped us off but I still arrived before the place opened at 11:30 a.m. I think we arrived in Washington DC at 10:30 a.m. I did stumble across the Goethe-Institut while walking around the area. I also saw the Washington DC version of a BikeShare station and found the Friendship Arch in Chinatown.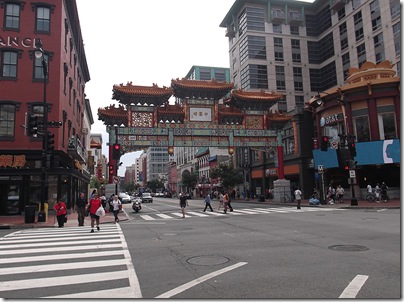 At the Smithsonian American Art Museum I saw a major exhibit of the work of Nam June Paik, the video artist. I even saw his famous masterpiece, Electronic Superhighway: Continental U.S., Alaska, Hawaii, which looked kind of familiar. I must have seen that in one my modern art books. According to Wikipedia, this piece is on permanent display at the Lincoln Gallery of the Smithsonian American Art Museum. However, the museum was also running a special exhibit of his work so I saw additional stuff like his TV Cello.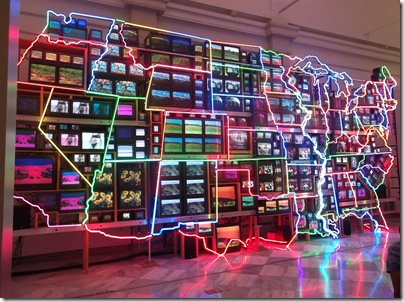 I guess it is worthwhile to do some research on the artwork I saw. For example, I definitely saw Woman Eating by Duane Hanson even though the web site claims it is not currently on view. I saw Georgia O'Keeffe's painting Manhattan. I also noticed the painting Bar in Hotel Scribe by Floyd MacMillan Davis featuring Ernest Hemingway and caricatures of other World War 2 war correspondents.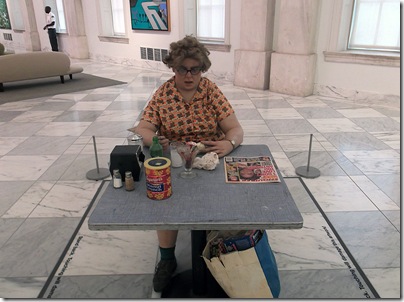 Another special exhibit I saw at the National Portrait Gallery was the Outwin Boochever Portrait Competition 2013. I also found the Luce Foundation Center for American Art, a study center and visible art storage facility. The only artwork I recognized there were two paintings by Romaine Brooks; La France Croisée (The Cross of France, 1914) and Peter, a Young English Girl (1923-1924), a portrait of the artist Gluck.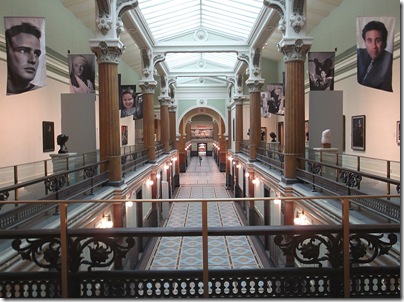 I had lunch in the Robert and Arlene Kogod Courtyard after buying some food at the Courtyard Café. There wasn't much of a selection so I had an egg salad sandwich and some chocolate milk. Before I left the museum at 3:30 p.m. I stopped in at the museum store. I didn't find anything I particularly wanted to buy. I might have made a token purchase but I decided to go to the Barnes & Noble Bookstore on 12th Street where the book selection would be better. In fact, that is exactly where I went after leaving the museum. I found plenty of books to buy because they had a good selection in their Drama section. I bought Rabbit Hole by David Lindsay-Abaire, Ma Rainey's Black Bottom by August Wilson, and The Playwright's Workout by Michael Bigelow Dixon. They even had the magazine American Theatre so I bought a copy.
Now I have a few minor details to note for the sake of future trips. The Washington Monument was covered in scaffolding to repair the earthquake damage. I noticed lots of food trucks parked along the National Mall so I bought a popsicle at one. The popsicle was three dollars which was outrageous. It started to rain a little but fortunately I had my umbrella. If you use Capital Bikeshare you should be careful where you ride the bike because I saw some people get yelled at for riding through the Hirshorn Museum's Sculpture Garden.
On the trip home we stopped at a Bob Evans in Frederick, MD. I drained the battery on my smartphone while listening to music so I finally used my portable battery which did a good job of partially recharging my device. My smartphone, cell phone, and Kindle Paperwhite all use the same type of connection so I only need to bring one plug with the portable battery.
I don't know when I will make another trip to Washington DC but I should try to visit the International Spy Museum, the Kennedy Center, and the Folger Shakespeare Library before finally exploring the rest of the city. Next week I am going on another bus trip to New York City.