I have made yet another trip to New York City to advance my knowledge of the city and its cultural resources. Currently I am visiting New York City at least once a month. The tourist in me is tired of New York City but since I have an interest in the arts there is still a compelling reason to go. This particular trip had a performing arts theme.
I kept a bunch of receipts since they are a convenient form of documentation. For example, I know I ordered breakfast at the McDonald's in White Haven PA at 7:31 a.m. This means it took the bus two and half hours to reach Exit 277 on Interstate 80. This fact is worth noting because this is also where you get on the Pennsylvania Turnpike for Philadelphia. Now I know this is two and a half hours from Williamsport.
I guess my digital camera photos also have a timestamp which is useful for figuring out when I was at someplace. My first photo was taken at 10:00 a.m. so the bus must have arrived at New York City shortly before 10:00 a.m. Another thing I want to note is that I saw lots of construction along The Helix, the New Jersey approach roadway to the Lincoln Tunnel. It looks like some buildings are going to obstruct your view of the New York City skyline as you approach the Lincoln Tunnel.
The first item on my itinerary was to photograph the High School of Performing Arts on West 46th Street. This was the high school that inspired the film and TV show Fame. I think I watched that TV show when I was in high school. The building wasn't used in the film and it no longer houses the High School of Performing Arts. I also took photos of theaters on West 43rd Street which I missed on previous trips; The Town Hall and Stephen Sondheim Theatre. So I have located and photographed almost every Broadway theater in the Times Square Theatre District.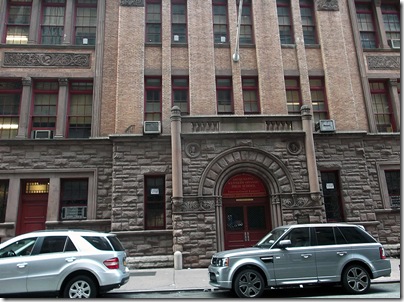 After that I walked to West 42nd Street and 10th Avenue just to take a photo of a CVS Pharmacy. There wasn't much point in this except I am familiar with CVS Pharmacy and I couldn't find any photos online of this particular street corner. I wanted the photo for my custom travel guide since I may want to find a CVS Pharmacy on a future trip. The CVS Pharmacy in my neighborhood built a new store to move into so they were sort of on my mind.
Once I had my precious CVS Pharmacy photo I retraced my steps to the Times Square subway station and followed an endless series of corridors to find the N train platform. A Q train showed up and based on experience I decided to board it rather than wait for a N train. Sometimes it seems to be a mistake to wait for a train with a particular letter. The Q train only went to 57th Street where I transferred onto a N train for one more stop, Fifth Avenue – 59th Street, my actual destination. The Fifth Avenue – 59th Street Station is on the south end of Central Park.
I was going to take photos of the Plaza Hotel but it was covered in a massive mural during its renovation. See Fake Facade Mural Covers Plaza Hotel Amid Renovation. But I did see the Pulitzer Fountain and an Apple Store glass cube nearby. I walked to West 60th Street and West 59th Street where I hanged around the neighborhood for several hours waiting for my show to start. I tried to find the Cinema Café where I planned to have lunch but I could not find it. Now that I am home I have discovered that this restaurant had closed. This pisses me off because my online research did not reveal that the restaurant was closed. They still have their web site up. It was only when I searched for "Cinema Café closed" that I discovered it was closed. So I guess I need to add the word "closed" to my search terms to make sure someplace hasn't closed.
Anyway, I found some nameless café on West 60th Street where I had an almond croissant and a can of carbonated lemonade to keep hydrated. I accidentally left my umbrella here, but later on I came back and sat at the exact same table to casually retrieve it without anyone noticing. I was inordinately proud of this "save" even though it was only a minor annoyance.
I found Bloomingdales and Serendipity 3 along West 60th Street, places associated with Andy Warhol. Unfortunately Serendipity 3 was too crowded for me to drop in. But I did find the Roosevelt Island Tramway and since I had time to kill, I decided to ride the tram to Roosevelt Island. The fare was the same as a subway ride and you can use your MetroCard. I'm glad I did this because the Roosevelt Island Tramway gives you a spectacular view of the Upper East Side of Manhattan. The cabin slowly rises through the nearby high rises so you can see their roof gardens. Then it follows the Queensboro Bridge over to Roosevelt Island where you have an excellent view of Manhattan's skyline along the East River. I walked halfway down the island to take photos of the United Nations' Secretariat building before making a return trip.
According to a receipt, the only meal I had on this trip was at Fresco Café at 250 East 60th Street. I had a bagel with Nova Scotia salmon (aka Lox) because this was a New York City culinary specialty I've been meaning to try. I ate rapidly in order to be on time for the show The Year I Was Gifted by Monica Bauer at 59E59 Theaters. This was technically the highlight of my trip. I wanted to check out the 59E59 Theaters because it is the theater used by Primary Stages, the theater company running the online playwriting course I'm taking. So if I understand things correctly, 59E59 Theaters is basically just an Off-Broadway performance space used by multiple Off-Broadway theater companies. I have to admit that I did not understand the distinction between a theater company and its performance space before I began to delve more deeply in the world of theater. Doing your research is important. Otherwise you get confused about whom you are dealing with.
The Year I Was Gifted was a one woman show performed in Theater C. Theater C was a black box theater. If you read the Wikipedia article on black box theaters you will see it mentions the Edinburgh Festival Fringe which is exactly where this show is heading. So if I understand things correctly again, 59E59 Theaters presented an East To Edinburgh festival of plays bound for the Edinburgh Festival Fringe. In other words, any performer or theater company planning on appearing at the Edinburgh Festival Fringe could have arranged to appear here in New York City first. I want to understand all the relationships here because it is possible that Monica Bauer was just an independent playwright/performer unassociated with anyone else. The Year I Was Gifted was an entertaining show about Monica Bauer's youth. I'm assuming it was autobiographical. She managed to get out of Oklahoma to attend the Interlochen Arts Academy in Michigan where students were expelled for homosexual behavior. The Interlochen Arts Academy reminds me of the High School of Performing Arts I mentioned previously so I could relate to this show. I kind of envy anyone who was considered gifted enough to be pulled from regular school in order to attend a special school for the arts. It seems like such a significant validation but I suppose you are too young to really benefit from it. Monica Bauer appears to be a moderately successful playwright. In other words, she is more successful than me but still hasn't received any real attention. Keep in mind that I'm a poor judge of such matters. For example, I've been studying the work of Marí­a Irene Fornés because she was on the reading list for my online playwriting course. Apparently Marí­a Irene Fornés was very influential in New York City's Off Broadway community but I still get the sense that she is some obscure and forgotten playwright.
I almost fell asleep during the show because air-conditioning makes me sleepy and the black box theater was dark enough to encourage a little rest. New York City was like a sauna. Eventually I lost so much weight through sweating that I could not keep my pants up. Seriously, I must have lost an inch from my waistline because I had to remove all heavy objects from my pockets to keep my pants from falling down. My belt was tight enough in the morning but by the afternoon  I could not pull it tight enough. I was sweating buckets!
After the show was over I walked to Columbus Circle and took the subway uptown to the Lincoln Center. I went to the Lincoln Center on a previous trip and took the tour. But I didn't visit the Library for the Performing Arts so that was my objective on this trip. The Lincoln Center fountain was on so I took some photos of the fountain. I also saw many dancers practicing around the Hearst Plaza even though it was way too hot for such physical exertions. I'm not sure if they were rehearsing for a show or taking an outdoor class. Anyway, there wasn't much for me to do at the Library for the Performing Arts. I examined some display cases on the work of the Kronos Quartet, an American string quartet I've never heard of.  I think I will explore their music even though discovering them at the Library for the Performing Arts is a random encounter. I then walked across the street to the American Folk Art Museum which moved here from West 53rd Street. I was expecting the museum to be bigger than it was when I visited it on West 53rd Street but it was even smaller with just two galleries devoted to a single artist. Admission to the American Folk Art Museum is free and I can see why. I didn't even bother to make the $5.00 suggested donation for such a meager display of artwork. But I did buy a book on the work of Eugene Von Bruenchenhein. I mentioned this artist in my play on visionary artists so I wanted to buy this book for its personal significance to me.
Unfortunately, I didn't have anything planned after that so I just took the subway back downtown to Times Square. It was way too hot to be running all around town. I went to The Drama Book Shop and bought a couple of books by Adam Rapp, a well known playwright. Most people probably don't know who the hell Adam Rapp is. However the New York Times theater critic Charles Isherwood has refused to review any more of his plays and this has given him a kind of fame. For the rest of the trip I just wandered around the theater district taking even more photos of Broadway theaters. I noticed a very heavy police presence in the West 42nd Street area but I didn't see anything going on. I bought a lot of cold drinks to keep myself hydrated. I didn't spend much money on this trip because I didn't go to a formal restaurant but I did buy lots of liquids. There was a brief thunderstorm with some heavy rain which provided the only justification for carrying around an umbrella all day long. I did discover that the Booth Theater will be showing Tennessee William's The Glass Menagerie. That is one of my favorite plays so I'm tempted to splurge on a Broadway ticket for that. My next trip to New York City will be on August 10th. I plan to see a NYC Fringe Festival play entitled Manic Pixie Dream Girl: A Graphic Novel Play because there is an Noon matinee.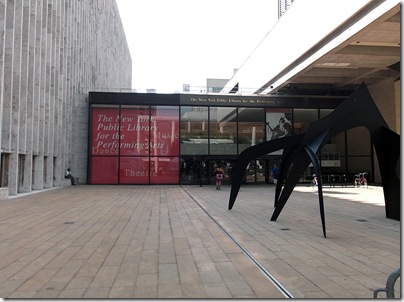 I was going to finish this blog post here but it is bad writing to leave out the summation. There must be some reflection on my experiences. I think the lesson of this trip is that while the grandeur of New York City may lend a certain majesty to its cultural life, the artist's work may actually be very modest and unimpressive in other surroundings. I've realized this after seeing the birthplace of punk rock. Many of the New York punk rock bands were terrible and played in cramped bars but they became legendary simply from being based in New York City. A lot of the theater in New York City also takes place in shabby performance spaces and isn't very impressive. But it is difficult to disentangle the experience from its context. Everything that occurs in New York City takes place in the company of skyscrapers and seems to tower over everything else. The Year I Was Gifted was part of my extraordinary day and became entangled with my visit to Lincoln Center and pilgrimage to the original High School of Performing Arts. So even though it was a randomly encountered performance it seems meaningful. It was kind of magical to see dancers practicing around the Lincoln Center afterwards. And where do I fit into all this? My vision of New York City does seem to stretch beyond its own mystique. My imagination becomes entangled in the experience and lends its own majesty to the island of the skyscrapers. After all, I researched this trip and gathered the threads to weave it into an extraordinary day.