Yesterday I made yet another trip to New York City. The purpose of this trip was a sort of scouting mission because I wanted to locate various establishments where I might have business. But due to my varied interests, I had a long list of places to visit.
After visiting the Andy Warhol Museum in Pittsburgh last month, there were a few places listed in the book Andy Warhol's New York City which I wanted to see. One place I particularly wanted to see was the site where Max's Kansas City used to be. Unfortunately Max's Kansas City is long gone but you can still see the building. Besides being associated with the Warhol crowd, Max's Kansas City also played a big role in the New York Punk Rock scene. It was where Deborah Harry worked as a waitress before forming her rock group, Blondie. I've recently read the book Blondie: Parallel Lives.
But the first order of business upon arriving in New York City was to check out various theaters to the east of Times Square and Broadway. On previous trips I tended to concentrate on the side streets to the west. So I located the Belasco Theatre where President Obama once saw a performance of August Wilson's play Joe Turner's Come And Gone. Think about that for a minute. A major playwright might write something that will be seen by the President of the United States. I also found the Hudson Theater, which is no longer a theater, but it is still noteworthy for being one of the places where Andy Warhol would show his films.
I took a few photos of random things that were of some interest. For example, a Martz Trailways bus was interesting to me because that is the bus company which services North-East Pennsylvania. There may be circumstances under which I would want to take one of their buses to New York City. Last week I made a brief trip to Wilkes-Barre and saw where the Martz Trailways bus station is located. It was sort of hidden away and not where I expected it to be so that was a worthwhile excursion. Travel is frequently a difficult, vexing business so I'm always thinking ahead to make it go more smoothly. I also saw the new CitiBike racks of bikes for the public to use around New York City. I don't intend to bike around the city but this new bike sharing scheme has been in the news and it is helpful to know where they are located.
There were three establishments further downtown which I wanted to locate because I may actually need to find those places on personal business. First, there was the Producers' Club, a performance space located in the Times Square Theater District. I entered a short play in a playwriting contest. If they select my play it will be performed at the Producers' Club. At first, I thought the Producers' Club was the name of the theater company but it is actually just the performance space. It could be rented out by anyone.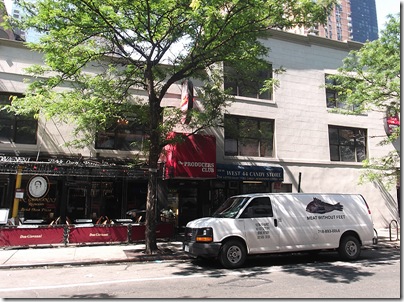 Another building I photographed is 311 West 43rd Street. This is a non-descript building that apparently nobody has ever bothered to photograph before, but it is where the Lark Play Development Center has their offices, on the 5th Floor. This non-profit organization provides many services to playwrights so I wanted to find the place for future reference.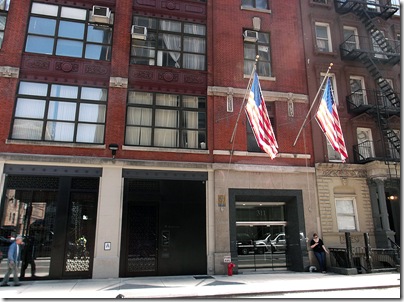 The final establishment I found is 307 West 38th Street, where the Primary Stage Studios is located. I'm taking an online playwriting class offered by the Einhorn School of Performing Arts (ESPA) so I have a definite relationship with this organization. But I didn't have any reason to drop in so I only confirmed my sense of where they are.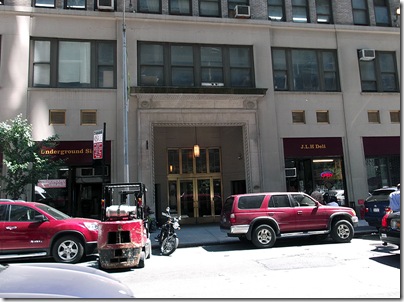 After exploring the Times Square Theater District, my next goal was to have lunch at El Quijote in the Chelsea Hotel. This restaurant is open to the public and it is about as close as you can get to the Chelsea Hotel without booking a room or renting an apartment. Andy Warhol and the members of the Factory dined here often, according to the book Andy Warhol's New York City. The Chelsea Hotel was many blocks downtown so I took the subway. I think I took the 7 Avenue Local from Penn Station. I remember a long journey through the corridors of Penn Station trying to find the subway lines. Unfortunately the 7 train was an express train or wasn't following its normal schedule because it took me to 14th Street without making any stops. So instead of going directly to the restaurant I had to walk several blocks uptown.
Fortunately I was able to find where Max's Kansas City once was because it is between East 17th Street and East 18th Street. Max's Kansas City is now a Bread & Butter restaurant at 213 Park Avenue South. I think there should be a shrine at this address considering how important Max's was to the history of rock music and the fine arts. This Bread & Butter boutique restaurant should be invaded by aging punks and art history majors wearing leather jackets so nobody forgets what was once here. The most I can do is post my photos on Flickr and tag them with "Max's Kansas City" so other cool tourists can find it and leave flowers or something.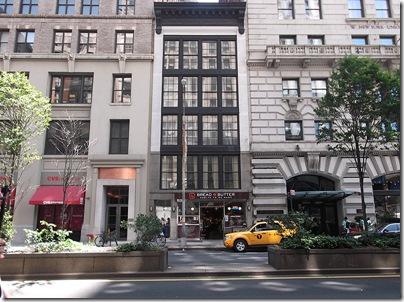 I also walked to Gramercy Park. Gramercy Park is a private park so I wasn't able to get in but I did take a photo of the Edwin Booth statue. It does not really make sense to erect a statue to a man in a private park where the public cannot see it properly and reflect upon his legacy. It may make a good symbol for the elitism of the theater. I was also disappointed to find the Player's Club covered in scaffolding so I was unable to take a photo of that exclusive social club whose members included Eugene O'Neill, Tennessee Williams, and a long list of celebrities.
By that time it was Noon, when the El Quijote should be open, so I walked all the way to West 23rd Street. El Quijote wasn't quite what I was expecting. It is a slightly formal Spanish restaurant. The wait staff all wore jackets and could speak Spanish. But the customers were not so formal so I didn't feel underdressed. I ordered the mixed seafood with green sauce. It was shrimp, oysters, scallops, and mussels covered in a thick sauce with onions and chives or something like that. It was an excellent choice because it wasn't a ridiculous amount of food to eat. It was just right if you want a light meal without fancy, microscopic dishes that cost a fortune. It only cost me around $25.00 including the tip. Unfortunately, the Chelsea Hotel was also covered in scaffolding so I didn't get any good photos of this historic hotel.
After lunch, I went further downtown to the East Village to locate some Off-Off Broadway theaters. I took the Lexington Avenue Local 6 train to Astor Place. The 6 train was very crowded. At Astor Place I emerged from the subway entrance in front of the Starbucks. I took lots of photos of the subway entrances here because this was something I was updating in my notes. Although I've been to the East Village on a previous trip on a mission to see the historic Off-Off Broadway theaters, I wanted to do a more thorough job this time.
One of the major theaters I located was Joseph Papp's Public Theater. I think this was the theater that produced Jason Miller's That Championship Season which later transferred to Broadway. I also found New York Theatre Workshop, La Mama Experimental Theater, Theater for the New City, Theatre 80, and the Orpheum Theatre which is still devoted to STOMP. I think it is irritating to see theaters doing the same show forever to the point where you think of them in terms of the show. For example, Winter Garden Theatre has been running the musical Mamma Mia! ever since I've been visiting New York City and I'm sick of seeing its giant billboard. Anyway, I don't know if the Orpheum Theatre will ever do anything besides STOMP. I think the Orpheum Theatre only exists to do STOMP.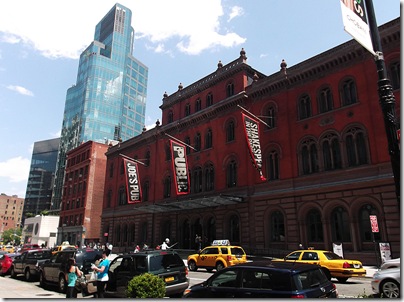 The East Village now has many futuristic skyscrapers which look totally out of place so the area must seem very different from what it looked like during the era of New York Punk Rock. I've read a lot about how this area is being gentrified. But I recently learned that the East Village is Little Japan and I saw plenty of evidence of that. If you look closely you can see many Japanese restaurants and establishments in the East Village. I even saw Japanese women in kimonos on the streets. There was a street fair taking place where I saw quite a few booths from the Japanese community.
After wandering all over several blocks taking way too many photos, I finally decided to actually enter a few establishments. First I went to St. Mark's Bookshop where I bought two books; Lovely Head and Other Plays by Neil LaBute and The Art Lover's Guide to New York. The Art Lover's Guide to New York may give me some ideas for future trips to New York City. Right now I am repeating myself by revisiting places I've already been to. Then I had an Italian beer at Jimmy's No. 43. I don't usually visit bars but this place interested me because it is sort of a hangout for the Einhorn School of Performing Arts where they do readings of student plays. Finally, in a rare nod to geekdom, I went to Toy Tokyo where I bought a $100 Godzilla figure. I kind of regret this purchase because it was way too extravagant and unrelated to the serious purpose of my trip.
Eventually I began to get too hot and tired to keep up my exploration of the East Village. I actually walked all the way to Madison Square Park by following the street fair. I took the Lexington Avenue Local 6 train up to Grand Central. I got off there, at 42nd Street, because I intended to go to the Drama Book Shop on West 40th Street. Before I reached that store I passed the New York Public Library and Bryant Park. I really covered a lot of ground on this trip and saw most of the landmarks all over again. A purchase at the Drama Book Shop is becoming part of my New York City trip ritual. This time I managed to obtain some real finds. I headed directly to the B authors where I found Steven Berkoff's Agamemnon and The Fall of the House of Usher. This is the British playwright's work which I was searching for on a previous trip. More importantly I found Hunting and Gathering by Brooke Berman, the instructor of the online course I am taking. This book is totally unavailable for purchase online unless you want to pay $500.00 which is what some bookseller is trying to get for a copy.
I pretty much squandered the last few hours of my trip because I was exhausted from all that running around. I just took lots of photos around Times Square as usual. I was shocked to see a totally nude woman panhandling on Times Square. She was covered in body paint but she wasn't wearing a g-string or pasties like some of the other "Nude Cowboy" panhandlers. Apparently this is legal because it qualifies as performance art. Times Square is getting to be like a open air strip club where you can have your photo taken with a nude girl for a few dollars.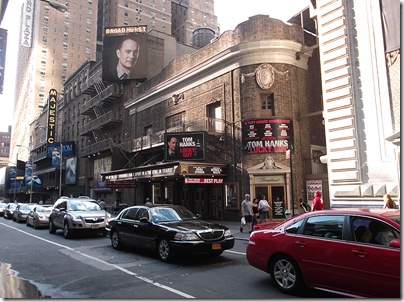 With this trip I am finally breaking away from being a tourist. I am beginning to use New York City as a resource to further my own ends. A lot of the photos I took will be added to my custom travel guide for future reference. Maybe I'm still acting too much like a tourist, but a lot of what I do may prove useful later on. For example, taking a lot of photos gives me a stockpile of images which I can use for self-published book covers or artwork which will require copyright free materials. I may use a few of my observations in my plays. And my research on the New York City theater community will definitely be useful in evaluating playwriting opportunities. But I think I need to explore Brooklyn next because the vast majority of the creative community lives there.