Yesterday I made my fifth trip to Baltimore Maryland. That may be my last trip because there is nothing else for me to do in Baltimore, unless I want to make a shopping trip to the Hampden neighborhood.
On this trip I finally ventured into the Mount Vernon neighborhood which is north of the downtown area. To get there, I used the Baltimore Light Rail just like on my trip on Sunday. But I only had to go three stops to Centre Street. From there it was a short walk to the Walters Art Museum. I wasn't very enthusiastic about this trip but the Walters Art Museum was really impressive and made my trip worthwhile. The Walters Art Museum is quite similar to the Metropolitan Museum of Art but not as large. The museum is free so you can just walk right in and start your visit.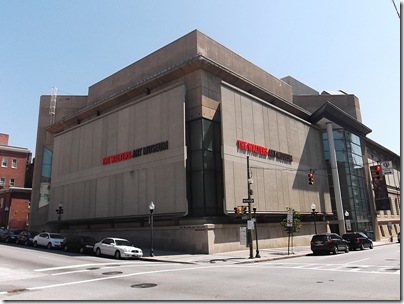 I saw lots of Egyptian, Roman, and Greek artwork and statues. The museum has many quality pieces. I especially like the Egyptian statues and the mummies. They had a few Greek krater vases and other treasures from the Ancient World. The Sculpture Court reminded me of the Carnegie Museum's Hall of Sculpture but it was smaller. The Chamber of Wonders lived up to its name. I think that was the gallery room filled with a marvelous collection of objects. It looked like the study of a Victorian naturalist but there were many fine pieces of artwork too. There was even an alligator mounted on the wall near the ceiling.
After going through a bridge and cupola to reach another building, I found the Asian Art wing in the Hackerman House. The Asian Wing had some grand rooms including a fancy study that was filled with fine examples of Asian Art. I think that was the Japanese Study. The Hackerman House also had an impressive spiral staircase and a great view of the Washington Monument.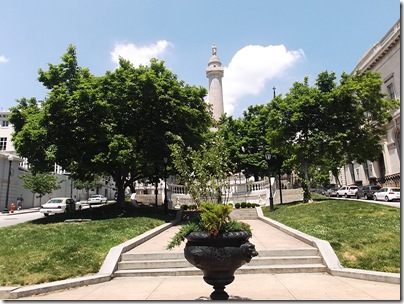 I didn't care much for the Medieval World gallery or the Renaissance & Baroque gallery because I don't know much about that sort of artwork. However, the galleries were equally impressive. I did like the 19th Century Art on the 4th floor. I almost missed that wing of the museum because it is not connected to the Asian Art wing and I had to retrace my steps through the entire museum to get there. It would have been tragic to miss the 19th Century Art wing because I liked the artwork there best of all. Unfortunately, the museum does not have a guide book and I didn't take too many photos because I didn't see many people doing that. But I will try to figure out what I saw that particularly impressed me.
First, there was  The Duel After the Masquerade by Jean-Léon Gérôme. I liked this painting because I've read books on Pierrot but I've never heard of this painting. I like the tragic scene of the French clown shot in a duel. The background seems to be woods in a mist which adds an atmosphere of mystery. I also saw Oedipus and the Sphinx by Jean-Auguste-Dominique Ingres. It looks like the entire collection of the Walters Art Museum is online so you can browse through the artwork in each gallery. Before I left the museum, I bought the book Reconsidering Gérôme by Scott Allan and Mary Morton ISBN: 978-1-60606-038-4. Unfortunately, this book does not have a photo of The Duel After the Masquerade. I thought the book would help me to remember the name of the artist at the very least.
The Walters Art Museum was the highlight of my trip. After that I just walked around downtown Baltimore taking photographs of various landmarks. I did go out of my way to locate and photograph two theaters; Centerstage (near the Washington Monument) and the Hippodrome Theatre (near Lexington Market). Based on my research into the theaters mentioned in the copy of the Baltimore City Paper (which I picked up on Sunday) I did find a playwriting competition being run by the Fells Point Corner Theatre. That may be my one chance to put all this effort to good use!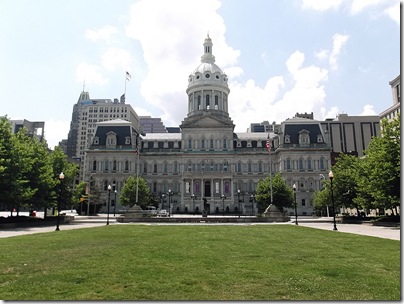 I walked all the way to City Hall and then to the Shot Tower where I found the subway station. I wanted to try the Baltimore subway system on this trip. I bought a Single Trip pass just like the one I bought for the Light Rail but this ticket must be feed through the turnstile to enter the subway's train platforms. It was very hot in the subways and I had been walking in the hot sun so I needed a drink. I decided to go to the Lexington Market which is a subway stop and a landmark food court. The trains were a little confusing since every train had a Johns Hopkins sign indicating it was going in the opposite direction from where I wanted to go. But after missing several trains I finally took a chance on one that was going in the right direction. At the Lexington Market Station the turnstile chewed up my ticket when I inserted it wrong but I was able to go through on the left near the booth after explaining my problem.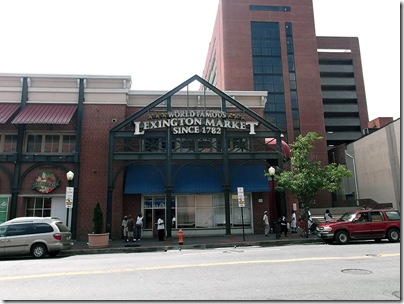 The Lexington Market is quite similar to the Reading Market in Philadelphia. You have your same combination of diners, grocery stores, butchers, and restaurants. I went to Mexican Delight and ordered Three Tacos plus a Pepsi which I really needed. The Lexington Market is in a heavily black area which may be why some people describe it as being a little sketchy. But I didn't encounter any hostility. Technically Baltimore is a southern city (not the Deep South but below the Mason-Dixon Line). I did give some change to a few beggars, mostly slovenly middle-aged white women at bus stops.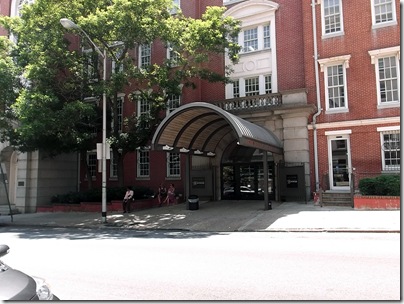 From Lexington Market I walked all the way back to the Inner Harbor which wasn't too far to walk. It was probably faster than using the subway. I forgot to mention that there is only one subway line so it is not that useful for getting around. Once I was back at the Inner Harbor I made a beeline for the Banes & Noble Bookstore in the Power Plant building. There I bought two DVDs and two travel guides; Fodor's Tokyo and Insight Guides Japan. I'm not planning a trip to Japan but after reading a lengthy blog about a tourist's trip to Japan, I have to admit that I'm intrigued. I think a trip to Japan would be difficult because you can't even read their writing system, which is said to be the most complicated in use anywhere in the world. I'm not sure how they are even able to read those tiny kanji characters. Baltimore's Barnes & Noble has an excellent selection of DVDs on the second floor, including Criterion Collection titles and Cult Films. I bought a couple of Asian films to go with my Japan travel guides; Oldboy (actually a Korean film) and Detroit Metal City which looks like a whacky movie about the Japanese take on heavy metal. The cover photos promise high weirdness.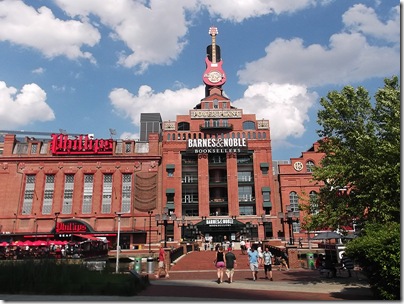 After doing that shopping I had nothing to do for two hours except wander around the malls and waste time in a few restaurants like Five Guys. I don't like to waste time on a trip but I'e exhausted Baltimore's possibilities. My next bus trip will be to New York City, a city that you can never get tired of. I plan to do a lot of running around in New York City to visit some obscure but meaningful establishments.
Just to remind myself, let me mention that I finished reading a book on my Kindle, John Dies At The End. I thought it was a terrible book but it is interesting how it came to be published. This novel began as a piece of fiction published online. Somehow it went viral and now there has been a movie made based on the book. There is a web site where writers can post short works of fiction to build up a readership. I'm considering giving that a try. I would write an imaginary tourist blog about a trip to another planet. It would be fun to imagine the trip and it would give me a chance to show off my imagination. I could invent all sorts of wonders to be seen in the future of travel. Anyway I may put some effort into that to see if it can go viral.