Yesterday I made my forth trip to Baltimore Maryland. My goal on this trip was to visit the Baltimore Museum of Art. This museum is not in the Inner Harbor area so getting to the museum required some planning. I worked on some detailed instructions on how to use public transportation to reach the Baltimore Museum of Art last year. This was the first chance I had to put my plan into effect since the tour bus company kept cancelling their trips to Baltimore.
From the Inner Harbor I walked west to the Baltimore Convention center. Near the convention center there is a Baltimore Light Rail station. I took a photo of the ticket vending machine because I could not find a decent photo online. A single trip fare was only $1.60. You don't actually do anything with the ticket, just board the train, but it is a $500 fine if you are caught without a ticket or pass. I took the north bound train for seven stops north to Woodberry. Just before reaching that stop we had to transfer to another train.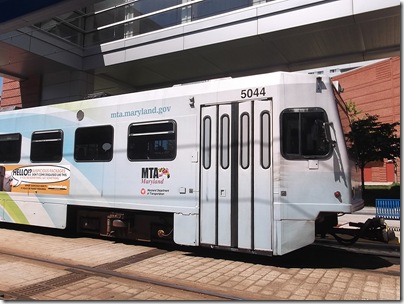 The Woodberry station drops you off at Meadow Mill. This is still pretty far from the Baltimore Museum of Art so I had to walk east. Along the way I passed Atomic Books, a bookstore frequented by John Waters, and Café Hon on West 36th Street. West 36th Street was a very interesting shopping thoroughfare. It had a lot of antique stores, fashion stores, and art stores which seemed to embody the Baltimore aesthetic of quirkiness. This street might be a good destination for a shopping trip. I just looked it up online. This is the Hampden neighborhood featured in a John Waters movie which I'll have to order.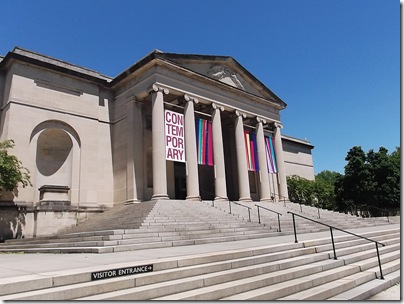 Finding the Baltimore Museum of Art did prove to be a little difficult. It is located within Wyman Park and the Johns Hopkins University. This is one occasion when my custom travel notes on my smartphone proved invaluable but I should have spent more time on my directions. Unfortunately half of the galleries in the Baltimore Museum of Art were closed for renovations. The museum has three floors and I only saw half of the second floor and a small area of the third floor. But the museum is free so you can't complain. I saw the famous Cone Collection of French artwork collected by the Cone sisters of Baltimore. This included a lot of paintings by Henri Matisse. I also saw a gallery room of Andy Warhol artwork that was part of the Surreal Selves exhibit. That was real treat after my visit to the Andy Warhol Museum in Pittsburgh which sparked a minor obsession with Warhol. My obsession with Warhol is pretty mild and seems unlikely to maintain itself. Warhol and the New York City underground art scene of the 1960s seems kind of shabby and uninspiring today. I think I would need to find a more contemporary pop art scene to be intensely inspired. I only managed to spend around two hours at the Baltimore Museum of Art because there was so little to see. Before I left I bought the book The Art Of Acquiring: A Portrait of Etta & Claribel Cone by Mary Gabriel.
To return to the Inner Harbor area I just retraced my steps. I was considering calling a taxi but I had plenty of time left to get back downtown. Before I made the trip back, I had brunch at Café Hon, the John Waters inspired restaurant with the pink flamingo on the front. Café Hon is the sort of quirky hang-out that I wish we had in my home city. The booths have formica tables and leopard skin benches which are very retro and trashy. I ordered a Belgium Waffle which had a mound of whipped cream and fruit on top. It was delicious!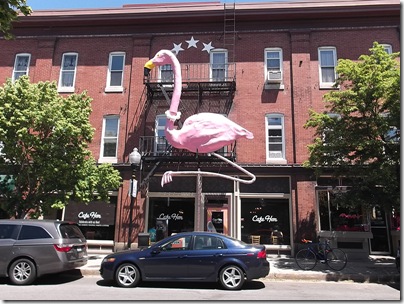 When I arrived back at the Inner Harbor area I just had time to sneak in a visit to the American Visionary Art Museum and the Federal Hill neighborhood before my bus left. I always visit the American Visionary Art Museum when I am in Baltimore because I'm very interested in profoundly inspired artists. It is remarkable to me that anyone can consider themselves to be an artist without being driven and haunted by inspiration. I saw their new Art of Storytelling exhibit which included some miniature theater dioramas by artist Mars Tokyo. These were much smaller than I expected. I found it inspiring to see theater themed artwork because it demonstrated how you might invoke the magic of the theater without being involved in the theater arts which is overly exclusive. I also liked the sculptures of Vanessa German, especially Minstrel Blood which looked like a surreal carnival altar to a JuJu god. And the Fairy Tree House by Debbie and Mike Schramer was magical. It was a rotating tree house such as fairies of the woods might create from pieces of moss, bark, twigs, etc. I searched the museum bookstore, the Sideshow Shop,  for something worthwhile to buy. I was tempted to buy the two volume set of photographer Larry Yust's Streets Tell Stories but it was expensive and heavy. Eventually I found the perfect book, 500 Essential Cult Books by Gina McKinnon ISBN 978-1-4027-6485-0. This book lists 500 books which have achieved cult status. It has great photos of book cover art so browsing through the book is like visiting a used book sale. I was amazed by how many of the books I've read or own so this book really suited my tastes. And it was only $5.00!
After leaving the American Visionary Art Museum I wandered around the Federal Hill neighborhood for a little while. I was planning to make this neighborhood the focus of a trip but there isn't that much to it. I only stopped in at a Dunkin Donuts for an iced tea because it was hot and I was thirsty. Later on I climbed Federal Hill for the view of the Inner Harbor.
I'm going on another bus trip to Baltimore this Saturday. That might be my last trip because I will run out of things to see in the city. I still haven't seen the Washington Monument area or the Walters Art Museum but I hope to do that on Saturday. Eventually I will exhaust the East Coast tourist destinations. Then I will have to make more expensive trips to cities like Toronto, Boston, Chicago, San Francisco, and Los Angeles. This year I plan to visit New Orleans around Halloween.