For my last day in Pittsburgh I was tempted to rush home but I'm glad I squeezed in one last tourist attraction. I visited the Carnegie Science Center before going home.
I had breakfast at the Priory Hotel before checking out. I wasn't sure I was entitled to this but I stayed four nights so I should get four breakfasts. There were no extra charges on my bill so this was a relatively inexpensive vacation. I drove from The Priory to the Carnegie Science Center. It wasn't very far to drive but I had to be careful of one way streets. It cost me $5.00 to park at the Carnegie Science Center. I bought a general admission ticket with an IMAX movie.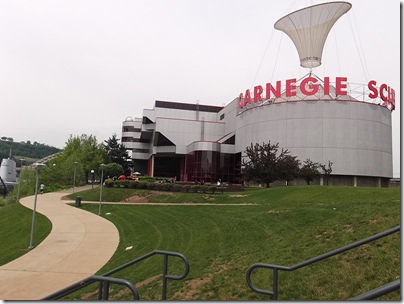 The Carnegie Science Center was crawling with kids. There were several bus loads of kids running around. It must be a popular school trip for miles around. Fortunately, the museum isn't exclusively designed for kids. They did have an elaborate model train layout with Pittsburgh area scenes like Frank Lloyd Wright's Fallingwater house. But my favorite exhibit was the Robot Hall of Fame. They had life sized models of C-3P0, R2-D2, B9 from Lost In Space, Robby the Robot from Fantastic Planet, HAL 9000, and even a robot from the 1971 film "Silent Running". There was an actual android at the entrance to roboworld. I also went through the USS Requin (a World War II submarine) docked along the Ohio River alongside the Carnegie Science Center. For lunch I had a slice of pizza and strawberry milk.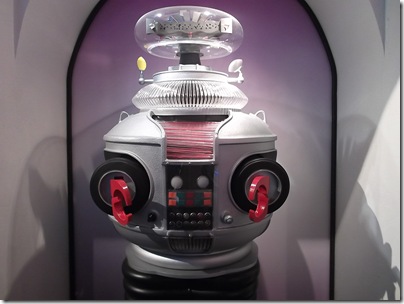 I had to wait until 1:15 p.m. to see an IMAX movie about the Hubble space telescope so I walked around outside on the river walk trail. Fortunately I found the memorial to Mister Rogers and took lots of photos of this sculpture of him looking towards the Pittsburgh skyline. I must have been right in the area where the shootings take place in the Jack Reacher movie which was filmed in Pittsburgh. I saw that film last night. It was thrilling to see this movie after my trip to Pittsburgh where I saw the exact same views of the city.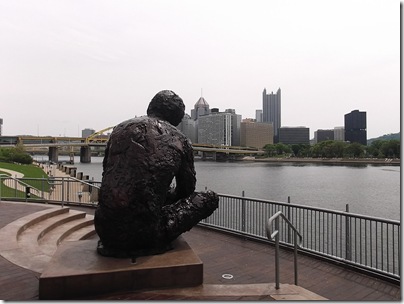 The IMAX movie about the Hubble space telescope was awe inspiring. It was the biggest movie screen I've ever seen, like having the entire sky for a screen. It included shots of the space shuttle launching and the universe full of galaxies. Before I left I bought a DVD Pittsburgh's Big Picture since I may be back in the city some day. There wasn't much else worth buying in the Carnegie Science Center store.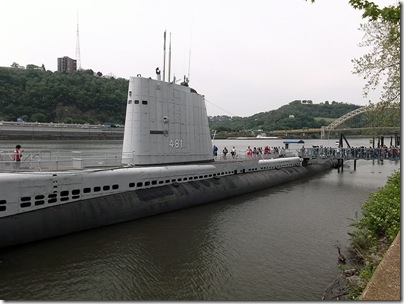 The drive home was completely uneventful but this was of great interest to me because I want to know how to drive around the state. US 22 East has a lot of stop lights along the way. I had to take US 220 North near Altoona PA. Some day I may want to see the famous Horseshoe Curve. Tyrone PA looks like an interesting little industrial town that I don't know much about.
My next trip will probably be a bus trip to Baltimore. I also plan to drive to Wilkes-Barre which I know from local television and maybe a weekend trip to Philadelphia. To avoid getting locked out of my car again I will try to get an extra spare key. I have also ordered a belt clip and case for my cell phone and a belt key clip because I need to keep things on me. This trip was a learning experience but I need to step up my game and be better prepared for emergencies and problems.