Thursday was my last full day in Pittsburgh. I had to check out of my hotel on Friday morning. My goal for the day was to ride the famous inclines for a view of the Pittsburgh skyline and to explore the South Side. I called the Yellow Cab company for a taxi to the Station Square because I didn't want to walk to the North Shore Station and then take the subway all the way. That would have required a transfer to the light rail system. The cab fare came to $20.00 because the driver did not have change.
Station Square is a shopping mall with a few restaurants, hotels, and even a sports stadium. This is where you can book trips on the Just Ducky Tours, the Double Decker tour, or the Gateway Clipper Fleet. I guess all the tour operators are located here to be near the inclines, a major tourist attraction. I went up the Monongahela Incline to reach Grandview Avenue and its series of overlooks. The fare was $2.50 and I paid at the top. Unfortunately it was a bit overcast early in the morning with a few light showers but I took lots of photos anyway. The walk along Grandview Avenue required climbing two hills which was very tiring for me. I saw the fancy restaurants on Grandview Avenue but they were all too formal for my taste. I went back down on the Duquesne Incline where you pay the fare at the bottom. From there I walked all the way back to the Station Square. I was tempted to walk across the Fort Pitt Bridge to reach the North Shore but fortunately I found the stairs to reach a lower roadway.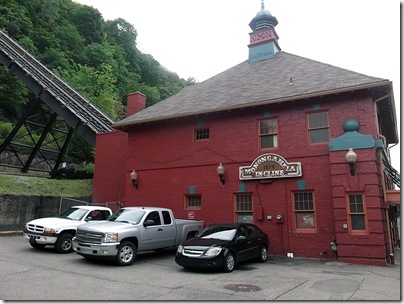 At Station Square I had a large latte at Crazy Mocha, a local coffeehouse chain. I then entered the shopping mall and waited until 10:00 a.m. when the stores opened. I bought a travel guide at Bradley's Book Outlet, The Business Traveler Guide to Washington DC by Jason R, Rich ISBN 978-1-599181-424. Washington DC is one of the largest cities within 250 miles of Pittsburgh so it made sense for them to have this book. Cleveland and Toronto are also within 250 miles of Pittsburgh. At Hometowne Sports I bought a Cheerleader Plush Bear wearing a Steelers jersey because you can't leave Pittsburgh without something with the Steelers logo plastered on it. There is sort of a visitor's center at the entrance to the Shops at Station Square so I picked up a few brochures for future research.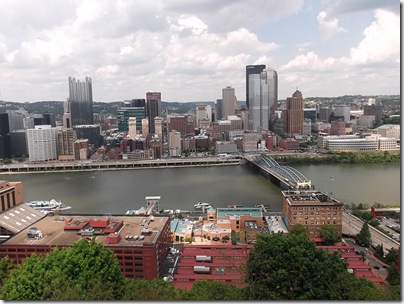 It looked like rain so I bought a ticket to the Double Decker Tours guided historic tour. Fortunately there were only a few light sprinkles of rain so I sat on the top deck. There were 21 stops on the tour so I got to see a lot of Pittsburgh. First we went to the North Shore which I was already familiar with. Then we went to the Strip District, then downtown, then to Oakland where I was yesterday, and finally to Southside Works where the bus waited 15 minutes. I rode one more stop to East Carson Street where I got off. East Carson Street was where I was planning to go anyway so it beat walking. I had lunch at Fat Head's Saloon where I ate a large cheeseburger with fries. I then walked into the ghetto to find a Family Dollar store. I'm joking, but Family Dollar stores are for poor people. There is one in my neighborhood. I was looking for some handkerchiefs but I had to make do with some paper facial towels and some cheap shoe insoles. Back on East Carson Street I found my way to City Theatre which I made sure to photograph. City Theatre is one of the theaters that may be involved in the Pittsburgh New Works Festival so I definitely wanted to locate the place. East Carson Street is Pittsburgh's main party street with lots of bars, clubs, hip restaurants and trendy clothing stores. It is a very wild place at night where the police frequently need to show up.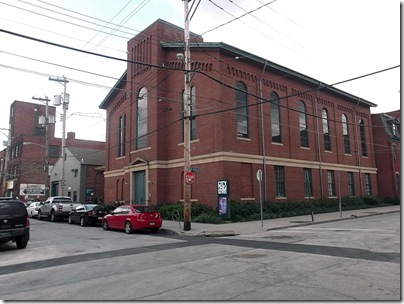 I walked all the way back to Station Square which was a long way to walk in the hot sun. But since the sun was out I decided to go up the Monongahela Incline again to take some better photos of the Pittsburgh skyline. However, I did not walk all the way to the other incline. I just went back down the Monongahela Incline. At Station Square I bought a soft drink to rehydrate and called a cab. Once again Yellow Cab kept me waiting for almost an hour but they finally showed up. I waited because my feet were killing me.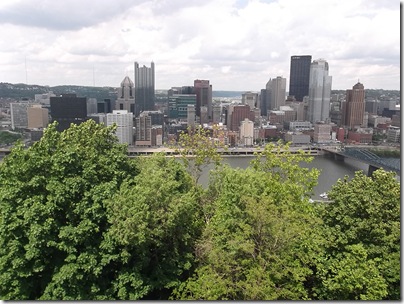 Once at the Priory Hotel I wasn't inclined to do anything else but I did walk to Max's Allegheny Tavern where I ordered a German Peach drink and a Bacon, Lettuce, and Tomato sandwich. I should mention that I was staying in the Deutschtown historic neighborhood on the North Shore. It is a very nice neighborhood with a great view of the Pittsburgh skyline across the Allegheny River. The houses are Victorian and made with more stone than is usual. The only downside was a housing development across from my hotel which made the neighborhood a little ghetto.