On the second day of my vacation I had breakfast at the Refectory, the dining room at The Priory, the bed and breakfast were I was staying. There was quite a spread for breakfast so I had some ham and cheese, fresh fruit, yogurt, a donut, orange juice, and coffee.
My first goal for the day was to visit the Andy Warhol Museum. This was one of the main reasons for my trip. I've wanted to see the Andy Warhol Museum for a long time. Andy Warhol is an idol to me because he was closely associated with Deborah Harry and I used to be a huge Blondie fan. I even had a collection of Blondie memorabilia which could have filled a museum. Unfortunately, I sold my Blondie collection to buy my first car. In addition to Blondie, I was fascinated by the New York punk rock scene, the Velvet Underground, and the Andy Warhol crowd. They represented everything that was cool and creative about New York City. Skipping ahead a little, I did buy a book Andy Warhol's New York City: Four Walks at the museum store. Maybe I will visit the Warhol sights on my next trip to New York City.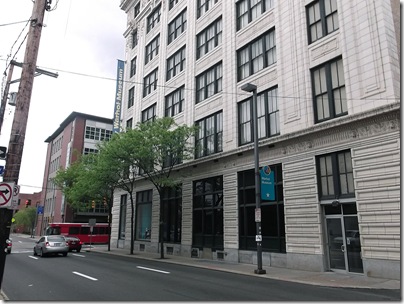 It only cost me $10.00 to visit the Andy Warhol Museum. I think there was a 50 percent discount because a few floors were partially closed off for new exhibits. To be honest, the Andy Warhol Museum wasn't very impressive. They had a few of his silkscreen paintings and his art films playing on the walls but his work does not lend itself to art exhibits. I was unfamiliar with a few aspects of his oeuvre. For example, there were black and white photos stitched together which I have never seen. One room was filled with silver balloons just like the Silver Factory. At the museum store I bought the New York City guide book I mentioned and a short biography Andy Warhol by Arthur C. Danto. I was just going to buy the Victor Bockris biography on Amazon but it is already in my book database so I must have read that a long time ago.
After leaving the Andy Warhol Museum I walked across the Andy Warhol Bridge to reach downtown Pittsburgh. I walked around the cultural district taking photos of the theaters but it seemed like each one had construction work going on in front or there was a school bus parked out in front. I ordered an iced coffee at Starbucks to keep myself hydrated. At noon I had lunch at the Primanti Brothers on Market Square. The Primanti Brothers sandwich is famous for having coleslaw and fries between the slices of bread with the rest of the sandwich. Unfortunately this makes the sandwich hard to eat without getting sloppy. I only had a few paper towels to clean my hands but I used the condensation off my cup of soda to wet my hands slightly, an old trick. I could only eat half my sandwich. At some point I came across the Pittsburgh Welcome Center where I picked up a city map and bought a DVD of The Perks of Being A Wallflower, a movie shot in Pittsburgh.
My trip to Pittsburgh wasn't all fun and games. I also wanted to try out the public transportation in case I ever find myself in Pittsburgh again. Pittsburgh doesn't have much of a subway system but it is free so I entered the Gateway Center Station and rode the subway to the North Shore Station. The exit was near the PNC Park baseball park so I had a long walk to get back to my hotel. Generally it was easier to cross one of the Three Sister bridges to get downtown than to use the subway. I didn't need to buy a ticket or anything. You just freely enter the subway station and walk onto a train.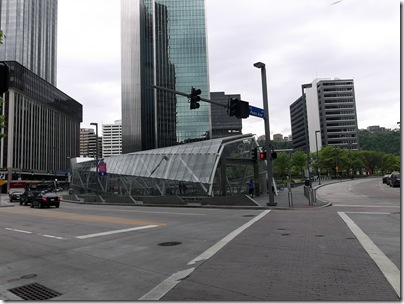 After a brief stop in my hotel room I headed back out to visit the Mattress Factory, a museum of contemporary art which mostly features room sized installations. This museum is hidden away in the Mexican War Streets section of the North Shore. I was kind of far to walk to and some of it was uphill so I decided to try a bus. The bus is the main form of public transportation in Pittsburgh. You can only reach many sections of the city by bus. I attempted to pay the $2.50 fare when I got on but the driver told me to pay when I got off. When I did pay the fare it rejected a Canadian quarter I happened to have. This is why I hate to ride a bus! It is always more complicated than you think. I got off at Federal Street and then had to walk many blocks west trying to find the Mattress Factory. The museum is well hidden in a residential area.
The name of the Mattress Factory amuses me because it is similar to the Pajama Factory here in Williamsport. Now Pennsylvania just needs a Pillow Factory to complete its bedding theme for the arts. The Mattress Factory is a fun museum of underground art. The most famous installation is the Infinity Dots Mirrored Room by Yayoi Kusama. You have to take off your shoes or put paper slippers over your shoes before entering. The room itself was surprisingly small and square. I didn't like how I was in the reflection so I only took a few photos. Another room was like a theater with spooky apparitions appearing onstage accompanied by discordant music and rambling monologues. I liked that installation the best. Another great permanent installation was It's All About Me, Not You by Greer Lankton, a recreation of an apartment crammed with dolls, pill bottles, and shrines to Patti Smith and Candy Darling. One room really mystified me since it appeared to be nothing more than a room to experience a complete absence of light. Going through this museum was sort of like going through a funhouse or a haunted house. Before I left I bought an expensive book on Yayoi Kusama's work.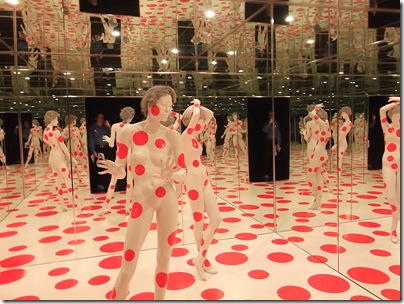 I walked back to my hotel which wasn't too tiring because it was downhill. I remember it was around 4:00 p.m. and I had a show to catch at 7:00 p.m. but I decided to do something adventurous and walked downtown. I had an one hour massage at Zhang's Wellness Center. The massage was very relaxing. I almost fell asleep. By the time I got out of there, it was almost time for my show so I had another iced coffee at Starbucks to rehydrate.
The highlight of my trip was seeing the play Clybourne Park at the O'Reilly Theater. The O'Reilly Theater is home to the Pittsburgh Public Theater. This theater is also where the last August Wilson play was premiered and the great playwright saw his last play produced here just before he died. I bought Clybourne Park for my Kindle so I already knew the story. The play is about how white neighborhoods feel threatened when black families move into the neighborhood. In Act Two, the play is about how black neighborhoods feel threatened when whites gentrify the neighborhood. This play was perfect for Pittsburgh because it is a city of many ethnic neighborhoods. The program had an article about how August Wilson's Hill District was razed to build the Civic Arena Stadium. The Civic Arena has been torn down so I did not see that famous landmark. The O'Reilly Theater is an impressive theater with a balcony and many seats. They did not have a full house but the audience was very large. The stage design was very realistic. I thought that must be how some of the historic houses on the Mexican War Streets must look inside.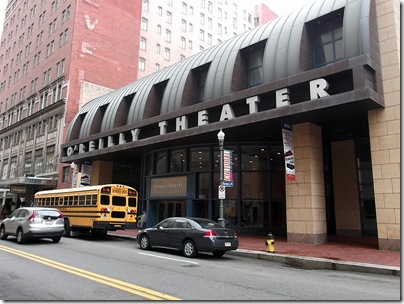 Since I entered a play into the Pittsburgh New Works Festival I may need to return to Pittsburgh. I don't want to be too optimistic. I think my play was really bold and unusual but it may be too outré for the general public. I think it really is a matter of the odds. When a writing competition gets hundreds of submissions the odds are going to be against you. It does not matter how good your writing may be, you don't stand much chance when the odds are against you. However, Philadelphia and Pittsburgh are the only cities in Pennsylvania with major theaters producing new work so it is important to be familiar with both cities.