I decided to spend my vacation in Pittsburgh because a proper visit to that city was long overdue. Pittsburgh is the second largest city in Pennsylvania but I had only been there a few times. My first trip to Pittsburgh was to see Deborah Harry perform at the Metropol. This club still exists but it is now known as the Club Zoo. I remember I took the Greyhound bus to Pittsburgh for that. Hurricane Hugo made the trip a real nightmare. My next trip to Pittsburgh was for a job interview. It is a shame I did not get that job because I'd be living in Pittsburgh now. My most recent trip to Pittsburgh was a Susquehanna Trailways bus trip to the Pittsburgh Zoo.
I spent a lot of time planning the drive on Google Maps. I printed easy to read directions with photos of exits and highway numbers. I used my GPS but it was giving me crazy directions. The long drive went smoothly except for one truck that pulled off the highway but left its back end sticking out in my lane. I also did some aggressive driving once I reached Pittsburgh because I wanted to follow my precise directions. I had to go through the Squirrel Hill Tunnel on Interstate 376 and this proved to be a very congested area. It took me around four hours to drive to Pittsburgh.
Since I could not check into my hotel until 3:00 p.m. I decided to visit the Strip District until then. So instead of heading directly to my hotel I went over the 16th Street Bridge and parked in a large parking lot under that bridge for $6.00.
The first thing I did was have breakfast at DeLuca's Restaurant which is famous for its breakfast. I ordered a California Omelet which had slices of avocado in it. My seat had a plaque honoring some TV food critic or chef who had sat there. DeLuca's Restaurant  is a very famous diner! The Strip District did not impress me. It resembles Philadelphia's Italian Market with ethnic grocery stores and discount stores selling crap. I did buy a few travel guides at Bradley's Book Outlet which was right next to the diner; Working and Living France ISBN 1-86011-128-9 and  Venice ISBN 1-86011-822-4 Cadogan Guides and the 11th edition of Rich / Poor Man's Guide to Pittsburgh. I also managed to snag a copy of the Pittsburgh City Paper before returning to my car. After that I returned to the Strip District to buy some Steelers souvenirs at Mike Feinberg Company at 10:28 a.m.. I wasn't particularly interested in the Steelers but they are a Pittsburgh institution.
Shortly after depositing that purchase in my car I was horrified to discover that I had locked my keys in my car! This was a disastrous way to start my vacation. I was already feeling bad about the drive to Pittsburgh so now I was quite glum.
I needed to use a restroom so I decided to go ahead and visit the Heinz History Center at 11:07 a.m. where I could think about what to do. I didn't enjoy the Heinz History Center because I was too worried about my car. But I did see a great exhibit 1968: The Year That Rocked America. There were all sorts of Sixties pop culture artifacts that I remembered, although I was only fours years old in 1968 so most of this stuff was from the previous generation as far as I was concerned. I remember seeing Mister Roger's hand puppets. I know I watched that show as a child.
There was also an antique robot which I've never seen before, Elektro built by Westinghouse in 1937, and various exhibits on the industrial history of Pittsburgh. I also wandered around the Sports Museum a little which was nicer than I expected because it includes a wide variety of sports. At the gift shop I bought the book Pittsburgh In Stages because exploring Pittsburgh theater was one of the reasons for my trip.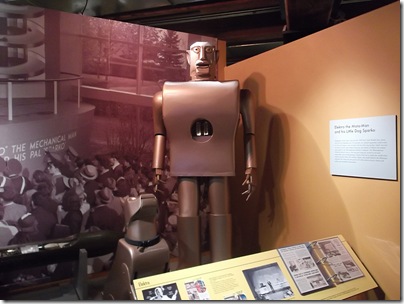 When I returned to the parking lot I tried to get a parking attendant to help me but he couldn't do anything. I decided to walk all the way to my hotel on the North Side since they seemed to be the only ones who might help me. I actually did bring my spare car key along with me but it was in my luggage. I should try to get a spare key made that will fit in my wallet like my house key. I had also left my cell phone in my car. I really need a belt clip to carry that thing.
After walking downtown I crossed the Andy Warhol Bridge to reach the North Side. I took lots of photos on the way to make good use of my time. When I reached the Priory Hotel I asked to check in and then told them about my predicament. This began a learning process of what you should do if you lock your keys in your car. The hotel staff thought I should call the police but the police did not appreciate being called about a lockout when it is not an emergency. So the hotel staff called a locksmith for me instead. Unfortunately the locksmith kept me waiting until after 3:00 p.m. so eventually I just checked in. After waiting another hour I called another locksmith from my hotel room phone. I still had to wait another hour until that guy showed up. I was worried the locksmiths were going to keep me waiting until it was dark.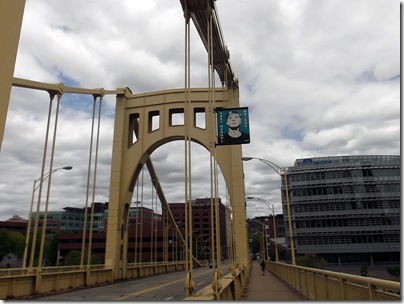 But eventually someone showed up and picked me up at the hotel. I gave him directions to the Strip District parking lot because I had the route mapped out very precisely. At least I learned what happens when you call a locksmith to get back into your car. First, they have to make sure it really is your car so the locksmith asks to see your driver's license. After he gets the car door open he also asks to see your registration. The locksmith used two inflatable bags to force the car door to open just a crack. Then he used a metal rod to push the latch of the car door. So he did not mess with the lock at all. This cost me $200 which I paid using my credit card. When I get home I am definitely going to do something to keep a spare key on me.
I then drove extremely carefully to the Priory Hotel. I was freaked out about how badly my trip was going so I made sure I didn't do anything else stupid.
That evening at 7:29 p.m. I had dinner at Max's Allegheny Tavern which is a few blocks from my hotel. I walked there because I wanted nothing more to do with my damn car. I ordered an Allegheny Club sandwich, a glass of Chardonnay, and bread pudding for desert. Their homemade potato chips were the best I ever tasted.
Even though it was quite late, I then walked across the Rachel Carson bridge to explore the cultural district. The sight of the Pittsburgh skyline at night finally began to make me feel better about this trip. I was especially impressed with the Alcoa Corporate Center because you could see each floor and its offices light up in the night.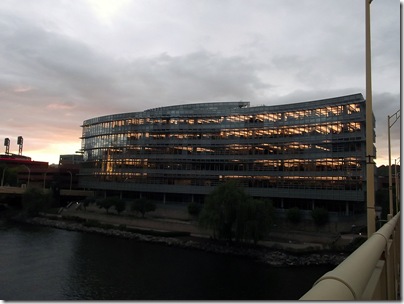 Before returning to my hotel room I went into the nearby Giant Eagle grocery store and bought a copy of Pittsburgh Magazine,  some Dr. Scholl shoe inserts, some pens, nail clippers, cough drops, and a bottle of flavored water to rehydrate myself.