Yesterday I made my sixth trip to Washington DC in order to explore the city. Although I did the usual visits to museums, I tried to accomplish a few goals related to my relocation planning. I also located a few theaters for the sake of my playwriting ambition.
The tour bus dropped me off at the National Air and Space Museum and it would have been easiest to walk to my destination, the Newseum, but I wanted to finally try the DC Metro system. So I walked to the Smithsonian Metro station several blocks away and bought a farecard from a complicated vending machine. The Metro vending machines look like the instrument panels of a commercial airline jet with a confusing array of buttons, digital readouts, knobs, bill slots, coin returns, and ticket printers. But I managed to buy a $5.00 farecard and not the $20.00 farecard it tried to sell me. I then had to follow my simple directions to go one stop on the Orange Line and then one stop on the Green Line to arrive at the Archives Station.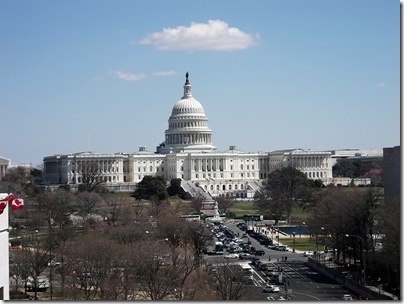 From the Archives Station I walked down Pennsylvania Avenue to the Newseum. Most of the museums in Washington DC are free because they are part of the Smithsonian Institute but two of the more popular paid museums are the International Spy Museum and the Newseum, a museum devoted to journalism and freedom of the press. The Newseum won my patronage because they show you the daily front page of newspapers from cities around the United States. I've found this useful in researching the local media of cities I may relocate to. But it cost me $21.37 to visit this museum.
I only had six hours in Washington DC so I only devoted three hours to the various exhibits in the Newseum. I felt a little rushed which is typical for my visits to Washington. The museums are huge. I'll have to consider a week long trip to Washington DC to really do justice to the city and its attractions. Anyway, I watched a 20 minute 4D movie (3D plus seat motion) which was genuinely impressive. There were lots of information bubbles that really seem to float in space and appear right in front of you. It was definitely the best 3D experience I've ever had.
There was also a part of the Berlin Wall and an East German watchtower. This made me feel a little privileged because I've actually been to Berlin and saw the Brandenburg Gate. The Newseum only had large photos of the Brandenburg Gate and video from the party which occurred when the travel restrictions were lifted.
I had lunch at the Newseum café which was one of those self serve cafeteria deals that I prefer. I had chocolate milk, a cheese burger, and a parfait. I didn't want to eat too much because I had plans to eat at a restaurant later.
One of the more sad exhibits at the Newseum was the actual broadcasting tower from the World Trade Center's North Tower. It was really mangled. They also had parts of the engines from the planes that struck the towers. If the museum were built before 2001, they probably would have used the Moon Landing for an exhibit of front page news on all the world's newspapers but since this is a fairly new museum, 9/11 was the biggest story they could commemorate.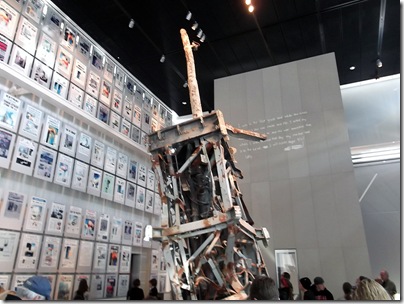 I also saw exhibits about contemporary digital media and mobile devices for receiving the news online, including mention of Wikileaks, and lots of presidential photos. The entire Washington DC culture seems to be obsessed with their embodiment of supreme world power, the President of the United States. There were murals of Obama everywhere, portraits of Obama in the art museums, and all sorts of Obama souvenirs for sale by street vendors. The Newseum also has an outdoor terrace on the top floor where you can take some great photos of the United States Capitol Building which isn't that far away. Before I left, I bought a book The Making of McPaper: The Inside Story of How USA Today Made It which was the most interesting book I could find even though I'm not that interested in USA Today.
After leaving the Newseum I headed North to explore the Penn Quarter area. I located the Woolly Mammoth Theatre Company entrance, the Lansburgh Theatre of Shakespeare Theatre Company, and the Ford's Theatre which is famous for being the place where president Lincoln was shot. President Abraham Lincoln was shot by an actor. I think I'll bring that up if I ever have any trouble with an actor. I will say something to effect, "an American theater actor hasn't been such trouble since that guy who shot Lincoln."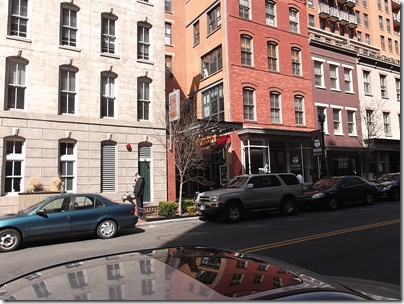 I had lunch at Teaism, a Japanese restaurant on 8th Street. I ordered a salmon bento box because I wanted to try this Japanese meal. A bento box is just a meal served in a bamboo box with compartments for different dishes. After eating about half of that meal, I wandered around the Penn Quarter area taking a few photos of various establishments, and bought a copy of the Washington Post,  but then I came across the National Portrait Gallery / Smithsonian American Art Museum so I decided to pop in there. This was a good decision because I saw some amazing art.
The most amazing artwork was by Adam Chapman. He created digital paintings in which the lines and patches of color are slowly floating around the canvas because the painting is actually a high definition digital screen. But the artwork looks like a real canvas so you are genuinely surprised and delighted when the elements of the painting begin to float around. This is pure genius!
I also saw the exhibit Poetic Likeness: Modern American Poets which was portraits of major American poets, photos mostly. I was familiar with most of these poets because I've been interested in writing for a long time. But I especially like the Bravo exhibit with portraits of entertainers. This exhibit included many portraits of theater artists like Lynn Fontaine and Joseph Papp. It was nice to see theater artists honored by fine art in a major art museum. I even saw a bronze bust of playwright Arthur Miller. I tried to take a photo of this bust but unfortunately it turned out blurry. My digital camera displayed a blink warning which amused me. It is a bronze bust! How could it blink?
I stumbled upon the Kogod Courtyard at the National Portrait Gallery / Smithsonian American Art Museum which is an amazing architectural space. I should visit these combined museums again because I was really rushed for time and could not examine the artwork at leisure.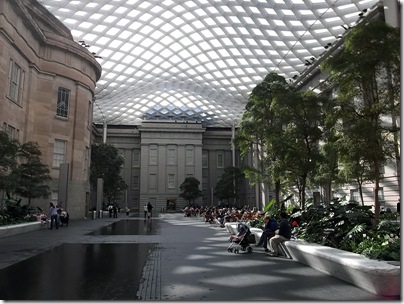 I observed many other little details on this trip but I won't bore you with that. I really expanded my Washington DC travel guide notes in preparation for this trip so my knowledge of the DC area is improving. Washington DC has some excellent resources for the aspiring playwright like the Inkwell Theatre so I may want to travel there on business some day.