Yesterday I made my 23rd trip to New York City to explore the Theater District. Now that I have revived my old dream of becoming a playwright, these trips to New York City have a new sense of purpose. After spending so much time and money visiting New York City as a tourist it is great to put that knowledge to some practical use.
This trip was a virtual repeat of my last trip to New York City. However I did have a new list of establishments to locate after reading The Back Stage Guide To Broadway by Robert Viagas. That book is a little out-of-date but still useful for finding the hidden gems in the theater district.
I read the play After The Revolution by Amy Herzog on the four hour bus ride to New York City. That should have been enough time to finish reading the play but I had to wait until the sun came up since we left Williamsport at 5:30 a.m. This play was published by Smith and Kraus Inc for Playwrights Horizons, the theater I was planning to visit, which is why I brought it along.
The first thing I did upon arriving in New York City was to photograph the Broadway Theater on the corner of West 53rd Street and Broadway. This theater is interesting because its Art Deco sign actually uses the Broadway font, my favorite font of course. This theater was on my list but I was actually looking for the Carolines comedy club which I found a little later. I also took a photo of the Ed Sullivan Theater with its big Late Show with David Letterman sign. Then I made my way to Times Square and climbed the steps of the TKTS ticket booth to take some obligatory photos.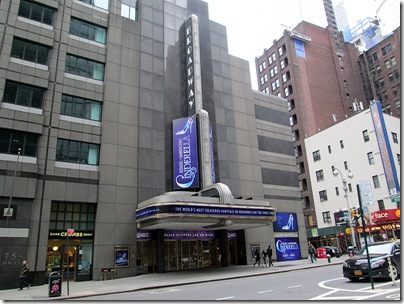 But then I made one of the more important stops on my pilgrimage and found the birthplace plaque of the playwright Eugene O'Neill.  This is one of the hidden gems I learned about from reading The Back Stage Guide To Broadway. The plaque is actually located on the outside wall of a Starbucks at 1500 Broadway, right under the JVC Globe. It is very hard to spot unless you know it is there. Eugene O'Neill wasn't born in a Starbucks. There used to be a hotel there.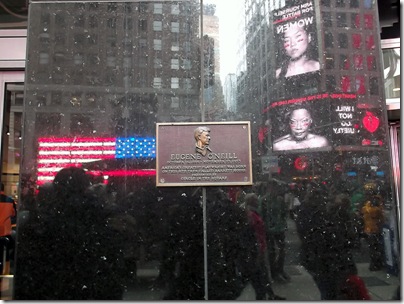 Eugene O'Neill is my favorite American playwright. I have a small collection of books on O'Neill and I've read several biographies on his life. I like his work because he wrote many tragedies and he was something of a mystic. He wrote many plays in which a mystic plays out a tragic fate. For example, Dynamo is a strange play in which the main character tries to find god in electricity and the dynamos in a hydro-electric plant. Unfortunately most of O'Neill's plays on the spiritual quest are forgotten. Anyway, this plaque on Broadway indicates where O'Neill was born but you don't feel anything special there because Times Square is so different from the Broadway he knew. Everything is buried under giant billboards and massive digital signs that bombard you with advertisements.
After that I located the Shubert Theatre, one of the most famous theaters on Broadway and a landmark that represents the entire Theater District. Of course, I saw this theater on my last trip and took a few photos but it was late at night and my photos did not turn out so well. The Shubert Theatre is currently running Matilda the Musical, based on a children's book by Roald Dahl. I also took some photos of the posters along Shubert Alley but unfortunately these photos are blurry. One poster caught my eye, the poster for The Nance at the Lyceum Theatre, starring Nathan Lane as a burlesque impresario. That sounds interesting.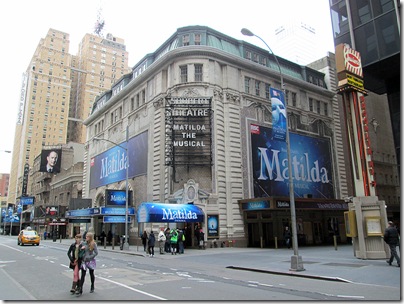 I then had breakfast at Café Edison. There is nothing terribly remarkable about Café Edison on West 47th Street but according to The Back Stage Guide To Broadway this is where many theater workers come to eat. I ordered Eggs Benedict which I kind of regretted because it was too much greasy food for me after having my gall bladder removed. Café Edison is sort of a shabby New York City diner but I guess it is more authentic than the Times Square restaurants which overcharge the tourists.
After breakfast I was debating with myself on whether to visit the Empire State Building on this trip. I wondered if I would have enough time before my Playwrights Horizons play began at 2:30 p.m. And I didn't want to revert back to tourist mode. But in the end I decided to visit the Empire State Building which was fortunate because the viewing conditions were good in the morning but it began to snow in the evening when the play was over. I really rushed downtown and even managed to get to the 86th floor of the Empire State Building in surprisingly short order. I took lots of amazing photos of New York City so it was totally worth it. It was actually very crowded on the observation deck of the Empire State Building. I forgot to mention that there was a St. Patrick's Day parade going on in New York City so I saw crowds of tourists wearing the green everywhere.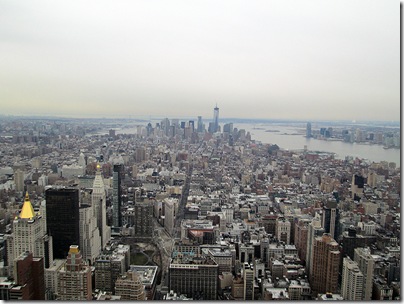 From the Empire State Building I quickly made my way back to the Theater District using the subway. I then proceeded to locate and photograph a few more establishments on my list. For example, I took many photos of Times Scare on 42nd Street near the Port Authority Bus Terminal. However, I was not really interested in Times Scare, an overpriced haunted house. I was interested in the Manhattan Repertory Theatre which occupies a space in the same building. I also located the Second Stage Theatre nearby which is easy to overlook because the first floor has various retail establishments so you don't notice that the building is a theater. This is why I spend so much time locating theaters and other interesting establishments. There are a lot of places hidden away in the Theater District.
Based on my sales receipt I know I visited the Drama Book Shop at 11:49 a.m. where I spent $54.92 on some books and a magazine. I bought Five Modern No Plays by Yukio Mishima because I'm interested in Japanese theater. I've been watching a few Japanese movies based on Kabuki. And I bought New Dramatists Best Plays by the Graduating Class of 2001 because New Dramatists is one of  the more important institutions for playwrights. I located their church building on my previous trip. Another book I bought was A Bright New Boise by Samuel D. Hunter because I liked his play The Whale which I read. The magazine I selected was The Dramatist: The Regional Theatre Issue. I used to be a member of the Dramatist Guild back in the 1990s but I have not applied to rejoin yet because I don't think there is any need for it at the moment.
After that bit of shopping I remember that I decided to go to a restaurant to kill some time before the Saturday afternoon matinée performance of the play I had selected to see on this trip, The Flick, at Playwrights Horizons. I walked all the way to Kodama Sushi on West 45th Street but they were closed. According to my notes they should have been open by then on Saturday but a sign on the door showed they did not open until 5:00 p.m. So I decided to go to Bourbon Street again, mainly just to use their bathroom. At Bourbon Street they were playing TV footage of the St. Patrick's Day parade on their huge flatscreen TVs. It must have been live coverage because it was snowing on the parade and I could see it snowing outside the restaurant. The restaurant was all decorated for St. Patrick's Day. I ordered a glass of white wine and the Alligator In A Blanket which is really tasty.
By the time I was done eating it was snowing really hard but fortunately I had a ski-mask and some small gloves crammed into my coat pocket. Needless to say I did not pull down the ski-mask in New York City! I just wore it as a hat. I arrived at the Playwrights Horizons covered in snow. I was glad to attend a three hour play because it meant three hours without being in the snow.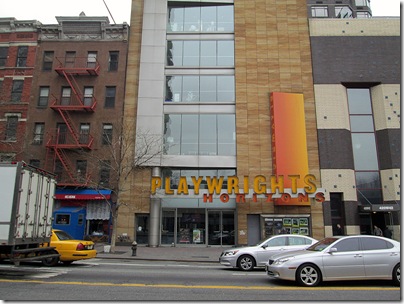 Attending a play at Playwrights Horizons was the highlight of my trip. I was interested in this theater since it is devoted to the playwright. I've bought a few of their books so I know they do good work. For example, I bought their published edition of Samuel D. Hunter's The Whale which was one of the best plays I've read lately. That play required a morbidly obese actor or an actor in a fat suit so you can tell that Playwrights Horizons is willing to do challenging work which requires an investment in stage design and costume. The Flick was also a play which required an elaborate stage design.
I'm glad I selected The Flick as my third play to see in New York City because it was something special, special enough for this special occasion. My ticket cost me $80.00 which seems pretty steep for Off-Broadway and the play ran for three hours but I think it was worth it. The stage design for The Flick was really interesting and kind of magical. You walked into the theater and found a few rows of seats on the stage which almost matched the theater seats. I thought about joking that my ticket was for a seat on the stage where I would be in the play as an actor. This is a brilliant stage design because it is practically a form of self-reference. It would be cool to watch a play about a theater audience, seated onstage so as to mirror the actual theater audience. That would really mess with people's head.
The Flick by Annie Baker is a great play about the mundane lives of the working poor. I could totally relate to the characters because I used to have a shitty job like that. It is amazing how Annie Baker managed to find the drama in that situation. It is a great example of how to find the dignity and pathos in the lives of people labeled "losers". I'm not sure if you will ever see this play in a community theater because it requires an expensive set design. Even the lighting design was kind of amazing because the play begins with the blinding light from the film projector and the triumphal music of a big budget film. This was surprisingly effective and exhilarating. One of the actors, Mathew Maher, also played in David Henry Hwang's Golden Child which I saw on my previous trip. The Signature Theatre is just down the street from Playwrights Horizons.
Now it is time to reflect on my passion for theater. The purpose of this trip was to rekindle my passion for theater. Exploring the Theater District is a great way to experience the physical reality of Broadway, to make it seem real and to see yourself as being there. So far I have written 14 ten minute plays in the last four months so I'm pleased that I have managed to do the writing. But I have not received any real encouragement yet. Maybe I am just wasting my time.
But regardless of my actual involvement with New York theater, which may never happen, I have decided to carry on with my project of making it part of my creative life. My creative life goes on regardless of whether I think about it or plan it. I can't help but be inspired and I have become addicted to inspiration. I am really enchanted with the fruits of my inspiration and I spend a lot of time and money pursuing that sense of enchantment. It does not matter what object I use for inspiration. It could be theater or it could be something else. New York City itself is a great object for inspiration. So I don't feel that theater has any power over me. Theater may only offer me discouragement but it will not matter. The important thing is, can I continue to draw inspiration from the theater?
Unfortunately theater has forgotten its duty to create a sense of enchantment. Few people regard theater as being anything sacred because the theater has rejected its role as the sacred space where the sacred will be revealed to you. But fortunately I understand the real potential of theater and I can make it a sacred space in my imagination. Now the question is, should I continue to write plays? I have not considered this to be essential. A theater that is to exist only in your imagination has no need of a script. But I can see how this might be wrong. A fantasy theater has a tendency to be formless and writing a script gives form. So maybe playwriting is not a pointless exercise.
But back to the narrative of my trip to New York City which lasted for a few more hours. After the play was over it was still snowing outside so I decided to return to Kodama Sushi which would be open by then. Kodama Sushi was another restaurant recommended in The Back Stage Guide To Broadway as a popular place for a meal after a show. Kodama Sushi was kind of amazing due to my recent interest in Japanese theater. Kodama Sushi was very Japanese. I was even able to order a glass of sake which is something I've been meaning to try. I had to eat my sushi with chopsticks. I was thinking of asking for a fork but I did not see anyone else eating with a fork. I will have to order some chopsticks at home and learn how to eat with them. New Yorkers seem sophisticated enough to know how to eat with chopsticks. It must be one of the skills they learn living in the big city.
I spent the last few hours wandering around Times Square dazzled by the bright lights and all that jazz. I did see a scary drunken fight break out near the Muse Hotel on West 46th Street. This was sort of expected with everyone drinking for St. Patrick's Day.
In conclusion, this trip was exhilarating and that is what I was really after. It is fuel for the fire. I also made additional observations in the field and advanced my research on the New York City theater scene. I am fortunate to live on the East Coast where I can visit New York City fairly often. Many people may only go to New York City once in their lifetime and don't have the opportunity to thoroughly explore the Theater District to find its hidden gems. Maybe some day I will have to find my way to a theater because they are doing my play. I shall be well prepared for that day.