I promised myself that I would actually read the expensive book I bought at the Complete Traveler Antiquarian Bookstore during a trip to New York City and write a review. I bought this book for $75.00 on October 27 2012 after visiting the Morgan Library and Museum which gave me a hankering for old books. Two In Italy was published in 1905 by Little, Brown and Company in Boston. The author's full name was Maud Howe Elliott. More information on her can be found at Rhode Island Heritage Hall of Fame.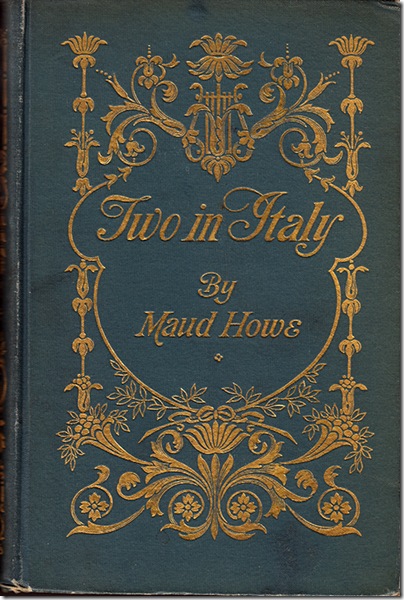 I am perhaps the only person alive to have read this forgotten old book. You won't find any reviews of this book online. There is no information on its contents to be found anywhere, although you can apparently find some e-book versions because its copyright has expired.
Two In Italy is somewhat similar to the work of Henry James who also wrote about his travels in Italy. The writing style is completely different but Maud Howe Elliott and Henry James were contemporaries and they were both Americans living in Italy. Two In Italy is a collection of travel stories. It is a vexing book to read because it lacks any proper introduction to the characters. Even after reading the entire book I still have no idea who J or Patsy were.
The first chapter is entitled Anacrap'. As far as I can determine, this chapter takes place in Anacapri, a comune on the island of Capri. This chapter contains an amusing story of a monkey holding a furry white rabbit as a muff to keep itself warm.
The second chapter is entitled The Inn of Paradise. A church of St. Agnese is described which must be Chiesa di San Michele Arcangelo in Anacapri, Capri, Italy. This church has a mosaic floor of painted majolica tiles featuring animals and an unicorn which is clearly a description of Chiesa di San Michele Arcangelo's tile floor. You can see a photo at http://www.afar.com/highlights/its-all-about-the-floor. Two In Italy is not much of a travel guide but at least it led me to discover that tile floor.
The third chapter is entitled Buona Fortuna and concerns the mystery of some wine by that name. The fourth chapter is entitled The Castello. Castello is the Italian word for castle. A Prince Montefiascone owns the castle. Montefiascone is a town and comune of the province of Viterbo, Italy, located on a hill on the southeast side of Lake Bolsena so the castle must be the Castle of Bolsena. On page 96 there is a clue that this is indeed the castle, "…it's the Castello in the background; I can even make out the five towers and the lake.". There are also some clues in this chapter on the era in which this book was written. King Umberto I of Italy is mentioned and he reigned from 1878 to 1900. Pope Leo XIII is also mentioned and his papacy began in 1878 and ended in 1903.
Chapters five and six are both entitled Savonarola Finnerty (What I Heard of Him) and describes the misadventures of an artist who goes to Venice to escape an epidemic of cholera in Naples which threatens to spread to Rome. There is no information on the true identify of this artist to be found online since all references to him point back to the book Two In Italy but he apparently created a colossal sculpture of The Oversoul which he shipped to the United States. This statue was intended for the White City by the Lake, a reference to the Chicago World's Fair in 1893, "…then still a dream, now a glorious memory."
Chapter seven is entitled The Hermit of Pietro Anzieri and describes how an Italian American finds a bride in the Abruzzo region of central Italy. The rivalry between Roccaraso and Pescocostanzo gives this chapter a kind of Romeo and Juliet drama. The final chapter eight is entitled In Old Poland so it does not even concern Italy. This chapter reads the most like a pure travel diary and contains amusing descriptions of Germany before the World Wars.