Yesterday I made a farewell visit to New York City just before its destruction by Hurricane Sandy. This was my 21st trip to New York City making it my most visited city. I may have spent more time in Philadelphia since I make more overnight trips to that city.
The bus left very early at 5:30 a.m. so we made it to New York City before 10:00 a.m. During the bus ride we watched Mirror Mirror on DVD, a charming movie about Snow White. The bus dropped us off in front of The Manhattan at Times Square Hotel rather than in front of the Times Square Church but it's the same general area on West 51st Street and 7th Avenue, right across from the Stardust Diner. The bus did not leave until 8:00 p.m. so I had ten hours in the city.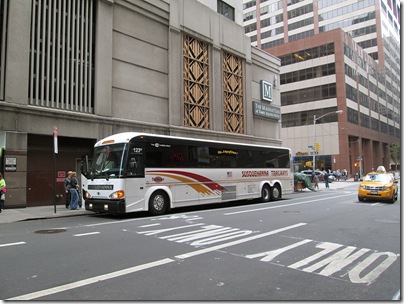 I was pretty relaxed about this trip. It was almost nostalgic. I'm a lot less intimidated by New York City now. My travel notes are pretty extensive for New York City but I did discover two deficiencies. I noticed that my notes lacked a media category for newspapers, magazines, television, and radio. Usually I research a city's newspapers and lifestyle magazines and try to obtain copies. Also, my notes on the New York City subway system are really inadequate. I don't have notes on the major subway lines and stations like I've created for other cities. Fortunately I managed to get around with surprisingly little difficulty but I need to work on my travel notes.
My first destination was the Morgan Library and Museum. I visited this museum on a previous trip but Pierpont Morgan's 1906 library was closed then so it was a major disappointment. I got to the Morgan Library by taking the D train from the 53rd Street and 7th Avenue station, a short walk from where the bus left me off. One thing I want to make a note of, is that I wound up buying a $20.00 metro card because I did not have a ten dollar bill. I probably only needed the cheaper metro card for this trip. Anyway, I got off at 42nd Street – Bryant Park which is near the New York Public Library. There was no scaffolding on the New York Public Library so I finally got some decent photos of that building. From there I walked a few blocks along Madison Avenue to reach the Morgan Library and Museum which had just opened for the day.
Pierpont Morgan's 1906 library is definitely worth visiting if you love books and want to see one of the grandest libraries ever built. The museum began with a mansion but now it is a complicated complex. You can find a model of the museum on the lower floor. I wasn't sure where to find the library but eventually I found the entrance on the first floor towards the back, pass the collection of objects. The first room I entered was Pierpont Morgan's Study. This room has some fine examples of Italian art which was interesting to me because I'm planning a trip to Italy next year. I've just begun to learn more about Italian art. The study also has a bank vault where Pierpont Morgan kept some of his more valuable books. It's not every library that has a bank vault! The next room I entered was the Rotunda, an opulent room with mosaic panels and ceiling paintings of the ancient world and the Renaissance. It was based on a Roman Villa. I appreciated this grand room a little more than I would have because I've begun to read a textbook on ancient Rome, The Romans: From Village To Empire published by the Oxford University Press. I've only read 60 pages of this textbook but I'm finding it a little dry and boring. I prefer A Traveller In Rome by H.V. Morton which is more entertaining. I recently read the chapter on the Vestal Virgins which I found barely mentioned in the textbook.
The East Room is the main room of Pierpont Morgan' 1906 library. It is a three story library although I could not see how anyone could reach the balconies. According to the web site, "Two staircases, concealed behind bookcases, provide access to the balconies." So that explains it! Anyway, there were rare manuscripts on display in glass cases. I saw a letter from Napoleon, a letter from Charles Dickens, and a letter from J.D. Salinger. The final room I entered was the Librarian's Office which has a few pieces of Egyptian, Greek, and Roman sculpture. The only other thing about the Morgan Library and Museum I want to mention is that there is a Portrait of Mrs. J. P. Morgan, Jr. by John Singer Sargent on the lower floor gallery (which doesn't have much to look at).
After leaving the Morgan Library and Museum I walked a few blocks to the Complete Traveler Antiquarian Bookstore. This is the perfect bookstore to visit after Morgan Library and Museum because after seeing all of Pierpont Morgan's rare printed books you can actually buy one here. I found the door locked and proceeded to walk down the street but the store manager opened if for me when I turned back. I bought a copy of Two In Italy by Maud Howe for $75.00. It was horribly expensive but a better souvenir than anything you could buy in the Morgan Library and Museum bookstore. This book was published in 1905 making it 107 years old. I plan to actually read the book and write a review online to make its purchase worthwhile. It seems to be a personal account of a trip to Italy by a virtually forgotten American writer, back when a trip to Italy was not commonplace. I was specifically looking for this book because I checked out the bookstore's stock online and then did a little research on this particular book.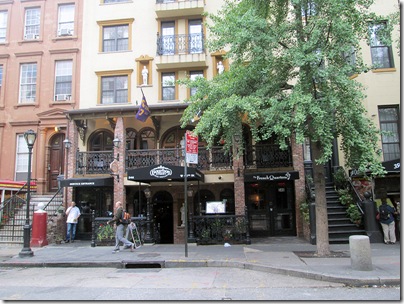 My next destination was Bourbon Street Bar & Grille on West 46th Street, Restaurant Row. To get there, I took the Times Square express from 42 Street – Grand Central station. It was unnecessary to actually enter Grand Central station because the subway entrance was across the street. But I took a few photos of the exterior of Grand Central station.  At Times Square I followed the directions for the 8th Avenue exit. This required a long walk through various tunnels which I've never seen before. I emerged at a corner of the Port Authority Bus Terminal which left me confused about which direction to go, but I quickly found the 8th Avenue corner from where you can see the New York Times building. I wanted to visit the Bourbon Street restaurant to get a little taste of New Orleans. It has a New Orleans themed exterior and interior with wrought iron balconies and a stuffed alligator over the bar. I ordered a Vieux Carré cocktail and two appetizers, Alligator in a Blanket and Shrimp Cocktail. I'm in no danger of becoming an alcoholic because I hate the taste of alcohol.  The Vieux Carré cocktail was probably excellent but I found it quite nasty, like most mixed drinks. I was wondering if the Alligator in a Blanket would use real alligator, or chicken to fake out New Yorkers. It must have been real alligator because it was not like chicken. The meat looked like a slice of sausage but it tasted different from pork, chicken, or beef. That was not much of a meal and it cost me around $45.00. The Vieux Carré cocktail did make me feel a little woozie for awhile.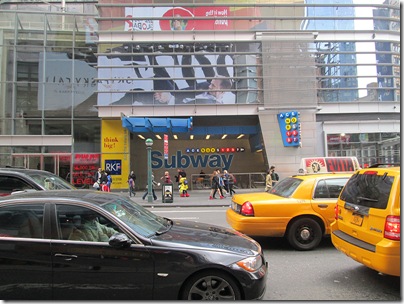 I retraced my steps to the Times Square subway entrance to head downtown for my next destination, the Strand Bookstore. Ordinarily I would not make a special trip just to visit a bookstore, but I know the Strand Bookstore carries a few books in foreign languages and I wanted some books in Italian. I am in the process of learning Italian for my trip to Italy in the near future. I need to mention that I took the Q train downtown to 14th Street – Union Square. The Strand Bookstore is still under its permanent sidewalk shed but I did take a few photos of it anyway because I could not find a photo from my previous trips. I bought a Strand postcard just for the professional photograph on the front. Anyway, at the Strand Bookstore I bought Amberville by Tim Davys. This novel seems to be a crime novel set in an alternative universe where everyone is a stuffed animal. The cover is Edward Hopper's classic painting Nighthawks, with the diner patrons replaced by stuffed animals. That painting is one of the most spoofed paintings in the world. The copy of the book I bought is in Italian. Since it was translated from English, I can just buy the English language version for comparison. I also bought John Kent's Venice: A Color Guide To The City because I still plan to only visit Venice on my first trip to Italy.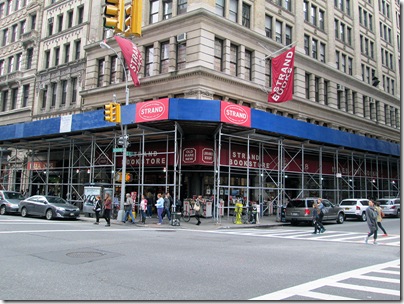 After that little bit of shopping my initial trip goals were met so I needed some unplanned activities. I decided to visit the French restaurant, L'Absinthe, on the Upper East Side because that was the other restaurant I've been meaning to visit. It took about an hour to reach the restaurant. I retraced my steps to the 14th Street – Union Square subway entrance and took the R train uptown to 59th Street. From there I had to walk east to Lexington Avenue to find a subway station for the 6 train. Along the way I walked pass the Rizzoli Bookstore associated with an Italian publishing company. I would have stopped in there but I was already weighted down by books. I think I found the East 59th Street & Lexington Avenue subway station because I only had to go one stop to 68th Street – Hunter College. The restaurant was on East 67th Street. I arrived at L'Absinthe just before 3:00 p.m. when the kitchen closed for lunch but I was able to order the Duck Leg Confit. However, my main reason for visiting L'Absinthe was to try absinthe, of course, the infamous Green Fairy drink from France that was banned last century. I ordered a glass of Vieux Carré absinthe. The fact of the matter is, I actually own a bottle of Vieux Carré absinthe which is brewed by Philadelphia Distilling. I came across this while researching New Orleans and bought a bottle at a local liquor store. I also bought an absinthe glass, an absinthe spoon, and some sugar cubes. The waiter asked if I knew how to prepare it. I played dumb because I wanted to see if there was anything I was missing. He brought an absinthe fountain over to my table to slowly drip ice water over the sugar cube. But other than that little detail there was no difference in how I can prepare the drink at home. The drink tasted just like it does at home and cost me $15.00 which is outrageous. It was the same stuff I have at home. I recognized the bottle. Still, it was nice to drink an absinthe in the proper atmosphere because L'Absinthe is a beautiful brasserie. And the Duck Leg Confit was excellent. I've been meaning to try that classic French dish. That meal also cost me around $45.00.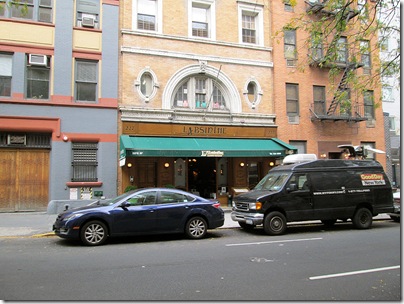 From there I walked west to Central Park and then north to the Metropolitan Museum of Art. At that point, this trip to New York City became exactly like my previous trips because the Metropolitan Museum of Art is open until 9:00 p.m. making it one of the few things you can do late in the evening. During this visit to the Metropolitan Museum of Art I concentrated on the Greek and Roman Art on the first floor because as I mentioned before, I was reading a textbook on Ancient Rome. I took lots of photos of Roman statues which I may be able to appreciate later. The Met Store was much larger than I expected. I don't think I ever went to the large store on the first floor. They had a lot of books but I only bought Museum: Behind The Scenes At The Metropolitan Museum of Art by Danny Danziger.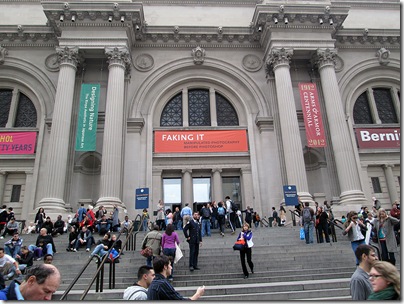 When I left the Metropolitan Museum of Art, I walked east to Lexington Avenue and then a few blocks south until I found a subway station for the 6 train which I took downtown. I arrived on West 51st Street in plenty of time so I walked over to Times Square to take a few photos until 7:45 p.m. This is what I do on every trip. I'll have to find something else around West 51st Street for the last hour.
Worrying about Hurricane Sandy did put a damper on my trip. Everyone in Central Pennsylvania is worried about serious flooding like we experienced last year with Hurricane Irene. I'm going to seriously consider moving if we are going to have a major storm every year. There is nothing a bibliomaniac hates more than a flood. If I do move, I would like to move to an East Coast city that is closer to New York City. Maybe someplace on the outskirts of Philadelphia.