Yesterday I made my fifth trip to Washington DC. This was a AAA Travel trip which I discovered by accident while searching the Internet. However, the bus was a Susquehanna Trailways bus as usual. So far I have not seen any local bus tour use any other sort of bus, although I see Martz buses from Wilkes-Barre at New York City and Washington DC. Skipping ahead, while at Union Station I saw Louisiana Trailways buses from New Orleans in the bus parking deck. I found this interesting because I'm planning a trip to New Orleans and I wondered how they made a trip so far north. It must require an overnight stay in a hotel.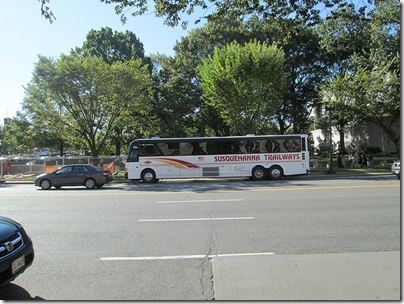 The bus left us off near the Lincoln Memorial so I had to walk to the National Museum of American History. Fortunately the work on the reflecting pool was completed so I finally got some classic photos of the reflecting pool in front of the Lincoln Memorial. I came across the Vietnam War Memorial on my way to the National Museum of American History so I took a few photos of that too. When I got to the National Museum of American History I saw the Susquehanna Trailways bus parked right in front of it so I could of stayed on the bus to get there.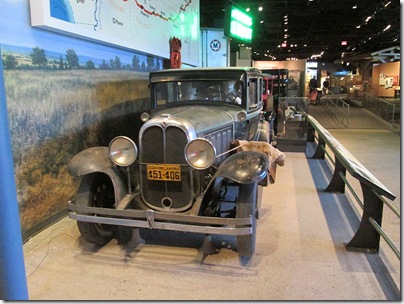 The National Museum of American History isn't a particularly interesting museum but I've been to most of the other major Smithsonian museums on the National Mall. I also only had about two hours before the bus took us to Union Station for lunch. I went through the museum in kind of a rush but I did see the original Star-Spangled Banner and Archie Bunker's chair. I also saw the grand George Washington statue which makes him look Roman, and the "America on the Move" exhibit which was very impressive. I think this transportation exhibit alone is worth a visit to the National Museum of American History. In the museum gift shop, I bought The Gardner Heist by Ulrich Boser, a non-fiction account of a famous art theft from the Isabella Stewart Gardner Museum in Boston. This book was published by Harper Collins but has an Smithsonian Books imprint. I chose this book because I am somewhat familiar with Isabella Stewart Gardner from my research on Venice. She designed her art museum to look like a Venetian palazzo. Unfortunately, Boston is too far away for a day trip but I may visit that city someday.The other book I bought was A New Orleans Voudou Priestess: The Legend and Reality of Marie Laveau by Carolyn Morrow Long which of course has to do with my plans to visit New Orleans. I really can't afford a major trip right now but I've done enough research on New Orleans.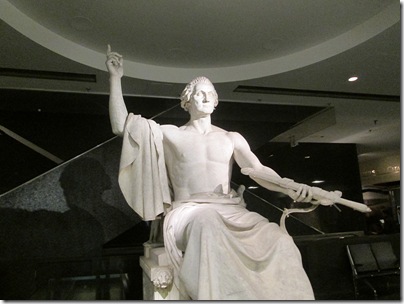 As I mentioned, the bus took us to Union Station at noon for lunch. I found this interesting because I got to see the Amtrak station. I didn't get a good look at Union Station because the interior was covered in black netting for remodeling and I did not see the exterior at all. Really the bus just took us there for lunch because Union Station is renowned for its restaurants. I found the Barnes & Noble bookstore where I bought two more books; Fodor's Italian for Travelers which I bought because it has extensive pronunciation notes and a small New Orleans Encounter guidebook by Lonely Planet. This book store was well stocked with travel guides because it is in a train station used by travelers and tourists. I had lunch at Cajun & Grill which I hoped would offer New Orleans cuisine but instead I found your typical Asian buffet.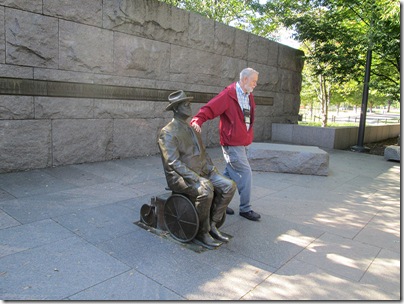 After lunch a local tour guide got on the bus and we used the Susquehanna Trailways bus as a hop on / hop off tour bus. This was kind of unusual because ordinarily the Susquehanna Trailways bus isn't used for touring the city. But I liked it because I got to see many more of the sights without doing a lot of walking. First we went to the Franklin Delano Roosevelt Memorial for a rather lengthy lecture on his presidency during the Great Depression and World World Two. The tour guide was a retired history teacher so he really knew his stuff. Then we got back on the bus and went to Capitol Hill which I've seen before. There was some construction going on for the Presidential Inauguration which will take place after the election. After that we drove along Embassy Row without getting off the bus at all. This was particularly interesting to me because some of the embassies offer cultural programs. I suspect Washington DC is a great city for anyone fond of international travel. It is a very international city with a lot of resources for learning a foreign language. For example, there is Alliance Française de Washington, The French Embassy's La Maison Française cultural facility, and the Italian Cultural Institute in Washington.
We also drove around the Washington National Cathedral which is still being repaired from when it was damaged by the earthquake last year. And finally we were left off at Lafayette Park, directly across Pennsylvania Avenue from the White House, so we could get close to the White House. It was very thrilling to be so close to the White House. I saw security patrolling the roof and the corner where television reporters are filmed for the nightly news. This reminded me of my visit to London earlier this year when I walked pass No. 10 Downing Street and saw the Houses of Parliament. I felt less like a tourist being in my own country.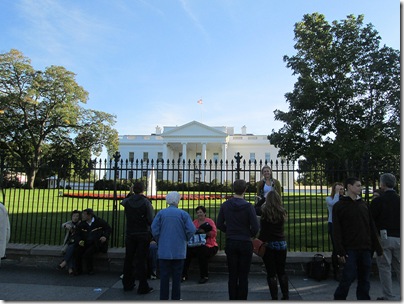 Unfortunately the bus driver got lost so we were left waiting for an entire hour after visiting the White House. I did not bring my jacket so I was a little cold. The tour guide left us and walked to a nearby subway station. I took careful note of that because I'm just about finished visiting the Smithsonian Museums along the National Mall and the monuments. On future trips to Washington DC I will want to visit some of the more residential areas which requires using the subway system. Dupont Circle and the Adams Morgan neighborhood seem to be good places to catch some international cuisine and culture. Then there is the Georgetown area which I have not seen.
In two weeks I am going on another bus trip, to New York City. I have not been to New York City in a long time. Although I've read most of my NYC travel guides, I have not read any of the books I've bought on previous trips to NYC so I really should read them for inspiration. I still think New York City is the greatest city in the world and the most exciting city to visit.