Last night I saw the play Steel Magnolias by Robert Harling at the Community Theatre League. It has been a long time since I saw a play at the Community Theatre League. The last play I saw was Long Day's Journey Into Night by Eugene O'Neill in London. I consider that to have been the best cultural experience of my life. After all, that is my very favorite play and I got to see it in London, a city I never dreamed I would visit.
Steel Magnolias was a mildly interesting play for me because I'm planning a trip to New Orleans. The play was set in the same state, Louisiana, but the city was Natchitoches in the northern part of the state. I'm interested in the state of Louisiana because it is part of the Francophone world according to my French textbooks. The Creoles and the Cajuns used to speak French but my research has already revealed that the language is dying out. I've recently read two plays as part of my research on New Orleans, Vieux Carré by Tennessee Williams and Toys In The Attic by Lillian Hellman. Vieux Carré is French for Old Square so I'm improving my French already by researching New Orleans. Toys In The Attic was a hard play to find. It has not been reprinted in decades, probably because it uses the forbidden N word.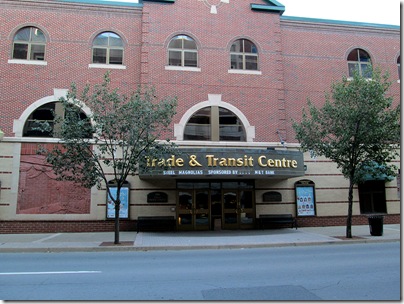 The stage set for Steel Magnolias was very impressive with an elaborate recreation of a beauty salon. It reminded me of an old beauty salon in a private house where I used to get my hair cut. The actresses used fake Southern accents which probably weren't very good but they sounded alright to me. I've never read this play or saw the movie version so I was not expecting anything, although it became pretty obvious early on that the diabetic character was going to die.
Well I don't have much to say about this play so maybe it would be better to reveal what was going through my mind while watching the play. I was thinking about pursuing my old dream to become a playwright. The changes in the publishing world make it more tempting. Publishing a play would be ridiculously easy now because anyone can self-publish anything for e-readers and get it listed on Amazon. I don't think too many plays are published as e-books so there may be a golden opportunity there. In any event, I plan to write a few short stories based on the theater.
That reminds me, there is a new theater venue in Williamsport. Plays are being staged at the Pajama Factory. Unfortunately, I missed their first play because they don't keep their web site updated, but there will be another play next month, The Rocky Horror Picture Show. That should be pretty interesting. I did see the stage version once at Lycoming College.
On Thursday I'm going on a bus trip to Scranton and the Poconos. We are only going to Steamtown in Scranton and then to a Poconos resort for a variety show. Frankly, the bus trip does not seem to be very interesting but I've been thinking about exploring the Scranton / Wilkes-Barre area for a long time. Scranton has been economically depressed for decades so it is not much of a travel destination but the area has a few resources that are worth investigating. Martz Trailways offers regular bus service to New York City and the Wilkes-Barre/Scranton International Airport may be a better airport to leave from than Philadelphia International Airport. The bus trip won't give me much time in Scranton so I plan to drive there on Saturday for a lengthier visit. I'm already working on a custom travel guide to Scranton for my iPhone.