On Wednesday I went to the Marché Jean-Talon and explored Little Italy. Marché Jean-Talon is a farmer's market in Montreal. I didn't buy anything there because I couldn't do anything with fruits and vegetables but I did take a few photos of food stalls because their signs are useful for learning French. I did have something to eat at Au Pain Doré, a bakery outside Marché Jean-Talon. I had a peach smoothie which was very thick and a baguette sandwich containing ham and cheese. In Little Italy I visited a few parks and photographed some famous establishments and the Church of the Madonna della Difesa. There was an Italian bookstore but I thought I had enough books by then and didn't want another awkward exchange with a cashier. I did come across a Maison de la Presse Internationale where I finally found a copy of Le Journal de Montreal and a GEO magazine on Venice which is quite interesting because it provides a French perspective on Venice.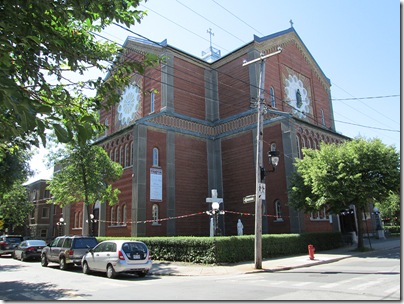 This did not take all day so I visited Old Montreal. I had a large Orange Julius to slake my thirst on Place Jacques-Cartier. I paid $5.00 to enter the Notre-Dame Basilica but it was worth it to get some photos of this major tourist attraction. I had lunch at Five Guys. Five Guys is a fast food chain based in the United States which has expanded into Canada. All of their signs were bilingual so it was Five Guys in French! I ordered a cheeseburger with everything on it which was a huge gooey mess so I had to use the men's room to clean up.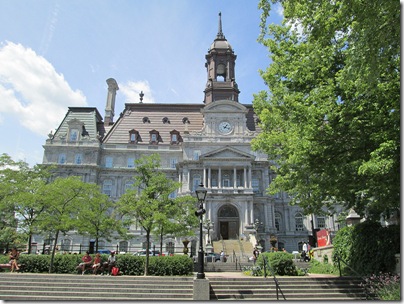 I continued to wander around Old Montreal until I found Victoria Square where I photographed the famous Paris metro entrance. I also found the Palais des congrès de Montréal and got some photos of its multicolored windows. I found a segment of the Berlin Wall in the Centre de Commerce mondial de Montréal. And I also managed to locate Centaur Theatre after consulting my custom travel guide and its maps. Just before I found the theater, I was stopped by a crazy woman who spoke very posh English. She told me a story about finding a body in a dumpster and begged some money off me. I encountered quite a few beggars in Montreal but to be fair I also had one last encounter with a beggar at the Philadelphia International Airport right where the bus picks you up for the Economy Parking Lot.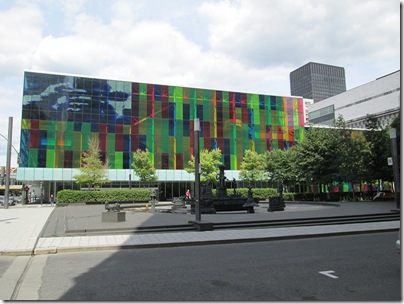 Eventually I walked all the way to Place Viger. It was at this point that I decided to buy new shoes and insoles because my feet were killing me. I only got two blisters on the whole trip which I blame on my sneakers which began to get worn down and out of shape.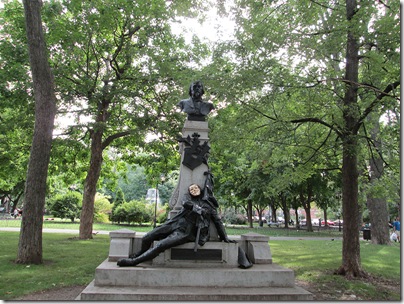 On the way back to my hotel room I saw the Octave Crémazie statue in Saint-Louis Square with an Anonymous mask on it so I took a picture of it. I went back out to the nearest Jean Coutu to buy shoe insoles and walked pass the Théâtre de Quat'Sous. I also came across a cool mural which I photographed. Then I returned to Complexe Desjardins looking to buy some shoes but they were closed. I bought two DVDs on Sainte Catherine Street to make up for my disappointment.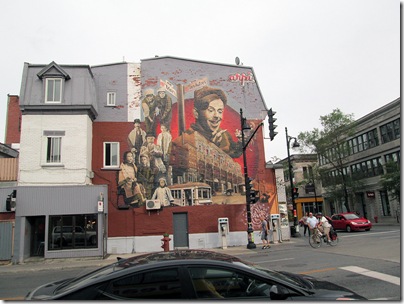 That evening I had supper at Les Deux Gamins on Prince Arthur Street. I ordered escargot and a glass of Chardonnay. Service was extremely slow. A musician was playing a guitar in front of the restaurant and passed around his hat for tips.