First I went to the Complexe Desjardins where I found the Renaud-Bray bookstore on Level 2. Complexe Desjardins is an interesting part of the underground city. It reminds me of the City of Domes in Logan's Run because it has a large wall clock. At Renaud-Bray I bought three books; the elusive L'avalée des avalés by Réjean Ducharme, Enfirouapé by Yves Beauchemin, and a book on Robert Lepage. I managed to conduct this transaction entirely in French since I only had to say "Bonjour" and "Merci". I consider L'avalée des avalés by Réjean Ducharme to be an elusive novel because I ordered it twice on Amazon and received L'hiver de force by Réjean Ducharme both times. Maybe Amazon has the wrong ISBN for this book.
There is an Archambault store between the Metro and Complexe Desjardins but it was closed. It was hard to find an ATM in the Complexe Desjardins. I tried one at the Place des Arts which did not work. Eventually had to return to the metro to find one.
They were still filming that TV series when I crossed Saint-Louis Square to place my purchase in my room. Later I determined that it was for the TV series Destinées. As I was walking past the film crew, I saw a sign warning you that you give permission to have your image used if you cross the park. Just at that moment I heard them announce, "Un deux trois action!" So I may appear walking in the background of a scene!
I then returned to Place des Arts to take some more photos and to visit the Musée d'art contemporain de Montréal. At the Museum of Contemporary Art I saw an exhibit on abstraction and an exhibit entitled Zoo. I saw a short film by Swedish artist Nathalie Djurberg, A World of Glass, which was bizarre and disturbing. There was also a tree from which were hanging the corpses of various animals painted black; a cat, several rats, a dog, and some birds. I also saw a whole collection of black metal insects on the floor of a gallery. They looked like metal sculpture ants. I didn't spend much time at this museum because it was rather small. I had a cheeseburger and a Pepsi at La Belle Province on the corner of Boulevard Saint-Laurent and Rue Sainte-Catherine Est. I ate at this fast food place three times because it was very convenient and not too much bother to get a bite there in a hurry.
I can tell by my photos that I returned to my hotel room before heading out again. I then visited the Musée des Beaux-Arts. I took lots of photos of a really neat sculpture installed in front of a church. I remember seeing this angel sculpture online while doing research for my trip. It is David Altmejd's The Eye.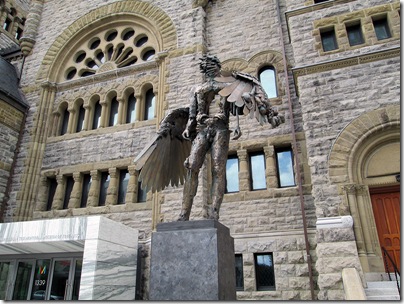 Nobody was around to give me a ticket so I left my umbrella at the coat check. Eventually I found the Beyond Pop Art: Tom Wesselmann exhibit where I was able to get a ticket. I had my Montreal Museum card so it did not cost me anything. Tom Wesselmann's work really impressed me because he went on to create art in various styles using various materials after his famous pop art work. I especially liked the retro kitchen sculptures. I liked this exhibit so much that I bought an expensive souvenir book, Pictures On The Wall Of Your Heart: Tom Wesselmann Und Die Pop Art. You can tell by the title that this is a German book so the cashier asked me if I realized that. I should have replied, Ja, das ist sehr gut.
I saw the galleries devoted to Napoleon and to the First Empire. I saw Napoleon's famous chapeau and a large bust of Napoleon in a window bay which sorely tempted me to take a photo. I only snuck one photo of an amusing sculpture of skinny chimps choking a fat chimp. This was Tony Matelli's "Old Enemy, New Victim".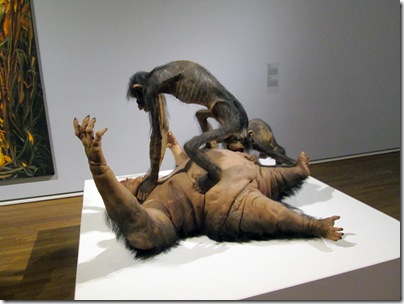 I ate at the self-serve cafeteria. I like museum cafeterias but it was still awkward to deal with the staff since there were no silverware left out. I have my receipt so I know I had; chocolate milk, a sandwich (bagel with smoked salmon), a fruit juice, and a panna cotta (yet another Italian dessert I'll have to learn about). I plan to study Italian cuisine carefully before my trip to Italy.
The Montreal Museum of Fine Arts is like several museums in one. Besides modern art and classical art, they also have decorative art, design art, and archaeology exhibits. I went through an underground passage to the other building, the Michal and Renata Hornstein Pavilion, where I saw Egyptian artifacts, decorative and design art, African artifacts, Greco-Roman artifacts, Pre-Columbian Art, etc. I spent several hours at this museum and only left at 4:30 p.m. when I realized they closed at 5:00 p.m. I had to rush to collect my umbrella from the coat check.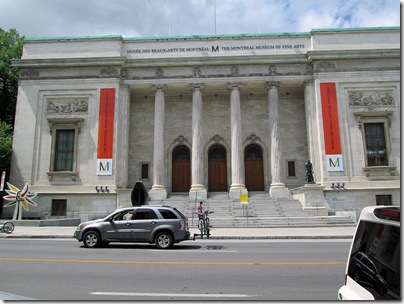 That evening I saw Jim Breuer at Theatre Sainte Catherine. His show was about attending Heavy Metal concerts as a middle aged man. He also talked about his family. He has three daughters. He said he took his family to Europe and claimed to be a Canadian because they hate Americans. This got big laughs. This show was part of the Just For Laughs festival which was going on in Montreal at the time. I didn't particularly plan on seeing a comedy show but it was the best English language event I could find taking place during my visit. I sat a few rows back from the stage so I was fairly close to Jim Breuer. It is always a thrill to be near a celebrity. I picked up a program guide to the Just For Laughs festival which is like a paperback book packed with a wealth of interesting material on local culture and obscure artists.
At this point I should mention the real goal of this trip. The purpose of this trip was to gather French language materials and to explore Montreal so I would better understand culture references to Quebec while learning French. I tried to visit various neighborhoods rather than minor museums so I would have some experience of these neighborhoods which I will find mentioned in Quebec literature and film.