My plans are still messed up so today I did everything I had scheduled for Wednesday, which was exploring the Outremont and Mile End neighborhoods. To get to Outremont, I took the Orange Line in the direction of Montmorency to Jean-Talon Station. Then I took the Blue Line in the direction of Snowdon to Outremont Station. I found a newsstand in the metro where I bought a copy of the English language newspaper, The Montreal Gazette. The cashier seemed particularly unwilling to speak any English. This outing required navigating around various residential areas so I spent a lot of time previewing the route on Google Street View.
Before I set out for those neighborhoods, I visited La Brioche Lyonnaise again for breakfast. I had yogurt filled with fruit and granola and a cafe au lait. That morning, I found a film crew setting up a location shoot at the Saint-Louis Square. I managed to sneak a few photos of that.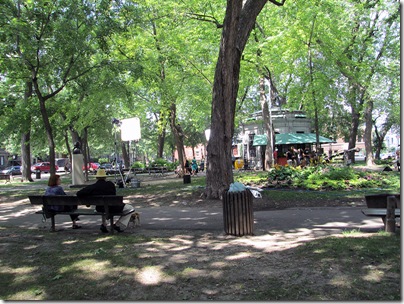 First I walked along Avenue Bernard even though I was not planning on visiting any of the establishments on that street. I walked past the Theatre Outremont so I crossed the street to take some photos of the theater. Eventually I managed to find St. Viateur Bagel although I walked right past it at first. I bought a sesame bagel and walked to a nearby bench to eat it. Montreal is famous for its bagels so I fulfilled one of the essential tourist recommendations. I was planning on going into the nearby S.W. Welch Bookseller but a sign indicated they would not open until Noon and it was only 10:00 a.m. So I went and found Wilensky's where I ordered the famous Special: a grilled salami and bologna sandwich with mustard on a kaiser roll, pressed flat from the grill. The restaurant was immortalized in Mordecai Richler's novel, The Apprenticeship of Duddy Kravitz. Scenes in the film version of the book were shot in the restaurant. I ordered a DVD of that movie when I got back to my hotel.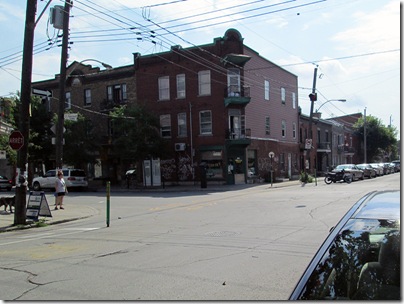 I wanted to wait around the area for S.W. Welch Bookseller to open since it was too much trouble to find the place. I wandered around several streets trying to find the Laurier metro station. It was very hot out and I was in the sun most of the time baking. Eventually S.W. Welch Bookseller opened and I bought two books; These Festive Nights by Marie-Claire Blais and Paolo Paoli by Arthur Adamov. Arthur Adamov is a French absurdist playwright whose work is extremely hard to find so I considered that quite a find. Fortunately, this was an English bookstore so I had no trouble communicating with the owner.
After an endless search for the metro station in the hot sun I finally made my way back to the hotel. I was sweating so much that I was afraid of soiling my books with sweat.
The film crew was still working at Saint-Louis Square. They seemed to be in the process of lighting a scene. I went to the dépanneur I found on Prince-Arthur Street and bought a can of soda to slake my thirst.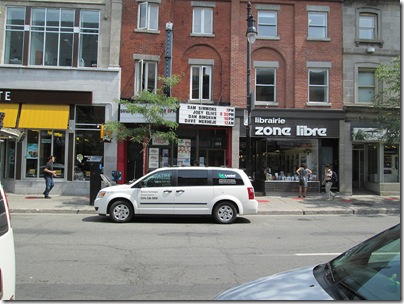 I had trouble finding something to do for the rest of the day so I went on a mission to find Theatre Saint Catherine which I would need to locate tomorrow night. I walked down to Sainte Catherine Street but later found it would have been quicker to use the metro to go to the Berri-UQAM station. After finding the theater I walked further along Sainte Catherine Street until I reached Place des Arts. I took a lot of photos along the way. I found a La Belle Province fast food place where I had a hot dog and a coke.
There were some thunderstorms in the evening so I stayed in my room all evening.