I shall begin to describe my Montreal vacation by describing the flight since these details are worth documenting for future trips. I left home at 4:00 a.m. in order to be at the Philadelphia International Airport for my 10:15 a.m. flight. It takes four hours for me to drive to Philadelphia so I got there around 8:00 a.m. I did stop at the Hickory Run Travel Plaza on the way for some coffee because I was getting too tired to drive. I had a little trouble getting to the Economy Parking Lot. I took the shuttle bus to the F terminal but I really should have gotten off at the D terminal where United Airlines has its check-in counters. I only had to go through security at the Philadelphia airport. My flight left on time but it was keep waiting on the runway for about 15 minutes before taking off. When we got to Washington Dulles International Airport I only had 20 minutes to catch my flight to Montreal.
Both of these flights were on small commuter planes and not jumbo jets. The flight to Washington only took 30 minutes while the flight to Montreal took around an hour and a half. So I got to Montreal in time to do plenty of things on Saturday afternoon. At the Montréal-Pierre Elliott Trudeau International Airport it should be noted that you go through immigration first, being asked more questions than usual, then you pick up your luggage, and then you hand in your customs declaration card. There was some confusion with the luggage since the board showed my flight at the oversized baggage carousel where only some luggage appeared.
I followed the signs to the taxis at the central exit and took a taxi to my bed and breakfast. That cost $40.00. Fortunately, I already had some Canadian cash on me.
After checking it at my charming bed and breakfast, I walked around the block to find Saint-Louis Square and the Sherbrooke metro station behind the Institut de Tourisme et d'Hôtellerie du Québec (ITHQ). I withdrew some more cash from an ATM and bought another L'occasionnelle card. That was when I had my first awkward moment. I tried to use the card like a London Travel Card which inserts into a slot to be read and pops out at the top of the turnstile. In fact, you are supposed to wave this card over a scanner just like an Oyster Card.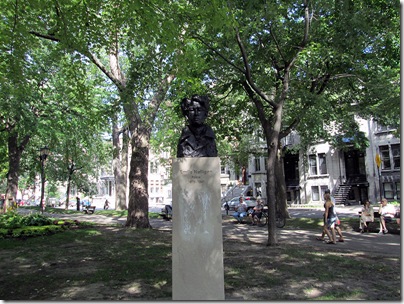 My first metro trip was on the Orange Line in the direction of Montmorency to the Jean-Talon Station where I transferred to the Blue Line in the direction of Snowden to Côte-des-Neiges. From there I found my way to the flagship store of Renaud-Bray. This bookstore was my first destination because I am a frequent customer of their online store. You can order most French books from Renaud-Bray although the shipping is expensive. I didn't find the obscure Québécois novels I was looking for, but I did buy; a book on French verb conjugation "Larousse Conjugaison" a "Petit guide de parler québécois", a travel guide for Bruxelles, and a French travel guide for Nouvelle-Orleans. There was another awkward moment with the cashier since I did not understand the number she spoke. I really need to spend more time on learning the numbers in a foreign language!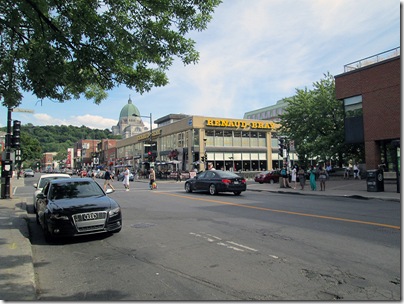 After that I headed out for supper at La Banquise which is enormously popular for its poutine. I had considerable trouble finding this restaurant and had to consult my custom travel guide several times. This restaurant gets very crowded. I ordered the classic poutine in the small size which I was able to finish. I only had water to drink because the server did not ask if I wanted anything to drink or anything else. It was quite a struggle to squeeze pass the people crammed in the front door. Maybe I should have left by another door.
After wandering around many streets searching the metro station I did find a Jean Coutu pharmacy where I bought some soap and antiperspirant because I forgot to bring mine. I had another awkward exchange with the cashier but at least I understood her when she asked if I wanted a bag.
I don't think I did anything else Saturday evening but that struck two things off of Sunday's schedule. I was extremely tired when I returned to the bed and breakfast. I feel asleep with the lights on and my laptop doing a Flickr upload.