My second trip to Baltimore Maryland went extremely well and advanced my exploration of the city. I've been looking forward to a return trip to Baltimore but I did not do much additional research because I still had plenty of things to see in the Inner Harbor area. Fortunately it was a bright sunny day so I got better photos than on my last trip which was overcast. The Inner Harbor stank to high heaven. It smelled like raw sewage. You could hardly stand to walk along the harbor. But it did not keep away the crowds. This was the first day of the long Memorial Day weekend so the Inner Harbor was packed with tourists.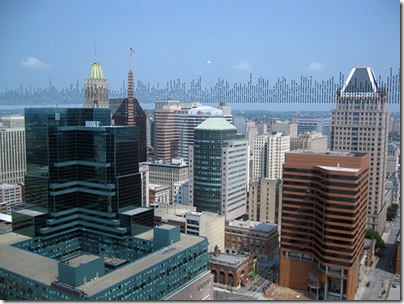 I did not go to the National Aquarium or see the dolphin show because I did that on my last trip. I headed straight for the Baltimore World Trade Center and paid $5.00 for the elevator to the top observation deck called the "Top of the World". There I enjoyed stunning views of the downtown skyscrapers which face the harbor and the Inner Harbor. I took lots of photos. They also had a Baltimore gift shop and a few exhibits about 9/11 but I only picked up a few tourist pamphlets.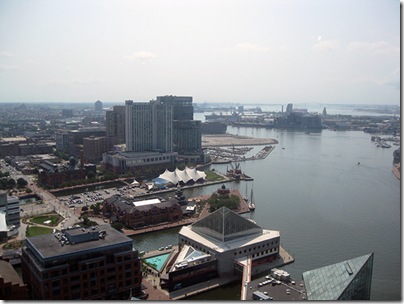 After that I headed to my favorite museum, the American Visionary Art Museum. Before the trip, I became a member of the museum and received my membership card in the mail. This entitled me to free entry. All the floors were open so I spent a lot more time at the museum on this trip and saw more artwork. Their current exhibit is All Things Round. I saw some great paintings by Stephanie Lucas and Paul Lancaster but I cannot find any information about these artists online. They don't even have Wikipedia articles. After viewing all the artwork I had lunch at the museum's restaurant, Mr. Rain's Fun House. I ordered the Fun House Burger with sauteed onions and some kind of salad as a side dish. While eating I stared out the window at a condominium complex. I could see the Legg Mason Tower in the background and that is when I realized that these are the condominiums I saw from the water taxi on my last trip. There are quite a few high rise condominiums surrounding the Baltimore Inner Harbor. It makes me wonder where the wealth comes from since Baltimore has a reputation for being an impoverished city. I suspect they are commuters from Washington DC so this is big money from the federal government on display.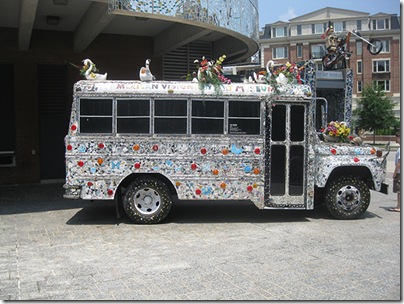 After lunch I went to the museum's bookstore where I bought a book on Japanese pop culture entitled Tokyo Clash. Let's consider why this book was on sale at the American Visionary Art Museum since it does not cover outsider art. I recently came across an useful word, exotica, objects considered strange or interesting because out of the ordinary, esp. because they originated in a distant foreign country. Japanese pop culture is a fine example of exotica and that explains why the bookstore stocked it. It also explains why I've become so interested in travel and what I hope to find. For example, I'm currently researching my trip to Montreal and I'm especially excited whenever I discover anything obscure and bizarre in their culture. Recently I ordered a DVD of the film Léolo, a movie about a 12-year-old dreamer with a hilarious life-preserving ability to recreate the world according to his imagination.
I also went into the James Rouse Visionary Center which I missed on my previous visit because it is located in a separate building. This building houses their kinetic art and large vehicles used in their Kinetic Sculpture Race. I saw giant pink poodle sculptures mounted on bicycles and a car covered in small glass bottles.
I'm pleased that I saw more of the American Visionary Art Museum on this trip. I'm not sure how seriously I should take this museum. The entire "outsider art" concept is condescending and the museum's approach often seems frivolous and campy to me. I should have become obsessed with the museum but unfortunately it does not correspond closely enough to my concept of visionary art to inspire me. The most important quality of visionary art is that it should be profound. This is something the surreal frequently lacks. Surreal art is rarely as profound as a dream. There are actually two types of dreams; grotesque dreams and profound dreams. Profound dreams are hyper-significant and will haunt you even after waking up. They are a rare glimpse of how the soul secretly sees the world. Visionary art should also be art that shows you the world from the soul's eyes in its secret way. Another essential quality of visionary art is that it should be haunting; eerily beautiful and hauntingly beautiful. I'm not sure if the American Visionary Art Museum realizes just how powerful and grand a vision can be.
I did visit another shrine to high camp that day, the Geppi's Entertainment Museum. This is great museum of American pop culture with an impressive collection of rare comic books. They have trashy film posters, vintage toys, and everything a geek could desire. I would highly recommend this museum to tourists from other countries who may be fascinated with American pop culture. And for American pop culture addicts this is the ultimate museum. Personally I've never been that into comic books but I like all the comic book inspired films that Hollywood is making a fortune on right now. For example, The Avengers broke box office records this summer and I saw some Avengers comic books yesterday at this museum. Geppi's Entertainment Museum isn't quite in the Inner Harbor area, you have to walk west towards the Baltimore Orioles Stadium to find it. Along the way I saw a MTA commuter rail train.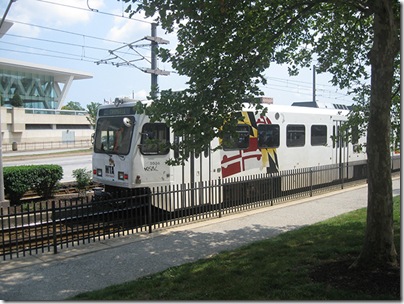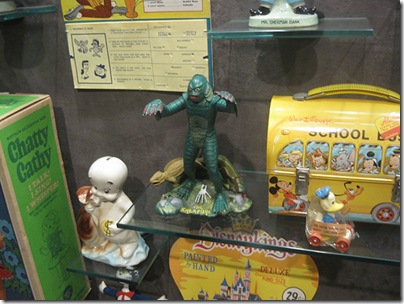 Some people would say Baltimore's Inner Harbor is one huge tourist trap. The Maryland Science Center certainly makes it seem so. It cost me $16.95 to visit this museum and all they had were interactive science exhibits for kids. I was not impressed. They did have some Baltimore blue crabs in fish aquariums. You can tell how lame it was if that was the highlight of the museum. To be fair, they also have dinosaur fossils, complete dinosaur skeletons, and a huge model of a meat eating dinosaur attacking a plant eating dinosaur. I also learned about the spacecraft that NASA has sent to Pluto which should arrive there in 2015.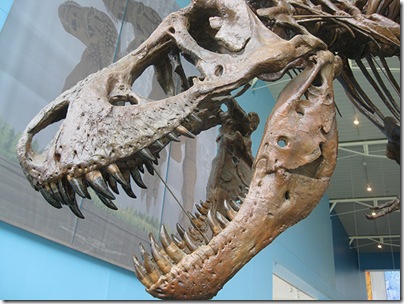 For the rest of the day, I didn't do much of anything except explore the various shopping malls in the area. I went to Barnes & Noble where I bought two DVDs; Mon Oncle Antoine (an important Québécoise film), and Pink Flamingos by John Waters. Baltimore is the home town of John Waters and many of his films are set in the city. Unfortunately I don't think I've ever seen a John Waters film except for Hairspray. That reminds me that I forgot to mention a huge sculpture of Divine which I saw in the James Rouse Visionary Center.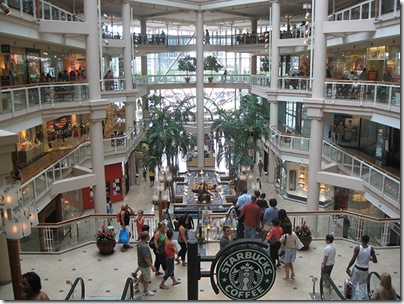 I also bought three more travel guides to Montréal. I don't really need any more travel guides for that city because my research is very comprehensive by now but the books did have some nice photos.
I bought a rubber blue crab toy at the Best of Baltimore store in the Harbourplace Mall. It was pretty expensive for what it is, $12.99. But I've always liked crabs. They are sort of cute with their pinchers but also a little creepy. Baltimore loves their blue crabs and uses them extensively as their mascot and iconic sea creature. But mostly Baltimore likes to eat blue crabs with Old Bay Seasoning. I can buy shrimp at the local grocery store with Old Bay Seasoning. Food prices have gone up so much that shrimp are just as expensive as anything else.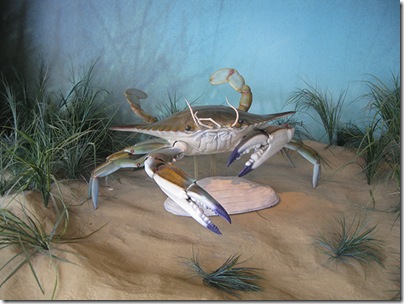 I think I'm just about done exploring Baltimore's Inner Harbor. The only other attraction I've yet to see are the historic ships. I should do some more research on the Fell's Point neighborhood which is a quaint historic area full of boutiques and restaurants. Fell's Point is easily reached from the Inner Harbor so that would be the next place for me to explore.