On Wednesday, April 25th, I began my day with a trip to the British Museum. This was a day of especially heavy rain so I was glad to spend a lot of time in a museum. I arrived shortly before the museum opened so I had time to get something to eat from the cafeteria before the galleries opened. I had a fancy sandwich (Egg mayo cress) sliced in half and sold in a box. These seem to be available everywhere. I even bought a few in Sainbury's. The English seem to have lots of gourmet ready-to-eat meals. The United States should steal that idea because I'm tired of our frozen dinners. What else did I have? Oh yes, a gooey triple chocolate muffin and a can of Red Bull to wake me up.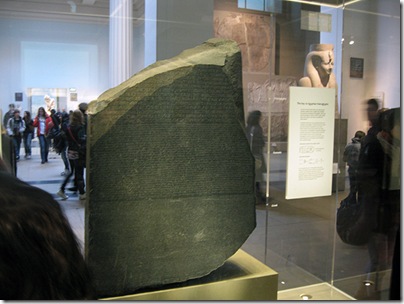 As soon as the galleries opened I saw the Rosetta Stone. There was quite a crowd of people around it but I managed to snap a photo. Photography was allowed so everyone was taking photos constantly and I took hundreds of photos myself. There were many Egyptian statues which make excellent subjects for photos. I've never really been into Egypt but I know some occultists fantasize its culture so it seems vaguely mystical and I like that. Next I saw the famous Elgin Marbles from the Parthenon. Now this was a big thrill for me and one of my goals for the trip. I do have a small collection of books on the ancient Greeks and I've read about these marble sculptures many times. I have some really fine books on Athens. One book has incredibly high resolution black and white photos of the ruins of the Parthenon. There is always talk of returning the Elgin Marbles to Greece so I'm glad I had the chance to see them before they leave London.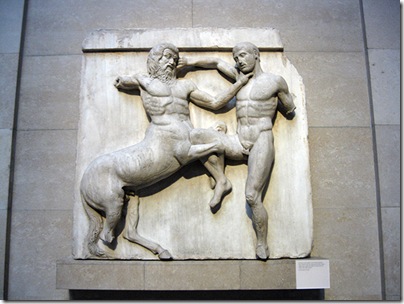 One unexpected surprise at the British Museum was the awe inspiring Enlightenment Gallery, formerly known as the King's Library. This was a true vision of a library! It is the grandest library you could possibly imagine filled with not only old leather bound books but awesome curios and art objects such as Greek vases and Egyptian sculptures. On Reddit there is a subreddit for Books where someone is always posting photos of some awesome library in the world. I'm surprised I've never seen this room there. The books were probably only meant as a scholarly backdrop for the display cabinets and sculptures in the room but I spent just as much time looking at the books as the cultural artifacts.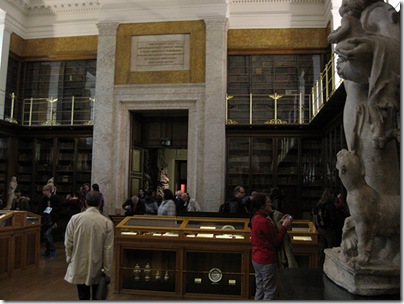 I wandered around the galleries for quite some time but eventually I had enough and left. Before I left I bought a Rosetta Stone paperweight and a magna book featuring the British Museum which I thought was cute, Professor Munakata's British Museum Adventure by Hoshino Yukinobu (ISBN: 978-0714124650).
My next stop was the Sir John Soane's Museum. Unfortunately , the facade was covered in scaffolding but the museum was open. Security was tight at this museum because the visitors have to come in close proximity to the collection. This is a quaint museum, basically a cramped house filled with the personal collection of the neo-classical architect Sir John Soane. It is sort of like a haunted house of classical art. A lot of the objects in the house were shielded by those glass panels that museums seem to like to preserve something from the hordes of visitors but this really ruined the effect. I saw William Hogarth's A Rake's Progress and some paintings of Venice by Canaletto. I've been taking special notice of anything relating to Venice on this trip because frankly I got tired of the planning for my London trip and started on the planning for Venice.
After leaving Sir John Soane's Museum I returned to my room at the Parkwood because I was burdened with my purchases and I didn't want them to get wet. Also, the next item on my schedule was a shopping expedition to Foyles bookshop on Charing Cross Road and I wanted to be empty-handed for that.
I had considerable trouble finding the Folyes bookshop but eventually I found some familiar streets in Soho and decided to eat at Café Boheme before buying books. I ordered Toulouse sausages and frites with a Liqueur Coffee. The waiter was the only person in London to ask about my nationality because I had trouble understanding anything he said with his French accent. While I was waiting for my food I consulted my notes on my iTouch and realized that I was close to Foyles.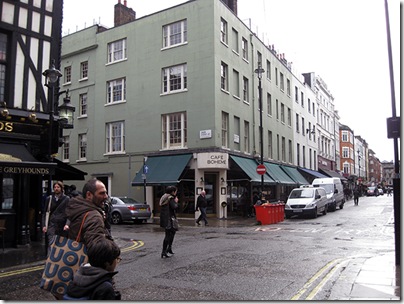 At Foyles I hit the jackpot in French language books so I bought five, although I made sure they were small books. I bought Arthur Rimbaud's Illuminations. I have dozens of this title in various editions in my Rimbaud collection but this one seems to have some commentary. I also found Racine's Phèdre which I bought because I'm interested in exploring French theater. Le Petite Nicolas voyage a book I actually may be able to read eventually. Since it is a children's book about travel it should be of some interest to me also. Then, just to make sure the sales clerk would know that I'm studying French I bought Say It Right In French and Palgrave Foundations French 1. Eventually I bought an extra piece of luggage at Marks & Spencer just for all the books I bought. According to the sales receipt, I bought a Hydra Cabin on 04/24/2012 Tuesday at 17:46. Oh yes, I remember now. I bought this just before heading out for the Apollo Theater to see that play.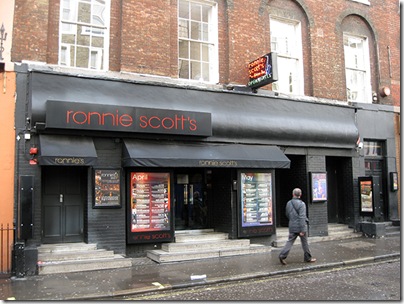 After buying the books I think I spent a few hours exploring Soho without returning to my hotel. Or did I go to the hotel to drop off the books and then returned to Soho? No, I think I only returned to the hotel after leaving Sir John Soane's Museum. Anyway, I didn't do much in Soho except take photos of various establishments I recognized from my research. This probably wasn't a good use of time since London will not be a city I'll get to visit often. I did see Soho Square and was amused to find the Palace Theatre advertising the musical "Singing In The Rain". It rained every day during my trip and nobody was singing in the rain.