My third day in London was devoted to Tate museums and theater. First, I took the Tube to the Pimlico Tube Station which is close to the Tate Britain museum. I used Google Street View to preview the walk from the station exit to the museum before making my trip. The British Secret Intelligence Service building was visible across the Thames so I took a few photos of that. You can see that building in one of the Bond films.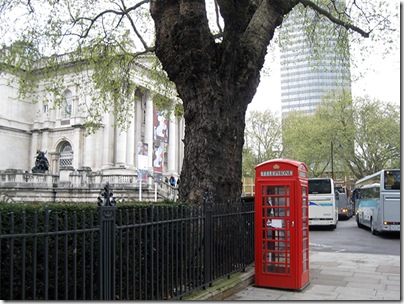 Tate Britain was having a special exhibit on Picasso In Britain so I bought a ticket for that exhibition. I saw several famous Picassos and a few other masterpieces by British artists inspired by Picasso like Francis Bacon, Duncan Grant, Wyndham Lewis, and Henry Moore. I saw The Lady of Shalott by John William Waterhouse and a few other Pre-Raphaelite paintings which I really liked. I also saw John Singer Sargent's Carnation, Lily, Lily, Rose which I had added to my notes on this artist associated with Venice. Unfortunately, I could not find the William Blake artwork this museum is supposed to have in its collection. I did see many J.M.W. Turner paintings including several of his famous paintings of Venice.
I had a very tasty meal in the museum's self service cafeteria. I prefer this kind of museum restaurant because it is less formal and does not take as much time to get through eating. I had a sausage sandwich with avocado, a little ice-cream, and a fruit drink.
After going through the museum without finding anything by William Blake, I bought a ticket for the Tate To Tate Boat. This is an excellent way to squeeze a Thames boat trip into your Tate museums visit. Unfortunately I must have lost my umbrella on the boat because I eventually realized I didn't have it later.
Instead of going directly to the Tate Modern, I went to the Globe Theater. This was fortunate because I was able to catch their very last tour of the day. If I had gone to the Tate Modern first as planned, I would have missed the tour of the Globe Theater. Actually, I was vaguely aware that there might not be a tour due to their Shakespeare performances featuring international theater companies. My excessive trip planning really paid off.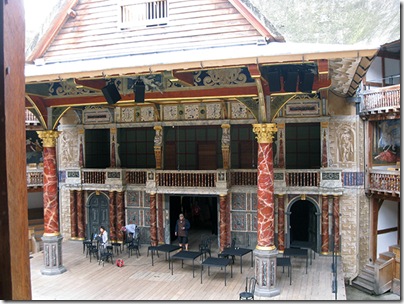 I have read every play by Shakespeare back in high school and I love the theater so this was a big thrill for me. After a brief lecture, the tour guide led us into the theater. There were some stage preparations going on but not an actual rehearsal so we were allowed to take a few photos and the tour guide amused us by taking frequent dramatic pauses as the sound check would blast something to drown her out.
After that fairly brief tour I went through their Shakespeare exhibit which I found to be too much like a museum and not sufficiently theatrical. They did have some stage costumes and stage props on display.
The Tate Modern was having the first major survey of Damien Hirst's work so naturally I had to see that. I have to admit that I'd never heard of Damien Hirst until Ogier mentioned him on Vloggerheads. I did see his shark in a display case, The Physical Impossibility of Death in the Mind of Someone Living, at the Metropolitan Museum of Art in New York City and I saw it again here in London. I also saw his cow encased in vitrine and cut in half. But most shocking of all was an actual severed cow's head in a glass box filled with large flies. Now that was really morbid and kind of gross. However, some of his other work was actually very beautiful like a giant stained glass window made out of butterflies. One room of the exhibit had actual butterflies flying around and one landed in a woman's hair. His monumental gold cabinet filled with manufactured diamonds was simply stunning. But best of all I got to see his famous work,  For the Love of God, a human skull recreated in platinum and adorned with 8,601 diamonds. You had to get into a special line to see this skull and go through security to see it in a black box. They treated it like the crown jewels.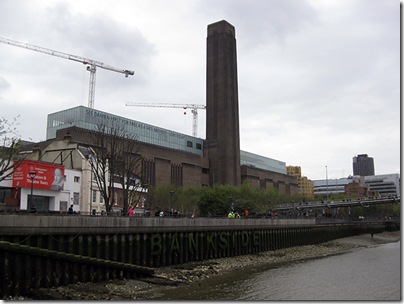 I had lunch at the Tate Modern, a cheeseburger with chips and some kind of sweet drink but it took a long time to be served. It really cut into my museum time which is why I prefer self serve cafeterias. After lunch I saw the other special exhibition I paid for, an exhibit of the work of Aligheiero Boetti. I had never heard of this artist. He was an Italian conceptual artist, considered to be a member of the art movement Arte Povera. I'll have to check out modern Italian art when I get heavily into learning Italian. After all, Italy is one of the more important European countries and it would require several trips to do it justice.
Unfortunately, I had to cut short my visit to the Tate Modern without seeing everything because I didn't want to be late for the play I was going to see that evening. As I was walking across the Millennium Bridge some girl holding her homework assignment quizzed me as to why the opening of the bridge was delayed. I told her it was because the bridge was swaying. Yes, I did my homework for this trip! I took lots of photos of St Paul's Cathedral of course, because that is one of the major symbols of London. I did have to consult my notes on my iTouch to find the St Paul's Cathedral Tube Station.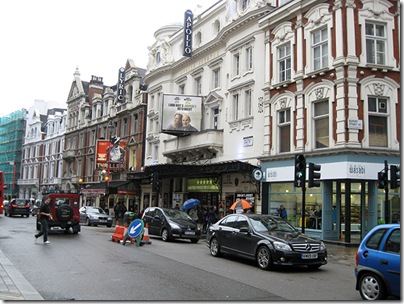 The highlight of my trip was seeing Eugene O'Neill's Long Days Journey Into Night at the Apollo Theatre. I have read every one of Eugene O'Neill's plays and built up a small collection of books on O'Neill back when I had ambitions to be a playwright. In all this time I have never seen one of his plays performed on stage. I have seen two or three film versions of this particular play starring Jason Robards and Jack Lemmon. Eugene O'Neill interests me because he had a "touch of the poet", the title of one of his plays, and he frequently struggled to express his mysticism. Eugene O'Neill did not believe he was enough of a poet to describe his mystic vision of union with the universe and I can relate to that. One of the books I have equates O'Neill's mysticism with Buddhism. Unfortunately, I never got around to reading that book so maybe I'll do that when I get home.
The actors in the play spoke with American accents, not British accents, although the actor playing Edmund sounded like he was speaking with a slight Irish brogue. The stage set was very elaborate and detailed. It looked as good as the film sets. They also used stage fog for the fog mentioned in the play which impressed me. The Apollo Theatre itself is rather grand and made an impressive setting for this cultural event.
I had never imagined that one day I would see Eugene O'Neill's Long Days Journey Into Night in London! This will probably be the single greatest cultural event of my life. Seriously, I cannot think of anything that could top this unless it involved me personally. And to think that I planned this trip for a year without realizing the date would permit me to see this play. I really lucked out! Oh, and let's not forget that I also visited Shakespeare's Globe Theater on this day. Shakespeare is an important aspect of Eugene O'Neill's play because his actor father expresses remorse that he missed his chance to become one of the greatest American Shakespearean actors in American history. This was a red letter day.