I worked out a detailed itinerary before my trip and today I followed my schedule. First I took the Tube to the Green Park station and walked to Buckingham Palace. I think they had the Victoria Memorial blocked off but I did not notice this right away and walked around it taking photos from every angle. I got lots of good shots because nobody was sitting around it. But I think I shouldn't have been there.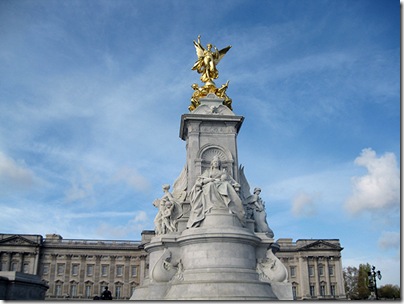 After that I walked down the Mall to the Admiralty Arch and then walked across Westminster Bridge to the London Eye. It was really thrilling to be so close to Parliament and Big Ben, the iconic symbols of the UK. Before boarding the London Eye you have to go through the 4D experience. Being sprayed in the face with some light mist came as a surprise.
The London Eye was really awesome. I saw London's newest skyscraper, The Shard, and got an aerial view of the Houses of Parliament. At the London Eye gift shop, I bought a London Guardsman Bear at 10:24 a.m. according to the receipt.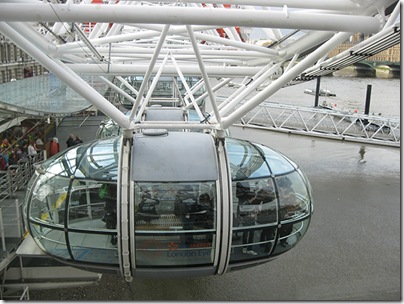 After returning to my hotel room, I set out again for South Kensington. The first thing I did was go shopping for French books at Librairie La Page. The proprietress greeted me in French but I answered in English since my French is terrible. I need to figure out how to work on my pronunciation since my study methods only improve reading comprehension. I asked if she had any travel guides and she said yes, but in French. She was probably puzzled by me. I bought a few French travel guides on Venice because everything I've read about Venice has been from an American perspective. I've read about Henry James, Ernest Hemingway, Peggy Guggenheim, Ezra Pound, and every other American who spent more than a month in Venice. Of course, Venice may not care for the French. Wasn't it Napoleon who ended the Republic during his conquest of Europe?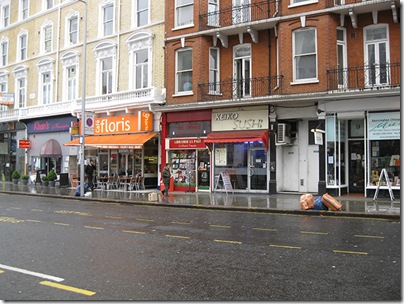 According to the receipt dated 23/04/2012  13:02, I bought a copy of the French newspaper Le Figaro, Venise: Guide évasion en ville published by Hachette Tourisme (ISBN: 978-2-01-244650-2), Venise GeoGuide (ISBN: 978-2-74-242684-3), and Lonely Planet Québec (ISBN: 978-2-81610-706-7).
After that I went to the Victoria and Albert Museum where I spent four hours. That museum is huge and there is a lot to see. I paid extra for their special exhibit on modern British Design 1948-2012. I wasn't terribly impressed by this exhibit but I did see some punk clothing and they played David Bowie's "Ashes To Ashes" as background music. It really amused me to hear that song in the Victoria and Albert Museum. At the V&A Museum shop I bought the book London's Theatres at exactly 16:28 according to the receipt. This book particularly caught my eye because the back cover shows the Apollo Theatre advertising the play "All My Sons" starring David Suchet, the same actor in the play I was to see.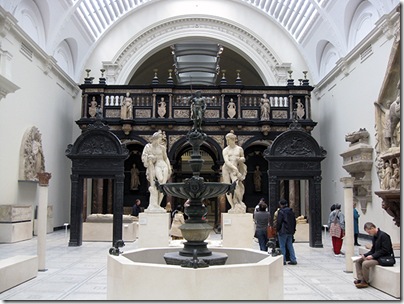 My schedule may be too intense because my feet are already aching and my back sometimes troubles me. You should definitely travel before you get too old because it is physically demanding.
This evening I had dinner at the Spaghetti House near my hotel. The Spaghetti House is a genuine Italian restaurant where all the staff speaks Italian and the food is all Italian. We have a lot of Italian restaurants in the United States, half of the restaurants in Williamsport are Italian, but very few offer genuine cuisine. It's mostly pizza. I actually chose this restaurant because there is a movie based on an incident that took place in a Spaghetti House in the 1980s. You can watch the entire movie on YouTube in Italian.
Tomorrow's schedule includes both Tate Museums, Shakespeare's Globe Theater tour, and the "Long Days Journey Into Night" play. My feet will be killing me.