I began my trip by driving down to Philadelphia International Airport instead of departing from our regional airport, Williamsport Regional Airport (IPT), because it makes it harder for the airline to reschedule a flight when you factor in a regional airport. I was originally scheduled to fly to Toronto and catch an international flight to London from there but United changed that to Washington DC's Dulles Airport. So I added information on that airport to my Washington DC notes.
Since this was my first trip departing directly from Philadelphia International Airport (PHL) it is worthwhile to commit a few details to memory in this blog. I didn't have any problems finding the Economy Parking lot where I parked at K15 after taking a ticket. I had to carry my luggage all the way to Terminal F where I easily found the United check-in counters. I was way early so I had to wait until around 4:00 a.m. when they opened the counters to serve passengers for 6:00 a.m. flights. So for future reference, don't plan to show up at the Philadelphia International Airport (PHL) before 4:00 a.m. I neglected to print out my flight details but fortunately I could find the United Airlines record locator code BCWMYV in my iTouch notes. You need to enter that code into the touch screen computer to print your boarding passes. After that you can check in your bag. I'm describing the entire process of boarding a flight because I don't remember it from my previous trips. Checking in a bag involves placing it on a scale, but they don't open the bag to check it contents right there. They print a tag for the bag and give you a baggage claim receipt.
After that you proceed to the gates which requires going through security first. Philadelphia International Airport (PHL) is still just using metal detectors. You need to take your laptop out of your carry on bag and remove your shoes. I did not have to remove my belt. I brought my used DELL Latitude D610 but it proved to be too heavy. It weighs almost six pounds (6 lbs) and really made my carry on bag heavy and ungainly. I will have to do research on a lighter netbook. Most of the airport restaurants and shops were just opening so I proceeded directly to my gate. Unfortunately they immediately put the plane on an one hour delay for maintenance. This did not trouble me because I could still catch my connecting flight in Washington DC. I went to the nearby Dunkin Donuts in Terminal D and bought a Big N' Toasted breakfast sandwich and a cup of coffee. After waiting for over an hour they delayed the flight again until it became clear that I could not catch my connecting flight. There were no United personnel at the counter so I had to leave the gates area and go back downstairs which meant going back through security. At the counter they offered me a later flight to London after the plane would finally make it to Washington Dulles but I noticed that they were going to replace the plane so I didn't want to try my luck with that. They also offered a connecting flight to  Chicago where I could catch an international flight to London so I accepted that. After going through security again I had just enough time to catch my flight to Chicago.
Chicago O'Hare International Airport isn't in my travel notes because I never expected to be so far west. I'll have to add many more airports to my notes because you never know where you could end up due to a rescheduled flight. Not that you can prepare for an airport anyway, because they are too sprawling to find you way around. I saw a bit of the Chicago skyline though the airplane window as we landed. I saw a long line of skyscrapers like Manhattan but we were pretty far from the city. At the Chicago O'Hare International Airport I took a photo of a dinosaur skeleton because other people were doing that. I had hours to wait for the flight to London's Heathrow Airport so I used my electric razor in the restroom to get rid of twelve o'clock shadow. Then I had a cheese burger, French fries, and orange juice at Billy Goat at precisely 10:35 a.m. I should note that Chicago is in a different time zone so I had to set back my watch back an hour to ensure I didn't miss my flight. I read part of a novel on my Kindle and bought Internet access through Boingo Wireless to send my hotel an update email on my expected arrival time.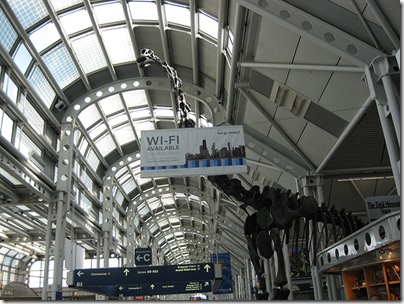 After a layover of several hours the United flight to London finally departed. I watched a few movies on the tiny seat-back video during the long flight. I saw The Iron Lady, a biographical film based on the life of Margaret Thatcher, which was appropriate and part of Hugo. The video wasn't play on demand in economy. We were served lunch, a snack, a soft drink, and a breakfast roll so I certainly did not starve. As we finally approached London around 5:00 a.m. I could see lots of lights outside the plane window but no familiar landmarks.
So, what can I remember of Heathrow Airport (LHR)? I may very well find myself in Heathrow again as a stopping off point on some other European trip. There was the usual long walk though airport corridors. Before I reached immigration control, I used the restroom again to sneak an electric shave. The  immigration checkpoint requires you to fill out an immigration card. This is necessary even if you are a tourist. That little detail wasn't mentioned in any of my travel guides. Heathrow Airport has been in the news lately because they make European Union residents wait in long lines for arrivals. Fortunately this problem does not exist for non European Union arrivals and it was too early for long lines. After collecting my one checked bag, I tried to find the exit to public transportation. I had planned on taking a taxi but it was very early in the morning and I did not see any taxis. So I decided to take the Heathrow Express train to Paddington Station which I knew would take me close to my hotel. Getting to the Heathrow Express train involved taking an elevator down to the trains. You cannot use an Oyster Card or a Travel Card for the Heathrow Express so I had to buy a special ticket which was £19.00! That was pretty expensive but I suppose it was cheaper than a taxi.
From Paddington Station I had to drag my luggage along Praed Street until I reached Edgware Road. From there it was a long walk to the Marble Arch landmark from where it was easy to find the Parkwood Hotel. My room was very narrow with a tiny bathroom and small shower but I found it perfectly adequate. I had WiFi Internet, a small flat panel TV, and a hairdryer. I think I slept for two or three hours and then went downstairs to check in and enjoy my first Full English Breakfast. Breakfast consisted of four slices of toast and a plate of Canadian Bacon, one sausage, scrambled eggs, baked beans, and a slice of tomato. I later asked them not to give me baked beans or the tomato because these are unusual items for an American breakfast.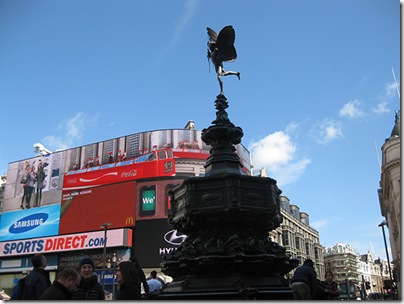 Although I was dead tired from jetlag, I proceeded to follow my grueling schedule. First I took the Tube to Piccadilly Circus. I had my Oyster Card so it was easy to get through the turnstile, although you do have to be quick about it. The Marble Arch Station was the Tube station I used most often. After going through the turnstile you usually head towards the escalators, making sure to stand on the right, and then you walk down several tunnels to the platform for your line which goes in the right direction. So on my first trip I took the Central Line going East. Fortunately, I never took the wrong train on my frequent Tube journeys. Once I arrived at Piccadilly Circus I walked up Shaftesbury Avenue to find the Apollo Theatre because I wanted a few photos of their advertising for the play I was going to see on Tuesday.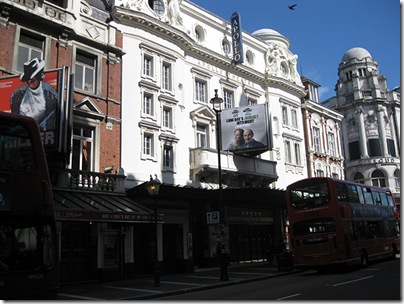 There was one aspect of Piccadilly Circus I was not expecting, The Four Bronze Horses of Helios by sculptor Rudy Weller. This was not in my notes but it would have been useful in identifying the streets. I walked from Piccadilly Circus to Trafalgar Square. Trafalgar Square was far larger than it appears in photos and it looked a bit emptier. I can see how it could accommodate large crowds. I saw the digital clock counting down the days until the 2012 Olympics and I saw Nelson's Column which is huge. After taking lots of photos I wandered into the National Gallery where I spent a few hours looking at works of art. They had a special exhibit on Titian which was particularly interesting to me because my next trip to Europe will be Venice. At the National Gallery shop I bought the book Titian: the Last Days by Mark Hudson (ISBN: 978-1-4088-0132-1) and a National Gallery CD of Vivaldi's The Four Seasons.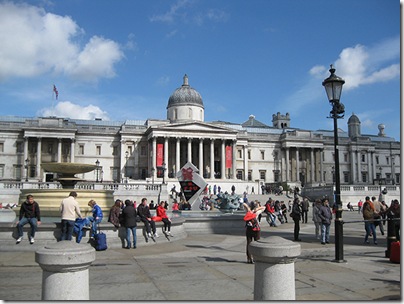 When I left the National Gallery I walked towards Big Ben which was visible in the distance.  I walked pass No 10 Downing Street which was fenced off and guarded, and saw some Queen's Guards mounted on horses outside the Horse Guards building. I also saw the Centotaph and the National Monument to the Women of World War II. When I reached Parliament I was unable to go any further because the London Marathon was taking place. I did manage to see a few runners though.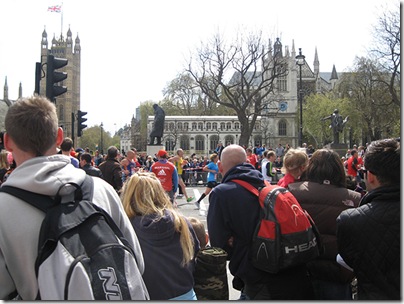 I spent the rest of the day in the National Portrait Gallery. They are running a special exhibit on the paintings of Lucian Freud so I got to see that using my London Pass. That was a significant cultural event so the galleries were packed. I do have an art book on Lucian Freud so I recognized a lot of the paintings. They had many of his nudes, self-portraits, and his most famous portraits. The only painting I did not see was his portrait of the Queen. I had lunch at the 3rd Floor Restaurant although I had to eat at the bar because I did not have a reservation. I ordered a glass of prosecco, the Italian white wine popular in Venice and plaice, a flat fish. I did not like the plaice which had a lot of fish bones in it. I don't know how you are supposed to even eat it. I eventually just scraped some flesh off the top of the bones. When I left the National Portrait Gallery it was raining so I had to buy an umbrella in the gift shop.
When I got back to the hotel I spent the rest of the evening on the Internet and went to bed early to recover from jetlag.