Yesterday I went on a bus trip to the Philadelphia Flower Show. I was not particularly interested in the flower show, but it was an opportunity to visit Philadelphia without driving. The bus departed from the new location of Susquehanna Trailways in the Williamsport Transportation Center. I found the parking deck to be completing mystifying. The instructions from Susquehanna Trailways mentioned a ticket and they sent me a chaser ticket to get a discount. However I had to insert my credit card to open the gate and there was no ticket. When I left the gate attendant just opened the gate for me and waved me through without payment.
As the bus approached Philadelphia somebody must have noticed that Schuylkill Expressway was all backed up because the bus continued along Interstate 476 which runs west of Philadelphia. This was very interesting to me because we drove pass the Philadelphia International Airport. I'll have to drive to this airport for my dream vacation to London. I have already booked my flight. I could not book a direct flight from Philadelphia to London. The plane will first go to Toronto Canada. Any ways, I saw the long term parking lot but the road signs looked very confusing so I'll have to do some research on how to get to the right parking lot. The bus also drove past the sport complexes, Lincoln Financial Field, Citizens Bank Park, and Wells Fargo Center. I was glad that I got to see them. Then we drove over a long blue bridge which was not in my travel notes. This must have been the Girard Point Bridge which carries Interstate 95 across the Schuylkill River near the Philadelphia Navy Yard.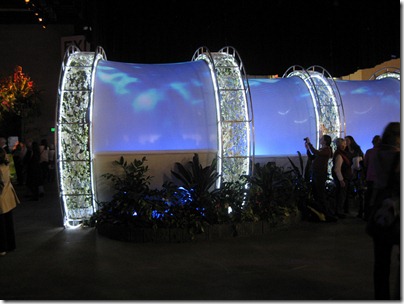 When we arrived in downtown Philadelphia I saw many industrial buildings being converted into apartment blocks just north of the Vine Street Expressway, just to the east of Broad Street. I'm not sure if that is a recent development because I've never noticed that area before. The flower show was held in the Pennsylvania Convention Center, a huge building that spans several blocks. We were dropped off on Arch Street right across from a brick building that was built in 1888, near the Center for Architecture.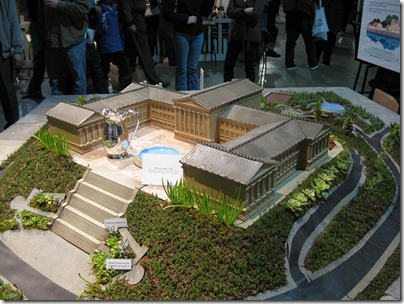 I did not find the flower show to be all that spectacular. After taking lots of photos for approximately an hour, I left and walked along Arch Street to National Constitution Center. I've seen the National Constitution Center on every trip to Philadelphia but this was my first visit to the place because nobody recommends it. I knew it was open on Sundays because my custom travel guide on my iPod Touch has this information. It was really useful on this trip because I didn't do any prior planning. The National Constitution Center was holding a special Bruce Springsteen Exhibition which I probably should have seen. However, I just paid for general admission and did the "We the People" multimedia show with an inspiring live actor and 360-degree movie screen. Although I've seen photos of the National Constitution Center exhibit space, I still found the actual layout completely unexpected. For example, after the multimedia show in a circular auditorium which narrows to a small stage, you exit at the top of the seating areas to enter the circle of exhibits. The most interesting exhibit was a large model of the Capital Building in Washington DC which I may visit some day. You are only allowed to take photos in the Signers Hall. I signed their constitution. Before I left I visited the bookstore where I had trouble finding anything I wanted to buy. But eventually I settled for a Philadelphia bookmark and a book on Center City Philadelphia published by Arcadia Publishing.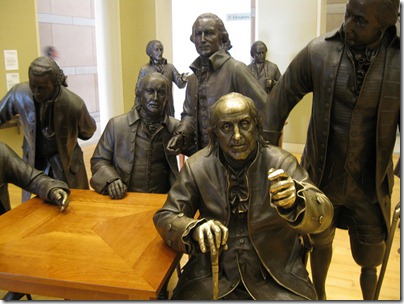 By then it was well past time for lunch so I decided to visit one of the famous restaurants I had not eaten at on any earlier trip. Philadelphia is a major foodie city with many fine restaurants. I decided to try Jon's Bar and Grille on South Street, associated with one of Three Stooges, Larry Fine. Fortunately it was open so I ordered a Three Stooges burger and a Pepsi. Just across the street is the dive bar Mako's Retired Surfers Bar & Grill which appeared to be for sale. After consulting my iPhone travel guide, I saw that Queen Village bookstore Head House Books was nearby and should be open so I went there and bought a book on the architecture of Venice.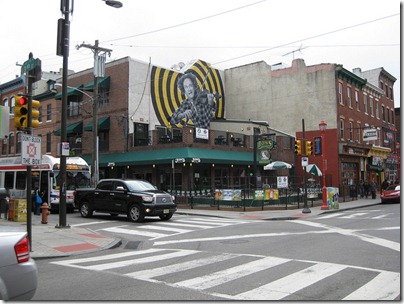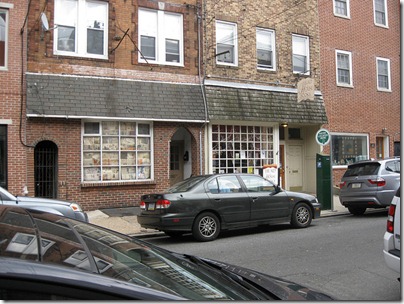 I felt really pleased to have accomplished so much on this trip. I finally got to see the National Constitution Center, ate at a famous South Street restaurant, and visited another book store. After that I walked all over Philadelphia taking more photos for my custom travel guide. I took photos of the SEPTA Market-Frankford Line subway station entrances, the new Pennsylvania Academy of the Fine Arts paintbrush public sculpture, the Joseph Fox Bookshop entrance, and many other landmarks and public sculptures. I was mainly trying to get photos of establishments for which I could not find any decent photos online like the Laff House Comedy Club.