Yesterday I went on a bus trip to Baltimore Maryland. This was my first time in Baltimore. I've never heard much about this city and often confused it with Boston. But Baltimore proved to be an awesome city with impressive skyscrapers downtown and a nautical wonderland, the Inner Harbor. I would recommend Baltimore to European tourists who want to visit a major American city comparable to New York City, but on a much smaller scale.
Technically the bus trip was to the National Aquarium in Baltimore but you could really spend the day as you wished. When we arrived the tour operator went into the National Aquarium and bought tickets for the entire bus (included in the reservation price). So the first place I visited was the National Aquarium. I had just enough time to find the Pier 4 Pavilion for the Dolphin Show. I've never seen an aquarium show before so this was a real treat. The dolphin show lasted a half hour and displayed the acrobatic swimming skills of these marine mammals. I sat far enough up in the bleachers to be out of the splash zone.
After the dolphin show I explored the rest of the National Aquarium in Baltimore which includes a rooftop rainforest, a central ray pool, and a multiple-story shark tank. It was a grand experience that re-awakened a sense of childlike wonder in me. I had lunch at the Harbor View Café which gave me an excellent view of the harbor to enjoy while I was eating.
After seeing everything the National Aquarium had to offer my next goal was to visit the American Visionary Art Museum. This museum was really my major goal for a trip to Baltimore so I'm glad this trip wasn't exclusively for the National Aquarium. Getting to the American Visionary Art Museum looked like it would require a long walk around the entire harbor so I took a water taxi. Later I discovered that the walk was not that bad because I eventually walked back to the National Aquarium from the American Visionary Art Museum. The water taxi cost $10.00 but you could ride all day with a hand stamp. Unfortunately the water taxi driver got confused about where I wanted to go and told me to transfer to the express boat which took me to Fell's Point, a neighborhood far from the inner harbor. That was slightly annoying but I did get a long cruise around the harbor and saw a creepy landmark, the Domino Sugar Plant with its huge neon sign, a supertanker, and an old battleship. I also saw fancy condominiums, yachts, and glass skyscrapers along the harbor which made it clear that people love the harbor view. My only nautical experience has been some Caribbean cruises so this was a fascinating experience for me. When the water taxi returned me to Harbor Place I had to take another water taxi to get to Rusty Skupper, a seafood restaurant which has the correct water taxi landing for visitors to the American Visionary Art Museum.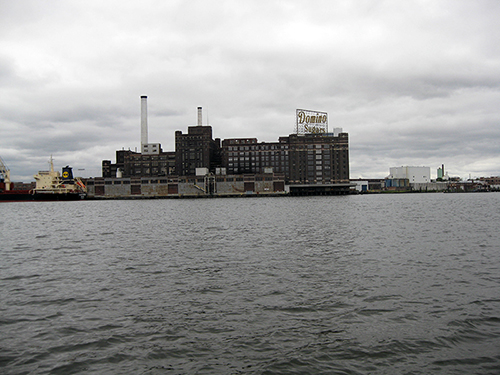 The American Visionary Art Museum intrigued me because I consider myself to be as visionary as William Blake. In fact, it amazes me that such a museum even exists because for a very long time I considered visionaries to be completely unknown to the world. Arthur Rimbaud was the only writer I knew who described visionary experiences and he was considered a mad fool by the French. The existence of the American Visionary Art Museum really violates my sense of the strict separation of the private inner world and the public world which can never acknowledge each other. In the context of Inner Harbor, which is a tacky tourist center, finding a museum that purports to represent visionary art is especially unnerving because it really puts the visionary in the public space.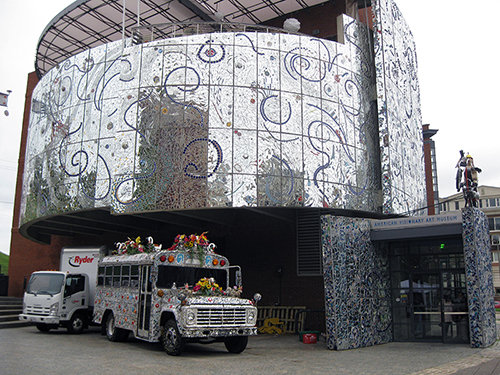 Although the very idea of creating a museum for visionary art seems like a futile dream, I must admit that I was somewhat impressed. The exterior of the museum is covered in mirrored tiles just like Philadelphia's Magic Gardens. Some of the artwork also used mosaics formed out of pieces of glass and mirrors.  But I did see some works of art which were unmistakably visionary. For example, Untitled (Seven Panels) by James Franklin Snodgrass was a massive vision of hell with an incredible amount of detail. It was clearly a spiritual masterpiece. But I was even more struck by the paintings of Eugene Von Bruenchenhein. His work was featured in a special exhibition entitled "Out Of This World" and I did find his artwork to be extraordinarily other worldly. I had no problem accepting this as visionary art. You can view his work online at http://www.vonbruenchenhein.com/. Eugene Von Bruenchenhein never achieved any public recognition even though he created thousands of highly remarkable paintings. It amazes me that someone could exert that much effort into communicating his vision and still have it all come to nothing as far as his life is concerned.
The American Visionary Art Museum has a quirky gift shop, the Sideshow, where you can buy all sorts of strange merchandise. I spent almost $100 in this boutique because there was a lot there that appealed to my tastes. I bought the book Outsider Art Sourcebook: International Guide to Outsider Art and Folk Art (Raw Vision) which was a good choice because it included one page on  Eugene Von Bruenchenhein.
I also bought an insect sculpture made out of gears which resembles a style of outsider sculpture. It is just a wind-up toy but I was amazed that you can buy something like that for just $13.00. http://www.kikkerland.com/products/wind-up-katita/
They had a few DVDs on various outsider artists and I was uncertain about which one I might like but eventually I settled on Jack Smith And The Destruction of Atlantis because I'm vaguely familiar with this filmmaker. I also bought a Haunted Memories: Spooky Changing Portrait which is an old time photograph that decays when you tilt it.
As I said, the The American Visionary Art Museum intrigues me. But how exactly do they define "visionary art"? According to their mission statement, "Visionary art as defined for the purposes of the American Visionary Art Museum refers to art produced by self-taught individuals, usually without formal training, whose works arise from an innate personal vision that revels foremost in the creative act itself." This is a bit disappointing because I do not consider formal art training to be particularly relevant in relation to the visionary. But the museum redeems itself in the next sentence, "In short, visionary art begins by listening to the inner voices of the soul, and often may not even be thought of as 'art' by its creator.". This statement is closer to my view that visionary art is the true revelation of the soul, compelled by the soul, and transcends a superficial concept of art. Furthermore, the museum is careful to distinguish visionary art from folk art and it is clear that their focus is on the former. Read this.
I have to be careful not to get too excited by the American Visionary Art Museum. For me, visionary art is powerful and profound. It is powerful enough to fuel a mad obsession should I ever feel that anything in the world could offer me its fulfillment. Fortunately this potential for obsession is tempered by the arbitrary nature of inspiration and the understanding that nothing possesses inherent spiritual significance. It is my power to ensoul the world, to see anything as a vision, but it is a mistake to imagine there is something to seek.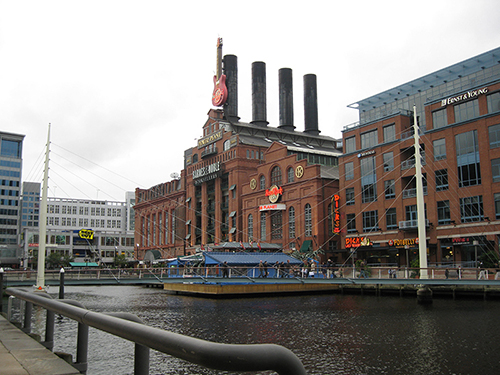 As I mentioned previously, after leaving the American Visionary Art Museum I walked back to the National Aquarium side of the harbor rather than wait for a water taxi. It did not prove to be too far to walk. Unfortunately the batteries in my camera died so my immediate concern was to buy more batteries. I entered the Pratt Street Pavilion of the Haborplace mall but I could not find a store that sold batteries. I did buy a few cheap Baltimore souvenirs though. I still had plenty of time before the bus left at 6:30 p.m. so I went to the Barnes & Noble bookstore in the Pratt Street Power Plant. This Barnes & Noble has a large aquarium inside which must be in tribute to the National Aquarium. There I bought a copy of Baltimore Magazine and the Washingtonian magazine, local lifestyle magazines which I wanted for further research. I went upstairs and searched through their impressive selection of Criterion DVDs for a "visionary film". I think I made a great choice in selecting Sawdust and Tinsel (Ingmar Bergman 1953). This film is supposed to be very dreamlike. The DVD booklet features a photo of a tragic clown which looks very promising. I have not had time to watch this DVD yet but I think I will like it.
I didn't do much after this shopping except for killing some time at a Potbelly Sandwich Shop and finding my way to the Gallery where I bought some AA batteries for my camera at a dollar store. Baltimore made quite an impression upon me with its soaring skyscrapers, I especially like an Art Deco building, and its Inner Harbor which is a nautical wonderland. The American Visionary Art Museum gave the city considerably more charm in my estimation. Baltimore is not that far from where I live in Pennsylvania. From Harrisburg you just need to follow Interstate 83 South into Maryland and then it is only around twenty minutes to Baltimore. The tour bus actually drove through Harrisburg on its east end so I was able to see the state capitol building. I definitely intend to do more research on Baltimore and visit the city often in the future.