Yesterday I made my second trip to Washington DC. My first trip to Washington DC was on September 30th, 2006 during the 2006 National Book Festival. I spent most of the day at the National Museum of Natural History on that trip. Coincidentally, the National Book Festival was also taking place during my second trip but I did not attend that. Instead I spent most of this trip at the National Gallery of Art.
This was a bus trip but not with Susquehanna Trailways. I've expanded my options with independent tour operators. There are a few people in the area who organize tour bus trips as a part-time business. I will be able to make more weekend day trips using these additional resources.
Washington DC is certainly worth a visit. I don' know why I have not gone there more often, except I was under the mistaken impression that it takes six hours to drive to Washington DC. Actually it is closer to four hours so it is about as close as Philadelphia, Pittsburgh, or New York City. I don't think people appreciate Washington DC as a tourist destination because the city is closely associated with politics. Washington DC is constantly in the news but you never hear much about the city itself and its many fine museums. For example, I did not even know that the National Gallery of Art existed until I began the research for this trip. But Washington DC clearly is not a secret to some tourists because I found the city packed with tourists. I heard a lot of French and Italian so the city must be popular with international tourists.
Considering how distant Washington DC and its politics seems from life here in Pennsylvania, it is surprising to realize how close the city is to us geographically. If you were to consider Washington DC to be part of the state of Maryland then it is in the neighboring state to the south. The bus stopped at Thurmont Maryland for a McDonalds breakfast break. That is just across the state border. Then we passed by the towns; Frederick, Gaithersburg, Rockville, and Rosslyn Virginia. We approached Washington DC from the west along the George Washington Memorial Parkway and crossed the Potomac River over the Theodore Roosevelt Memorial Bridge. I got a good view of the Kennedy Center and the Watergate Complex after we crossed the bridge. Then we drove along Constitution Avenue where I got to view the Lincoln Memorial and the Washington Monument.
Before dropping us off before the National Museum of Natural History, the bus took us to the Thomas Jefferson Memorial. I was not expecting the bus to shuttle us around Washington so this was an extra treat. I got to spend a half hour at the Thomas Jefferson Memorial. You really don't need more time than that since there is nothing to do there except snap iconic photographs of the Tidal Basin, the Washington Monument in the distance, and the statue of Thomas Jefferson. The Thomas Jefferson Memorial is an impressive monumental building. It looks like a Greek Temple with Thomas Jefferson as the god within the temple. At the end of the day the bus also took us to the Lincoln Memorial which looks like the Pantheon with a statue of Abraham Lincoln sitting like a god on his throne.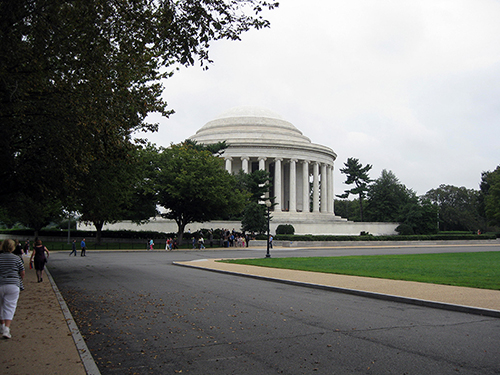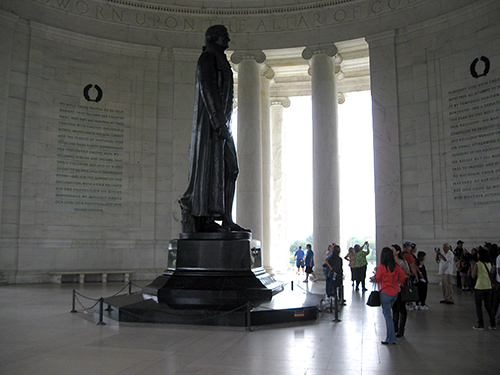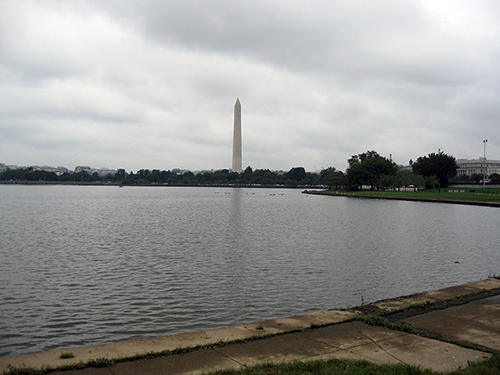 There are many free museums in Washington DC but my goal on this trip was to see the National Gallery of Art. I spent around four hours in this museum which actually consists of two buildings and a sculpture garden. I didn't even have time to visit the sculpture garden. The West Building has a labyrinth of rooms which takes a lot of time to go through. It contains all the classic European artwork. The East Building contains modern art and it does not require quite as much time to see everything there.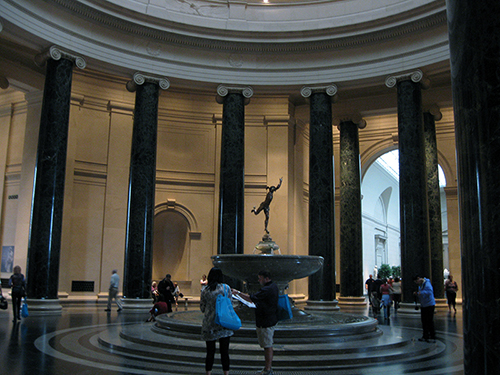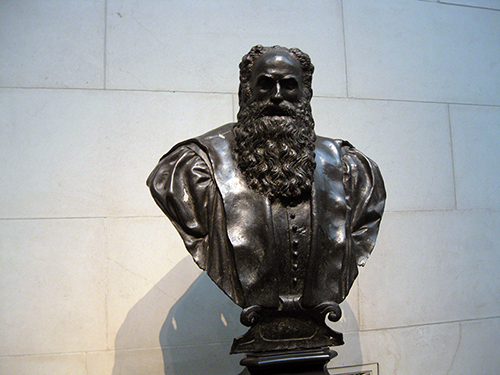 The first thing I saw was the Rotunda which is impressive with its marble columns and fountain centerpiece. Then I went into the West Sculpture Hall which contains many grand bronze statues. The first galleries I went into contained Dutch and Flemish old masters so I saw many paintings by Rembrandt van Rijn. Eventually I found many significant works of art including;
Venice: The Dogana and San Giorgio Maggiore and Approach to Venice by J. M. W. Turner. Thrilling to see this because I hope to visit Venice some day.
The Emperor Napoleon in His Study at the Tuileries by Jacques-Louis David. Shown in my Washington DC guidebook.
Lady Elizabeth Delmé and Her Children by Sir Joshua Reynolds. I believe he was a contemporary of William Blake.
Italian Comedians by Antonine Watteau. I've read a few books about Pierrot so this painting is particularly interesting to me.
Paris, rue du Harve by Jean Beraud. A quintessential French scene. I really should buy an art book on Jean Béraud.
Queen Henrietta Maria with Sir Jeffrey Hudson by Sir Anthony van Dyck. I liked the monkey.
The Skater (Portrait of William Grant) by Gilbert Stuart. Strangely, this painting has become something of an Internet meme known as "Skaters gonna Skate". I thought this painting was in the National Gallery, London and did not expect to find it here. Actually it is quite easy to confuse the National Gallery of Art in Washington DC with the National Gallery, London because the names are similar.
The Voyage of Life by Thomas Cole. I'd never heard of this poignant series of striking paintings.
The City from Greenwich Village John Sloan. Great painting of New York City.
Conversation among the Ruins by Giorgio de Chirico. My favorite metaphysical artist.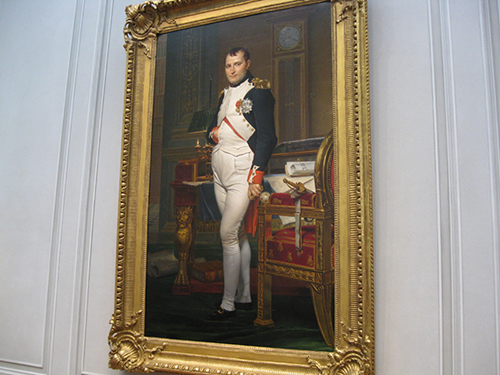 At 2:00 p.m. I had lunch at the Garden Café Italia. I ordered Mozzarella caprese – Buffalo mozzarella, tomato, basil, extra virgin olive oil. I had no idea what this was and it turned out to be a salad with curiously yellow tomato slices. Tiramisù classico e cioccolato – Tiramisù classico e cioccolato. And a glass of red wine, Pinot Noir, Sartori di Verona 2006. Thanks to the online menu and my receipt I can tell exactly what I ordered. This all cost me a whopping $34.55! The service was quite slow. It took me 40 minutes to eat lunch.
After lunch I bought a guidebook to the National Gallery of Art which was useful for identifying artwork for this blog post. There was also a large bookstore in the underground concourse between the two buildings. There I bought copies of  No Vulgar Hotel: The Desire and Pursuit of Venice by Judith Martin and The Art Lover's Guide To London in anticipation of future travel. The walkway to the East Building was clad all in mirrors with twinkling lights. It was vaguely science fiction like and gave me the impression of being on a spaceship.
There wasn't much to see in the East Building which is devoted to Modern Art. I did see the special exhibit, The Invention of Glory: Afonso V and the Pastrana Tapestries. These monumental Gothic tapestries were completely unknown to me. And I saw the special exhibit, In the Tower: Nam June Paik which did not impress me at all. I almost missed the Small French Paintings exhibit on the East Building Ground Level and had to rush through it to make the bus pickup. I also saw French Paintings of the Nineteenth Century: Selections From the Permanent Collection.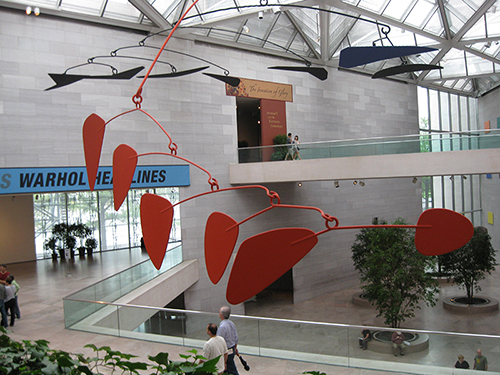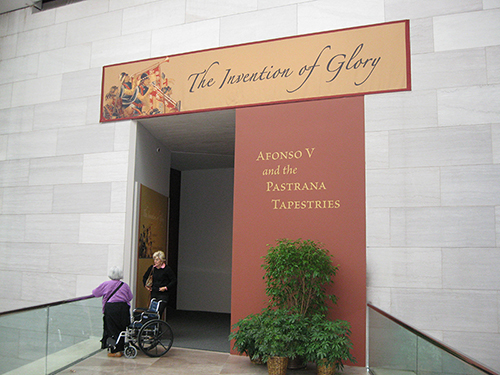 I felt very rushed to make it back to the steps of the National Museum of Natural History to be picked up by our tour bus but I actually made it with plenty of time to spare. The bus tried to take us for a view of the White House but you can no longer get very close. I only saw the White House from a distance on E Street NW. The south lawn of the White House was covered in white tents. It looked like some kind of outdoor trade show and did not make a good impression upon me. We then drove along Constitution Avenue NW which had a lot of road work going on and passed the Art Museum of the Americas, the Federal Reserve, and a modern building housing the United States Institute of Peace.
We then had an hour at the Lincoln Memorial. Being at this landmark was unusually thrilling for me. The Lincoln Memorial is pictured on the back of the five dollar bill and the penny so I'm quite familiar with the image of it. I've also seen the Lincoln Memorial in dystopian science fiction films like Logan' Run and the ending of The Planet of the Apes where the statue of Abraham Lincoln is an ape. Unfortunately the reflecting pool that lies between the Lincoln Memorial and the Washington Monument was under renovation and looked more like the nonreflecting pool of mud. The Lincoln Memorial was crowded with tourists all holding up cameras to get photos of Abraham Lincoln's statue so it was not as empty as you always see it in misleading promotional material. After seeing the Statue of Liberty, the Liberty Bell, and now the Lincoln Memorial I finally feel that I've seen all the iconic sights of our nation.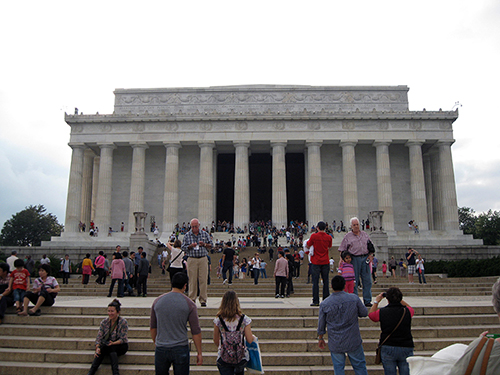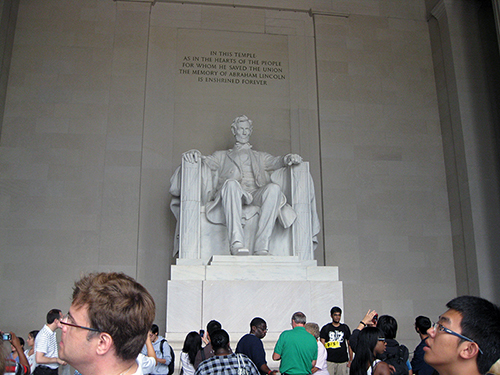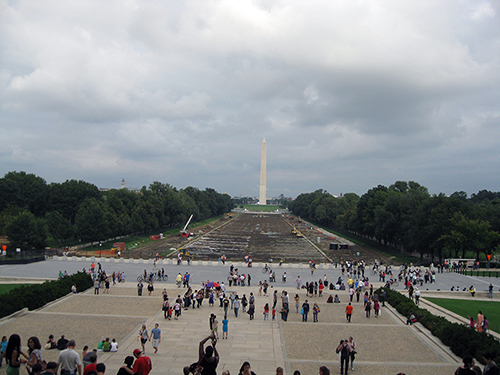 Washington DC strikes me as a good city to move to if I ever lose my job. It has many world class museums to visit. An IT professional will always be able to find a job in one of the many government agencies or lobbying groups. And it has many embassies which gives the city a more international character than any other American city except for New York City. I'm sure there are many resources for learning a foreign language in Washington DC.
I still have not seen many of the museums on the National Mall so I want to visit Washington DC more frequently in the future. Next year I will probably make Pittsburgh my special project for extensive exploration but my next pick would be Washington DC.