On Sunday, I went on a bus trip to the Pittsburgh Zoo & PPG Aquarium. I plan to explore Pittsburgh more extensively next summer. I have bought a few guide books for Pittsburgh and received their official tourist guide in the mail. Unfortunately, I didn't really see much of the city on this trip. I didn't see any of the skyscrapers downtown because the zoo is too far away. Pittsburgh's sphere of influence does not seem to reach Williamsport because I rarely hear anything about this major city. Philadelphia is far more influential in North Central PA. At the very least, I would want to visit the Andy Warhol museum in Pittsburgh.
The bus trip took five hours to get to Pittsburgh and then five hours to get back. Ten hours on the road is enough to drive me crazy. Fortunately they showed a few kid movies and I have lots of music to listen to on my iPod Touch. I think it would only take me four hours to drive to Pittsburgh. The bus stopped at Avis and the Millbrook Plaza in Mill Hall to pick up a few passengers. These pickups always add to the travel time. We stopped at Hoss's for dinner on the way back where I spent almost $20.00 for a simple meal of scallops and a baked potato.
I kept an eye out for landmarks on the route. I think we passed the Beaver Valley Power Station in Shippingport, PA even though that is west of Pittsburgh. I definitely remember seeing a nuclear power plant in the distance with a very tall smoke stack.
Once we reached Pittsburgh I saw various landmarks which I have been able to identify online. For example, I saw the St Paul Baptist Church which means we were on Washington Blvd which becomes Fifth Avenue and we turned onto Penn Avenue on the way to Interstate 376. We passed the Frick Art & Historical Center on Penn Avenue, an art museum I may want to visit later. We crossed under the Larimer Avenue Bridge. I saw Al's Fish & chicken which is on Penn Avenue. This street was extremely ghetto with many businesses that were boarded up. It appeared to be an African American neighborhood.
On the day before this trip there was a flash flood in Pittsburgh. Four people died at the intersection of Washington and Allegheny River Boulevards. This spooked me because we drove right pass there! I could see the mud on the bushes alongside the road and a few pieces of police tape. There was a thunderstorm that began just as we were leaving the zoo. It made me a little nervous!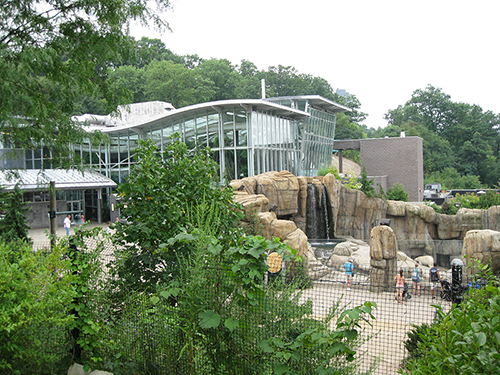 The Pittsburgh Zoo was a lot of fun. They have many tigers and elephants. The Philadelphia Zoo did not have elephants and only two tigers. I saw a komodo dragon that was as large as an alligator and rarely found in zoos. I saw a silver-backed gorilla which was sleeping outside. The aquarium was also very interesting with a penguin exhibit and a huge fish tank with divers who answered questions via underwater microphones. I took over 400 photos but I have not had time to upload my zoo photos to Flickr.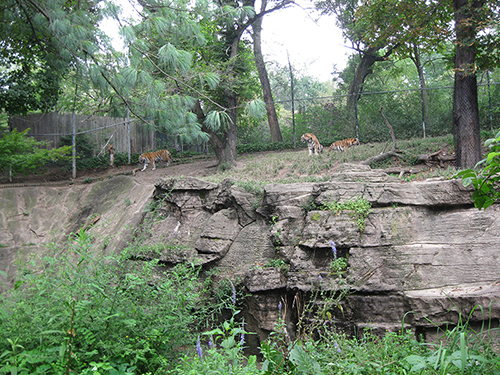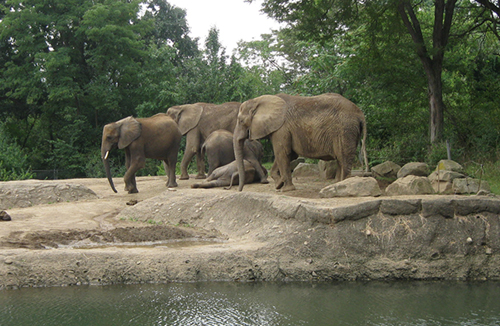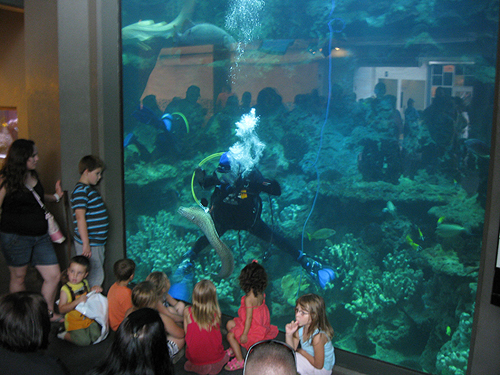 The food in the zoo was very expensive just like at the Philadelphia Zoo. I paid over $10.00 for a basic hamburger and coke meal. The gift shops had mostly stuffed animals on sale as souvenirs. I only bought a photo print, a stingray bookmark, and a small book on mammals as souvenirs. Zoos are really geared towards kids and family fun. I enjoy the lush foliage, tropical jungles, and wild animals. It is slightly nostalgic for me because as an adult you don't learn anything more about biology. Biology is one of those academic subjects that you are introduced to as a child and then discover will not be a part of your world as an adult. I sometimes sadly reflect that children are given a broad introduction to the wonders of the world yet adult life narrows down to so much less than that. But travel is certainly an excellent way to turn that around.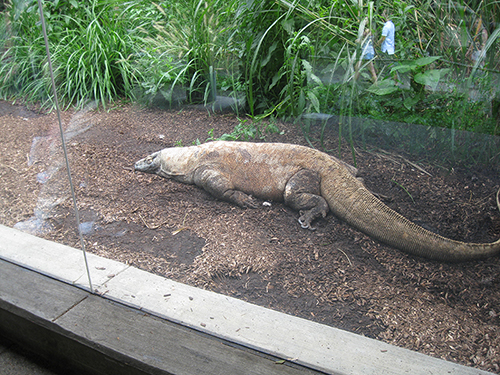 My future travel plans include a bus trip to Washington DC and an overnight trip to Philadelphia for the Philly Fringe Festival. I bought a ticket online for the Solo Tales of Terror: Lovecraft & Stoker performance. Unfortunately, my bus trip to Baltimore's Inner Harbor was canceled due to lack of interest. I have also been doing a lot of research to prepare for my major trip to London next year. I have gathered travel notes on most of the major tourist attractions, major museums, and a few theaters. I'm beginning to become familiar with the city's geography.