Today I made a long anticipated trip to Wellsboro to see the Pennsylvania Grand Canyon. Unfortunately I picked a bad day for this trip because it rained all day. Instead of seeing the canyon, I just saw a lot of mist. Fortunately I live only an hour away from Wellsboro so I can go back up there tomorrow. It is a shame that I've never been to the Leonard Harrison State Park until today. It is a major tourist attraction well within my reach that I never bothered to experience.
Wellsboro is located in Tioga County just north of Lycoming County. This part of the state is known as the northern tier, a mountainous area that is sparsely populated and economically depressed. There is not much reason to explore the northern tier unless you are hunting black bears. From my perspective, living in the Garden View neighborhood north of Williamsport, this is the great unknown if you follow Lycoming Creek Road north.  In fact, just north of me is the Crippled Bear Inn, a restaurant that got its name from a black bear. This part of the state is beginning to be impacted by the Marcellus Shale natural gas drilling. I saw lots of fracking trucks and fracking workers in Wellsboro. There is a lot of controversy over hydraulic fracturing.
The drive up Route 15 North is incredibly scenic with fantastic views of wooded mountains. On the way back it was raining hard so these mountains had wisps of mist floating through them. It is a very impressive sight! I wish I could have stopped and taken a few photos but this is a busy highway and you can't stop unless it is an emergency.
I had detailed instructions on which roads to take but it was still kind of tricky getting there. Although it was not raining when I left, it started to drizzle by the time I reached the small town of Wellsboro. I was planning on heading straight to the park but I decided to take some photos in Wellsboro in the hopes that the rain would stop. I've been to Wellsboro twice before on job interviews during the early years of 2000. I remember I had a job interview at Citizen's Bank which looks just the same.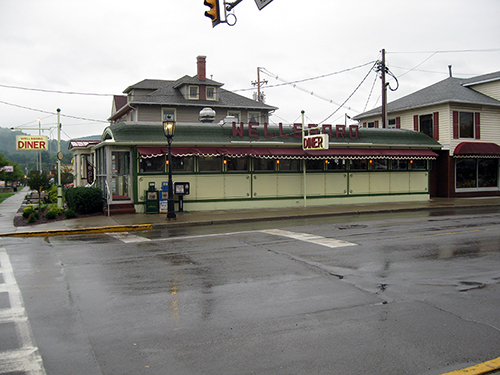 I had breakfast at the Wellsboro Diner, a 1940s style railroad car diner. It is one of the most famous landmarks in the town. The food gets bad reviews but I found my breakfast to be satisfactory. You should go there for the ambiance. The cashier was a Mennonite. Wellsboro is surprisingly undocumented on the Internet so I wanted to get some photos of establishments that can't be found online. I especially wanted a photo of the From My Shelf Books bookstore because it is a bit difficult to figure out where this place is located.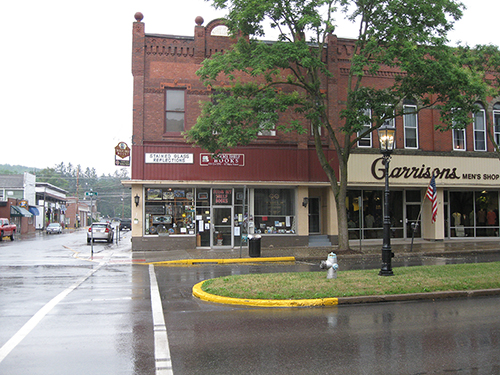 After breakfast and sightseeing in town, I drove west along Route 660 to the Leonard Harrison State Park which has some excellent overlook views of the Pennsylvania Grand Canyon. By that time it was raining a little harder but I decided to brave the trails anyway. Fortunately, there was a well designed and pleasantly landscaped overlook area where you look down into the gorge without following any trail. I found the view was mostly obscured by rain mist which was quite disappointing. Still, it was not a total loss because I got some good photos of the mist in the canyon. Shortly after I arrived the mist became even more dense so I lucked out. I started down the steep Turkey Path but decided to give it up because the trail could be slippery and dangerous. The place was practically deserted but I saw a few senior citizens as I was leaving. I did see the Animaland Zoolological Park on the way to the canyon but I figured it would be closed due to the rain.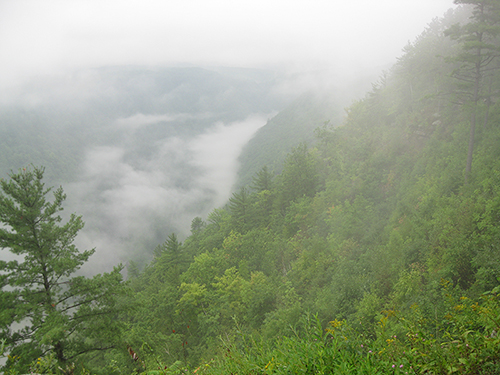 I went back to Wellsboro and parked downtown. This time I remembered to put some quarters in the meter. From My Shelf Books was open by then so I went in and bought a copy of Charles Dicken's The Old Curiosity Shop to whet my appetite for London. I also bought a copy of the local newspaper, the Wellsboro Gazette.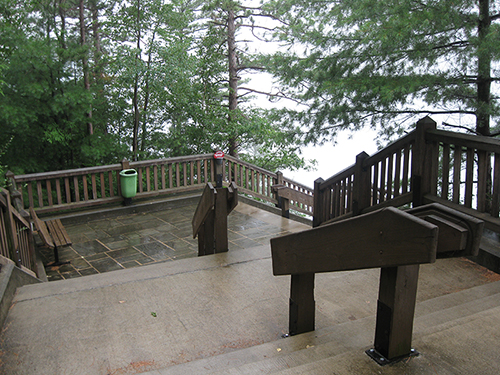 The drive home was kind of miserable because it started to pour. I did admire the view of the mist curling around the mountains. I also figured out which exit to look for to get back to Lycoming Creek Road. This was an important aspect of the trip because I may travel north in the future to visit New York state or maybe even go as far as Toronto, which is 5 hours north of me. I guess I will try this trip again tomorrow because I didn't really get to see the Pennsylvania Grand Canyon in all its glory or the Animaland Zoolological Park.