I went on a bus trip to the Philadelphia Zoo today. This was my fourth trip to Philly this summer but at least I did not have to drive. There were only 25 people on the bus which indicates how unpopular the Philadelphia trips can be. Another bus trip to the National Constitution Center and Philly Murals was canceled due to lack of interest. I don't know if local people prefer to drive to Philadelphia or if they just have a bad attitude towards this particular city. Well they really missed out because I had a great time at the zoo!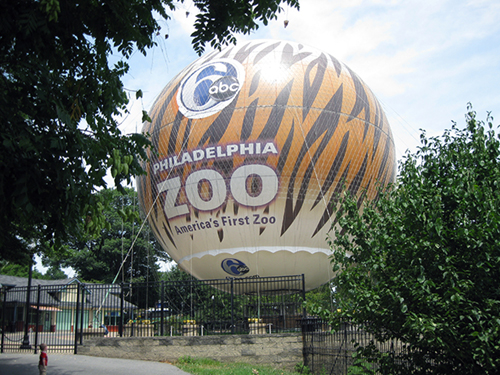 I don't think I've ever been to a major zoo before. I've never been to the Bronx Zoo or the Pittsburgh Zoo. I did not visit the zoo when I went to Berlin. So this was an entirely new tourist experience for me. The Philadelphia Zoo is sort of like an amusement park with an animal theme. There were a few rides and everything seemed geared towards kids. But I appreciated the lush vegetation and the opportunity to see many rare animals in real life. I think the gorillas made the biggest impression upon me because they seemed very expressive. One gorilla looked very bored and would look right at you. He almost made me feel embarrassed to be looking at him.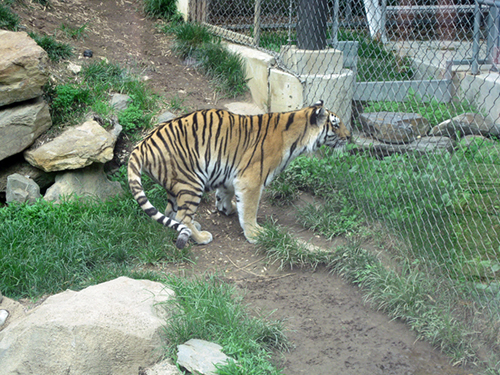 Unfortunately the heat was unbearable! It was another day of over 100° temperatures. Many of the zoo animals appeared to be suffering in the heat and sought out the shade or stayed in their caves. On the other hand, I heard that the zoo was not as crowded as it usually would be. Our tour bus guide advised us to keep hydrated but a bottle of water cost $3.00 at the zoo. All of their prices were inflated. It also cost $3.00 for an ice cream bar or bottle of soda. I had a meal consisting of a small cheeseburger, some fries, and a large soda which cost over $10.00!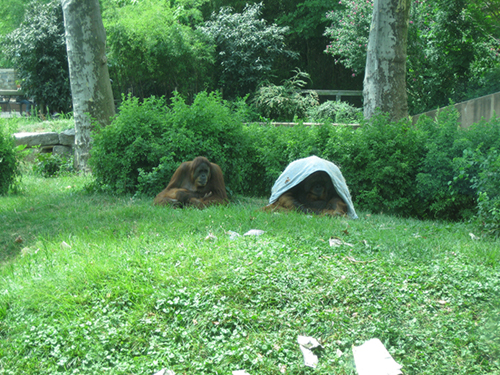 But overall I think this experience really elevated my opinion of Philadelphia as a tourist destination. The Philadelphia Zoo and the Philadelphia Museum of Art definitely make this city worth a visit. I was thinking of squeezing in the Eastern State Penitentiary and the Rodin Museum on this trip but the zoo was large enough to require an entire day to explore. Also, I don't think the bus company expected us to leave the zoo and the public transportation options weren't good. We only had five hours in Philadelphia so I spent the entire time at the zoo and saw all the exhibits and animals.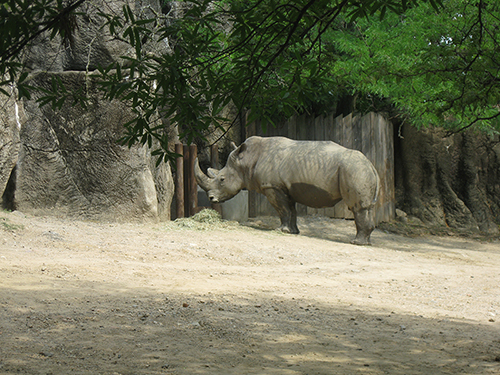 I don't know when I'll visit Philadelphia again. I would like to see a few more tourist attractions that I still have not gotten to; the Eastern State Penitentiary, the Rodin Museum, the National Constitution Center, and the National Liberty Museum. But I'm not sure that these attractions are worth the expense and considerable bother of another trip. If I do my usual overnight stay it would cost at least $200.00. I think I will need to find something in addition to that to make another trip worthwhile. Maybe next year I will turn my attention to Pittsburgh, the second largest city in Pennsylvania. I've only been to Pittsburgh twice and never for a proper trip (i.e. well researched trip to pack in lots of attractions). About the only nice thing you can say about Williamsport is that it is equidistant from both Philadelphia and Pittsburgh so you can reach both cities in about the same amount of time.