Yesterday I made my third visit to Philadelphia this summer. The purpose of this trip was to finally see some tourists attractions that I've neglected on previous trips. For example, although I've been to Philly at least eight times before, I never stood in line to see the Liberty Bell. Although I prefer to research and visit the more obscure establishments in a city, you can't really say you've visited Philadelphia without seeing the Liberty Bell. It is the number one icon of the city!
I booked one night at the Holiday Inn Historic District hotel. This is my favorite hotel in Philadelphia. It is only a short walk from Independence Park and has a parking deck. So you can just park there and walk to all the major tourist attractions. Unfortunately, I did make another driving mistake and accidentally crossed the Benjamin Franklin Bridge. It now costs $5.00 to drive across the Benjamin Franklin Bridge if you are coming from New Jersey. I can't blame myself too much for this mistake because it was an understandable error. I intended to drive behind the National Convention Center on a route I mapped out to reach my hotel but there is an entrance ramp to the Benjamin Franklin Bridge right next to that street and I turned left too soon. Once I crossed the Benjamin Franklin Bridge it was very difficult finding my way back over it so I'll need to add some driving directions to my notes. I only drove a few blocks in Camden New Jersey but I could see what a shithole that city is!
I parked at the hotel at around 8:00 a.m. but could not check in until 4:00 p.m. So the first thing I did was walk to the Reading Terminal Market which opens at 8:00 a.m. Even though I arrived there at 8:15 a.m. all the stools at the Dutch Eating Place were taken. You must have to camp outside to get a seat for breakfast at the Dutch Eating Place on Saturday! I ordered a pretzel and a lemonade from an Amish girl at Miller's Twist, famous for their soft pretzels. It is similar to the restaurant chain Auntie Anne's Pretzels which also combines soft pretzels with lemonade. The Reading Terminal Market has an information booth where I picked up a Philadelphia Official Visitors Guide and a Phlash booklet which I wanted because their online map is a poor quality PDF.
I walked back to the Independence Park which opens at 9:00 a.m. I went to the visitor's center and stood in line for a timed ticket to the Independence Hall Tour. My timed ticket was for 9:30 a.m. but I got there early so a park ranger exchanged it for a 9:15 a.m. ticket. The Independence Hall is a secure area so you have to enter through a gate on the left and go through security, although they only check bags. You cannot leave the secure area until the end of the tour at Congress Hall on the right. I mention these details because it is not really obvious that the secure area has a definite entrance and exit. It is surrounded by a low gate and various barriers in the back which give you the false impression that you could walk out at any time. The tour began in the East Wing which was just a room with some chairs where you sit through a brief introduction by a park ranger on the historical significance of Independence Hall. Then you are lead to the courtroom in Independence Hall and then to the assembly room. I was struck by how small and plain these two rooms appeared. It impressed upon me how far the country has come since its humble beginnings. The tour included Congress Hall to the right of Independence Hall, where you get to sit at desks like a congressman while listening to the park ranger's presentation.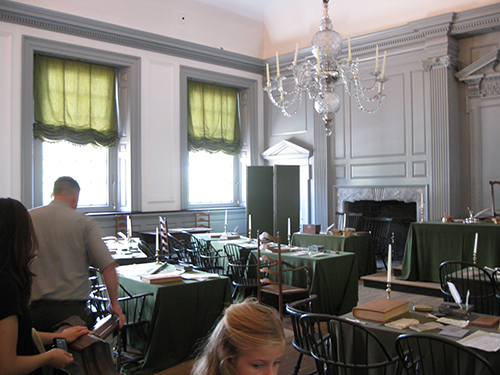 After that I stood in line for the Liberty Bell where I took some iconic photos. Upon exiting the Liberty Bell pavilion I came across a large tour group. The tour guide was speaking German. This interested me because I was listening to my Pimsleur German CDs on the long drive to Philly. I was tempted to hang around the tour group for awhile but I had more tourist attractions to see. I went to the Independence Visitors Center Store where I bought a few souvenirs; a Philadelphia Impressions book of photos and a coffee mug with a photo of the Philadelphia skyline. I still have some Italian Market Coffee which I'll drink in my Philadelphia coffee mug.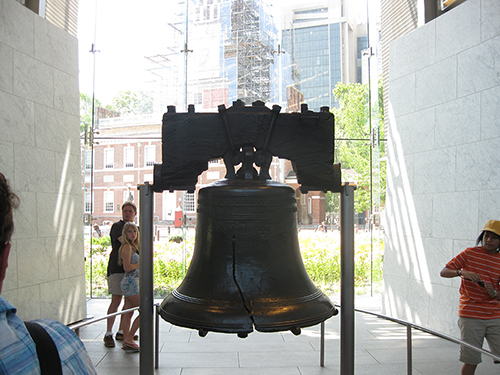 I returned to the hotel parking deck to stash my purchases in my car. Along the way I picked up copies of the free newspapers Citypaper and Philadelphia Weekly. I did forget to look for a copy of The Onion. I recently learned that The Opinion publishes a Philadelphia paper after reading about its entertainment editor who had her leg broken in a mob attack. I then headed back downtown to the Masonic Temple.
The Masonic Temple is near City Hall. Although it serves as the headquarters of the Grand Lodge of Pennsylvania, it is also a popular tourist attraction because you can tour its grand halls. We have a masonic temple in Williamsport, the Scottish Rite Auditorium. It is primarily an entertainment complex where you can hear the Williamsport Symphony but I've been in the masonic halls at least once for lunch because they used to run a restaurant. Anyway, the Grand Lodge of Pennsylvania really lives up to its name with opulent grand halls decorated in various styles of ancient architecture. After buying your ticket at the front desk you walk down a long hall to the one room masonic museum which contains many mystical artifacts. Our tour guide was a distinguished gentleman although he seemed a bit sardonic to me. He was like a posh British nobleman reluctantly giving a guided tour of his castle. During the tour I learned that Masonry began in England which has the grandest lodge in the world. I guess this accounts for how British everything seemed. It was definitely impressive and should be on your short list of tourist attractions when visiting Philadelphia.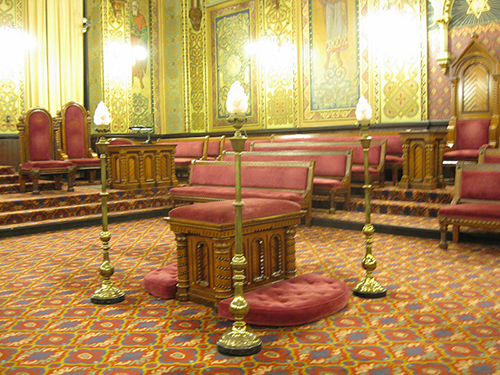 I was planning on taking a purple Phlash trolley to the Rodin Museum using one of my One Day Independence Passes I bought online. I waited for the Phlash trolley at stop #8 at Juniper and Market Streets, near the Masonic Temple. However the first Phlash trolley I saw drove on by without making a stop to pick anyone up and I got impatient waiting for another trolley. I lost patience and decided to walk to the Mütter Museum, which is way to the west of City Hall. Most of Philadelphia's skyscrapers are to the west of City Hall. It feels more like New York City in that part of town but there is more space between the office buildings.
The Mütter Museum is a particularly gruesome museum of medical oddities, anatomical and pathological specimens, wax models, and antique medical equipment. I don't recommend it if you are morbid. I'm a bit sensitive and found some of the examples of tissue decay to be particularly grim. I even started to feel a little sick while I was there although that could have been due to the long walk in the hot sun. I was surprised to see that some people bring their little kids to this museum. There were many gross displays like an eight foot long colon that contained many pails full of fecal matter before the man died and the skeleton of a dwarf. The soap lady corpse was particularly ghastly. There were bits and pieces of rotten corpses in many of the display cases. I was amused to see a whole troupe of girls dressed in the Japanese Gothic Lolita style. I'm not surprised that goths would like this morbid museum.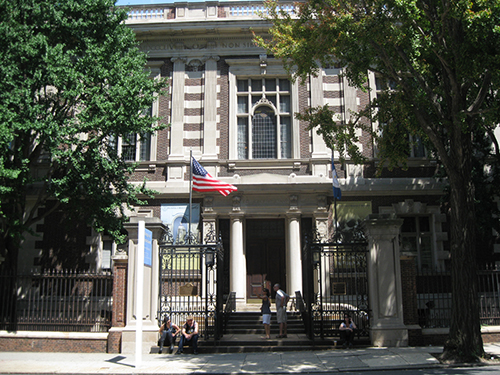 Since I was already to the west of City Hall I decided to visit the Whodunit Bookstore on Chestnut Street. This is one instance where my custom travel guide on my iPod Touch really came in handy because I used it to verify that the bookstore would be open on Saturday at that time. My notes on this bookstore include directions and a Google Map saved as an image so I was able to find the place. The Whodunit Bookstore is owned by the author Art Bourgeau. I read his novel Wolfman recently, a trashy novel about a werewolf terrorizing Philadelphia. While perusing the bookshelves I came across a real find, a novel written in Dutch. I found De Laatste Dichters by Christine Otten. I bought this book just because I intend to learn Dutch and I will be needing some material written in Dutch. At first I thought the book was in German but the definite article het was a dead giveaway. I had no idea what the novel was about. It turns out the novel is The Last Poets, based on the lives of African-American poet militant group The Last Poets. The Dutch word for poets Dichters is quite similar to the German word die Dichten and I should have known that. But I just checked and I don't have the word for poet in my German notes. I've just added it. Even better, the title page appears to have a hand written note by the author to Amiri Baraka (aka LeRoi Jones). So this book must have been owned by the famous African-American poet LeRoi Jones and it is autographed by the Dutch author. Sweet! According to the official list of books I have read, I have read a few plays written by LeRoi Jones so I'm not entirely unfamiliar with his work. What a find!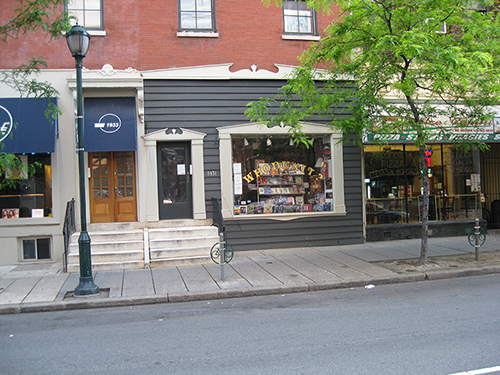 I also bought a hardcover copy of Prince of Stories: The Many Worlds of Neil Gaiman.  I like the fantasy novels and graphic novels of Neil Gaiman. I've recently read his novel Neverwhere  in preparation for my trip to London.
By that time it was almost 4:00 p.m. so I wanted to return to the hotel and check in. I walked all the way back to the Independence Park area. I really should research the public transportation options for traveling east and west from City Hall. I had two One Day Independence Passes which I did not use at all. I also had a ticket for the Colin Quinn show Long Story Short at the Philadelphia Theater Company (aka the Suzanne Roberts Theatre). The show was at 7:00 p.m. so I still had three hours to kill. I decided to walk to South Street for a little shopping and dinner. I was very concerned about making it to the theater in time so I felt very rushed on my visit to South Street. First I went to Repo Records and bought a CD, The Greatest Hits, So Far by Public Image Limited. This was sort of a token punk rock purchase because I already have many PIL CDs. Then I went to the German restaurant, Brauhaus Schmitz, on South Street. I no longer need to prepare for a trip to Germany, but since I have not abandoned my quest to learn German I'm still interested in German culture. Brauhaus Schmitz proved to be a very Bavarian type of establishment with all of the waitresses dressed in dirndls to show off the bosom.  I ordered the salmon, a glass of white wine (aka Riesling) and two side dishes which I picked out without even reading the menu. It was a very expensive meal and came to $31.50. I felt very rushed to make it to the theater so I did not order desert and was a bit pushy paying the check.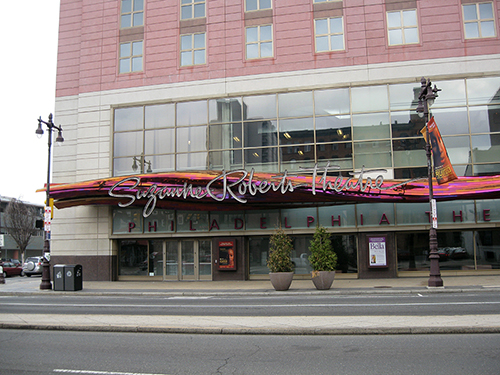 But I did manage to walk all the way to the Avenue of the Arts in time for the Colin Quinn comedic soliloquy, Long Story Short, directed by Jerry Seinfeld. Apparently this one-man show ran on Broadway, although it is just a standup comedy act. This is the third Philadelphia theater I've been to. How do you like that Williamsport theater scene? You are losing your audience to Philadelphia. Maybe you should improve your season. But seriously, I think the local community theater should sponsor trips to Philadelphia productions. Anyway, I splurged on a good seat in the second row. I could clearly see Colin Quinn who was only a few feet in front of me. He is now 52 years old but he still looks good, unchanged since I've last seen him on television. It is quite thrilling to be so close to a celebrity. His show was about how people have been bastards throughout history, a sentiment I'm sure the Philadelphians can appreciate.
After the show I walked all the way back to my hotel, passing through the Gayborhood. The Gayborhood is an area south of Market Street and east of Broad Street. You know when you are in the Gayborhood because the street signs have a rainbow strip along the bottom edge. I liked walking along the colonial houses in the dusk and noticed several interesting shops in that neighborhood. I saw a few joggers and thought it was very brave of them to be jogging through Philadelphia past 8:00 p.m. at night. Back at the hotel I watched a little TV and found a channel devoted to Philadelphia tourism, the Philadelphia Visitor's Channel. I thought, "Damn, Philadelphia has its own television channel just to promote itself to visitors!". 
I was planning on spending part of Sunday in Philadelphia but nothing was open until 10:00 a.m. I'm not sure I want to stay overnight in Philadelphia again because the hotel room adds to the expense of the trip but does not buy me any more time in the city. I have been making weekend getaways instead of true day trips because I don't like to drive eight hours in one day. I can just tolerate driving four hours at a stretch and the highways around Philadelphia are too tricky for me. Fortunately, the bus trip to the Philadelphia Zoo has not been canceled. I received a letter from Susquehanna Trailways confirming the trip and I've sent in my payment. So in just two weeks I'll be in Philadelphia again, on July 23rd. The Philadelphia Zoo is famous due to its role in the science fiction movie Twelve Monkeys. The animals in the Philadelphia Zoo are released as a diversion by the Army of the Twelve Monkeys. I bet I will hear many twelve monkey jokes on the bus trip. I may have time to visit the Rodin Museum and the Eastern State Penitentiary which aren't far from the Philadelphia Zoo.