I'm inclined to leave early on Sunday on a weekend trip to Philadelphia because I want to avoid the heavy traffic on the Schuylkill Expressway, but this time I was determined to extend my trip and justify the expense of overnight lodging. So I remained in Philadelphia and managed to achieve a few more goals on this trip.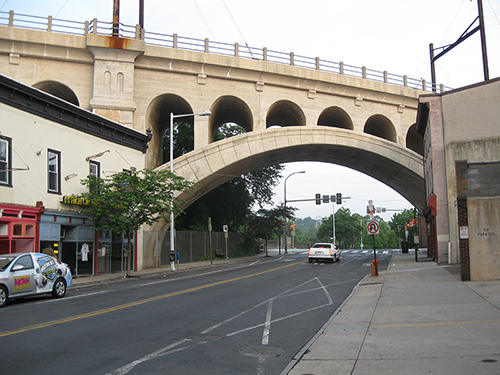 There wasn't much to do in the morning because all the businesses were closed on Sunday morning, so I walked along Main Street taking photos and explored the Manayunk Canal towpath in the east but not very far. Then I climbed back up the hill and took my suitcase to my car. When I returned to the bed and breakfast I caught the owner in the doorway and checked out since I had all my stuff. I then took the regional rail at Manayunk Station to Center City again. This time the trip went very smoothly since I knew the procedure.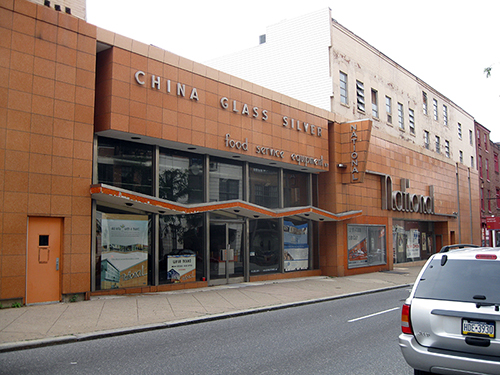 After arriving at the Market East Station I made a withdrawal at a ATM and bought my return ticket. When I left Market East Station I walked east to Old City. This part of Philadelphia has become very familiar to me so I did not take many photos. However, I did photograph The National China art deco building, Elfreth's Alley, and Christ's Church. I even found the Bookbinder Restaurant although I've heard that closed. I walked to Penn's Landing where they seemed to be setting up for a concert. I saw the Ferry Link which takes you to the New Jersey side of the Delaware River. My number one goal was to visit the Independence Seaport Museum. Unfortunately I arrived early at 9:30 a.m. and had to wait a half hour for the museum to open.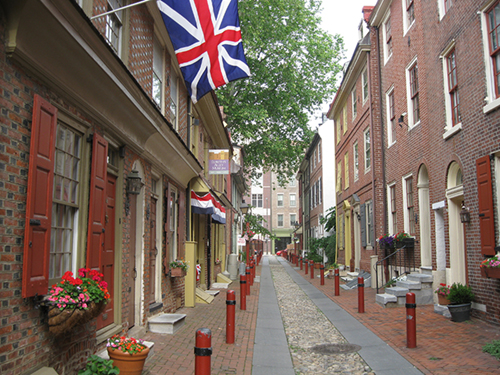 The Independence Seaport Museum is definitely one of the better museums I've visited with interesting exhibits; elaborate ship models, submersibles, small boats, nautical paintings, etc. After seeing the indoor exhibits I walked around the building to the marina where the ships are docked. I climbed down into the World War II submarine the Becuna. This was quite similar to the New York City submarine USS Growler at the Intrepid Sea-Air-Space Museum. The steps down into the submarine were extremely steep. I took photos of the torpedo rooms and the mess hall. Then I went aboard the steel warship Olympia. According to the Wikipedia article, the Independence Seaport Museum is trying to get rid of this ship so I'm glad I got to see it while there was still time. This ship earned its fame during the Spanish-American War, a war you don't hear much about. It was powered by coal and steam engines and launched in 1892 so it is a really old ship. I also took some photos of the Moshulu four-masted tall ship docked behind these ships which now functions as a restaurant.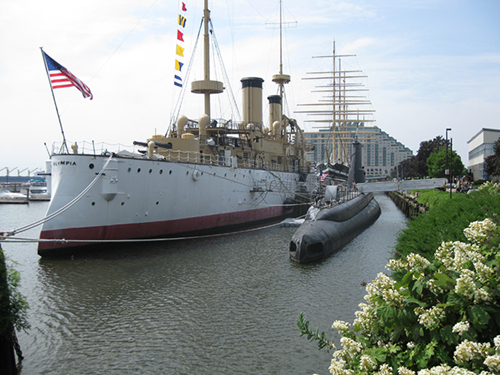 After crawling around in the ships I returned to the museum store where I bought three books; Wanamaker's: Meet Me at the Eagle, The Submarine Book, Revised & Updated: An Illustrated History of the Attack Submarine, and Uss Olympia: Herald of Empire by B. Franklin Cooling.
My only other goals for Sunday were to visit a few more bookstores before going home. So I walked down to South Street and found Brickbat Books where I bought the fantasy novel Gloriana by Michael Moorcock. I wasn't sure what book to buy but this novel seems to be a good read if you are interested in English History. The next bookstore I visited was Garland of Letters Bookstore which sells spiritual books on Buddhism and yoga. There I bought The Best of Philadelphia Stories and Iboga: The Visionary Root of African Shamanism.
At that point, I was weighted down with books so I decided to call it a day. On my way back to Market East Station I did stumble across the Pennsylvania Hospital which is an historic landmark so I took a photo of that through the gate. While passing the Philadelphia Greyhound Terminal I saw a Susquehanna Trailways bus which is a local transportation company so I took a photo of that too. I have made a reservation for their Philadelphia Zoo bus trip but they may not get enough passengers for it. I did make a final visit to Reading Terminal Market where I had a cup of rum raisin ice cream at Bassetts Ice Cream. After that I took the  regional rail back to Manayunk, walked up the hill to my car, and drove home without incident.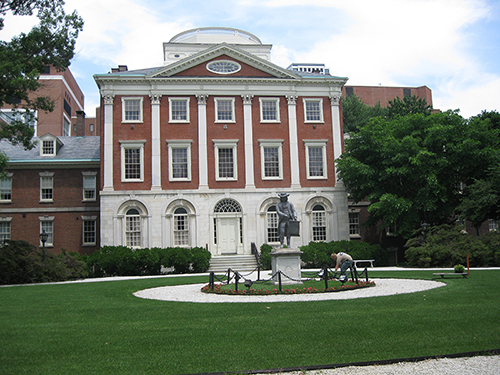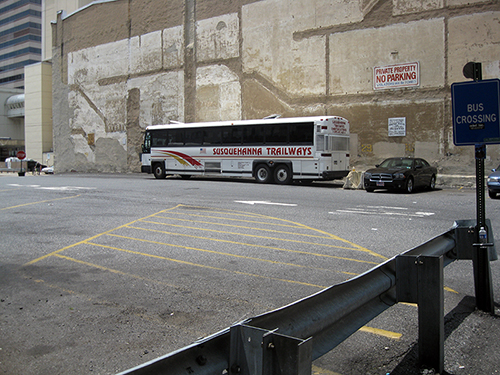 Fortunately, it is looking less likely that I am in any danger of losing my job. I don't think I need to explore Philadelphia's residential neighborhoods now. I did enjoy this trip and improved my understanding of the city. Nothing really bad happened so I have no excuse to avoid Philly. There are still several tourist attractions I have not seen. I may spend another weekend in Philadelphia next month and try to finish visiting all the major tourist attractions. I still have the following on my to do list:
Rodin Museum
Painted Bride Art Center
Masonic Temple
Liberty Bell
Independence Hall
Mütter Museum
National Constitution Center
National Liberty Museum