Over the weekend I visited Manayunk, a neighborhood in the northwest section of Philadelphia. I wanted to visit this neighborhood because I've heard that it is one of the better neighborhoods in Philadelphia. This was my first Philly trip to go beyond the tourist attractions. This was a serious trip to evaluate a residential neighborhood. I think this counts as my seventh trip to Philadelphia, not counting passing through the Philadelphia International Airport or the Amtrak station:
Escape From New York, Blondie concert at Tower Theater 7/9/1990. This was my very first visit to Philly. I took a Greyhound bus.
Philly Fringe Festival 09/04/2002. My first extensive visit to the cultural mecca. Still have some photos on film from this trip.
Philadelphia Museum of Art 2002. Not sure of the exact date. Day trip to just the museum.
YoTube Gathering 07/13/2008. Saw some of my favorite YouTube vloggers at Independence Park.
After Paris 05/23/2009 to 05/24/2009. I spent two days in Philadelphia after my dream vacation in Paris.
05/20/2011 to 05/21/2011. This trip was to take advantage of the free night at Holiday Inn Express Midtown courtesy of the Avenue of the Arts.
06/18/2011 to 06/19/2011 Manayunk.
On the drive down to Philadelphia, I took the wrong exit while attempting a fuel stop at the Allentown Service Plaza. I wound up on Interstate 78 East and almost drove to New Jersey before turning around. This really annoyed me because it cost extra to get back onto the turnpike. Other than that driving mistake, I followed my careful directions and arrived at Manayunk at around 8:30 a.m. I parked near the iconic Manayunk bridge which I thought was free parking over the weekend but it turned out to be paid parking.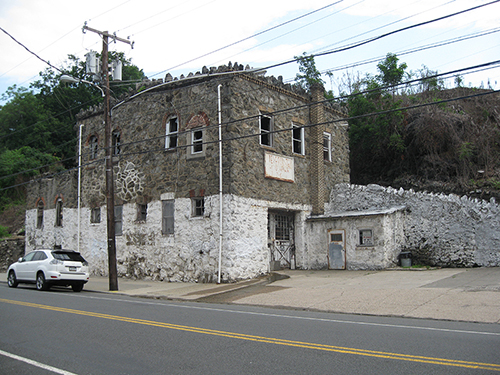 The first thing I did was find the Mugshots Coffehouse on Cotton Street where I ordered a breakfast burrito and mugshot coffee. I used their restroom before proceeding to explore Main Street. I walked all the way to Wissahickon, passing many interesting sights like a garage that was in ruins and the Bridge Five Condominiums on Main Street, overlooking the Schuylkill River in Manayunk. I took lots of photos of the Bridge Five condos because it looked like a good place to live. I was looking for the Trolley Car Café but that was probably too far to walk so eventually I turned around after passing the Manayunk sign.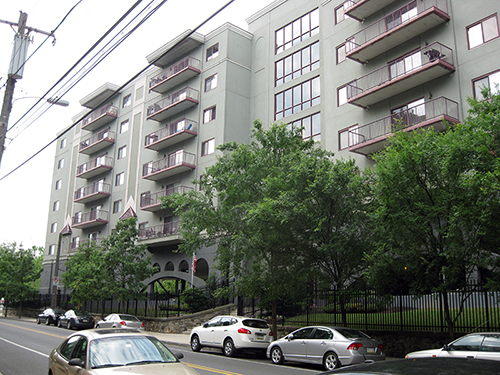 My next order of business was to locate the Manayunk Terrace Bed & Breakfast where I would be staying. Unfortunately my notes did not include an adequate map of the streets so it took me a long time to find the place. This required me to climb many steep hills. I soon got really tired of climbing these hills and it would probably be a major negative factor in choosing this neighborhood in Philadelphia should I ever move to the big city.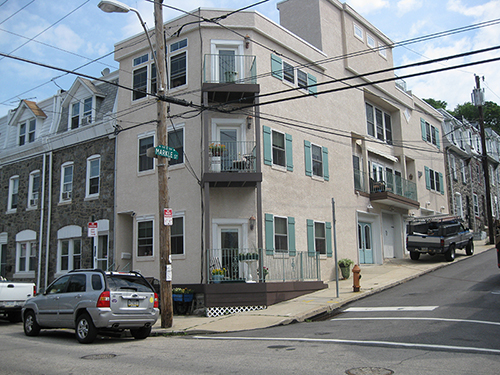 After locating the bed and breakfast I returned to Cotton Street and bought some books at The Spiral Bookcase which is right next to Mugshots Coffeehouse. I bought Manayunk (PA) (Images of America) and Amsterdam: Amsterdam and the Hague (Art in Focus).
I returned to the parking lot to put my purchase in my car. At this time I still did not see a parking lot attendant there. I was pretty thirsty by then so I went to Winnie's Le Bus where I ordered French toast and a Sierra Mist. I drank two glasses of  Sierra Mist to rehydrate. The French toast was huge and was almost more than I could eat. I am pleased that I ate at Winnie's Le Bus because this is a particularly famous Philly restaurant that is closely associated with Manayunk. After lunch I went to Main Street Music where I had trouble picking out a token purchase but eventually I settled for a Depeche Mode CD, Sounds Of The Universe. I've always loved Depeche Mode's music but I have not kept up with their latest releases. When I returned to my car with this purchase I finally encountered the parking lot attendant which led to a long negotiation over the parking fee. I was not ready to leave so it cost me $10.00 to park there until 4:00 p.m. I did not mind the cost but the social interaction was too much for me.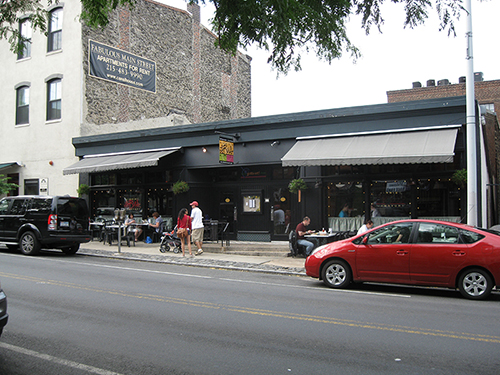 The reason I wanted to stay parked there until 4:00 p.m. was that I wanted to take the regional rail line to Center City and visit the Edgar Allan Poe National Historical Site. This was part of my plans. I wanted to see what the commute downtown would be like if I lived in Manayunk. The Manayunk Station is located along Cresson Street where the train tracks form an elevated EL. I have photos of the entrances in my notes and I quickly determined the correct entrance for the platform if you are heading to Center City. Unfortunately, I tried to use my last remaining SEPTA token for the fare and was told that the regional rail does not accept tokens. Oh well, this is part of the learning process! I had to pay $4.00 in cash for the ride. If you don't have a pass or ticket you should just get on the train and take a seat. When the conductor walks by you hand him or her $4.00 in cash.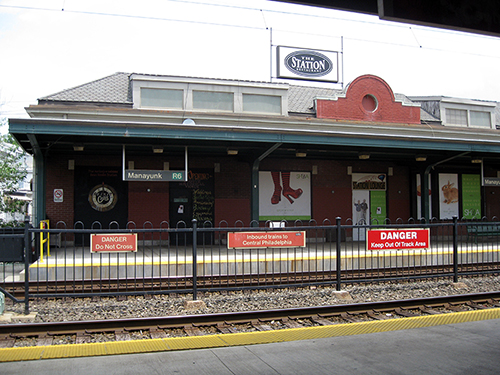 On the ride to Center City we passed an impressive church with a gold dome that I've never read about in my research. This was the Ukrainian Catholic Cathedral of the Immaculate Conception located in the historic Northern Liberties district in Philadelphia. None of my guide books mentioned this distinctive landmark. The train also passed through the Temple University station before arriving at Market East Station. This was the first time I've been in the Market East Station which is located below the Gallery at Market East shopping mall. You can buy regional rail train tickets at the Market East Station.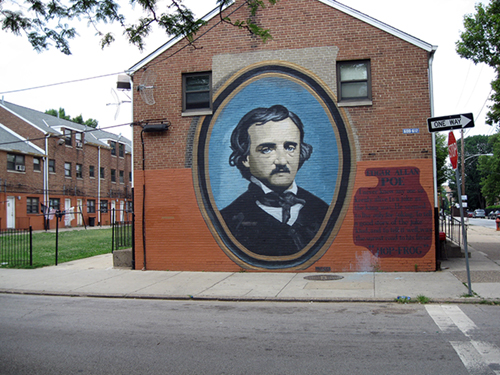 After leaving Market East Station I walked to 7th Street and Market Street to take the #47 bus north to the Edgar Allan Poe National Historical Site. I had a lot of trouble finding the bus stop because I was expecting it to be at one of the many bus shelters on 7th Street. But it was actually just a bus stop sign on the corner. I used my last remaining SEPTA token for the fare.
The Edgar Allan Poe National Historical Site is located on North 7th Street between Spring Garden Street and Green Street. It is far from all the other tourists attractions on the Independence Mall so I'd never made it on any previous trip. The first thing I saw was the Edgar Allan Poe mural which I photographed. In Philadelphia, every place has to have its mural. This cultural peculiarity has even affected my home town as Williamsport now has its own mural to celebrate its history (across the street from the Community Arts Center). The Bullfrog Brewery is also near there so I've taken to calling that neighborhood Little Philly. With a theater, mural, and a bar it is as close to Philly as it gets.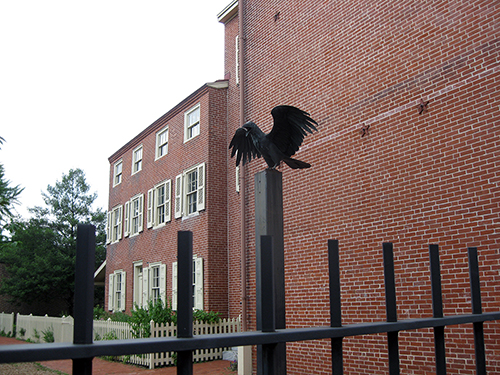 The Edgar Allan Poe National Historical Site is a set of houses in the Georgian architectural style I think, similar to Independence Hall, which is quite common in Philadelphia. The entrance is the door on the right and you must knock before entering. The staff were extremely friendly. Maybe they are not kept very busy and pounce on any visitor. First I saw a short film on Edgar Allan Poe's life. I do own a biography on Edgar Allan Poe but I've only half read it. I abandoned the book so long ago that I would need to start from the beginning now if I were to take it up again. I then looked at a few exhibits which featured those annoying phones you are supposed to pick up for some sort of audio guide. Franklin Court has the same sort of phones which I tried to use but it did not work and made me feel like a fool. I did see a photograph of the French poet Baudelaire, who made some money by translating Edgar Allan Poe's work in French. Baudelaire was truly a kindred spirit! If I were still studying French, I would buy a book of his Poe translations.
Then I walked through the empty rooms of the Edgar Allan Poe house. This probably would be creepy at night in the dark. The rooms were empty and shabby with just some painted scrolls to illustrate the room's function. Nobody was about so I snuck out my camera and snapped a few photos. The stairs to the second floor where quite steep. After walking through all the rooms I returned to the gift shop near the entrance and bought a book, The Science Fiction of Edgar Allan Poe (Penguin English Library). The park ranger invited me to stamp my book with some commemorative Poe stamps which I did.
Before leaving the area, I photographed the statue of the raven, the sign, and the house. I noticed that the German Society of Pennsylvania was nearby so I took a photo of their sign too. I was pleased to have visited a genuine literary site in Philadelphia because I do like to visit bookstores while traveling and score some books as a souvenir. I bought a lot of books on this trip.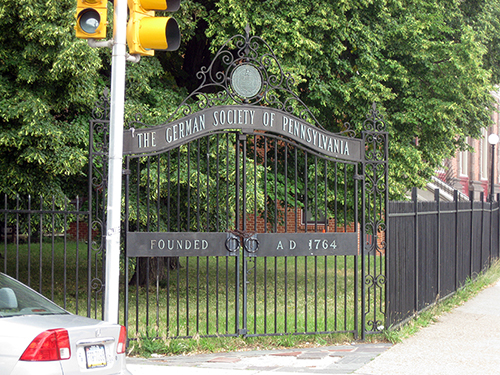 I was planning on taking another bus back downtown but it was only a few blocks so I decided to walk it. This was a good decision because I discovered an unknown statue in Chinatown and walked under the Chinatown Friendship Gate. It seemed weird to see a Chinese neighborhood in Pennsylvania because you rarely encounter any Asians in this state. Actually, I suppose that is not true because we have many Chinese restaurants in Williamsport. But you won't find many ethnic neighborhoods in any other PA city.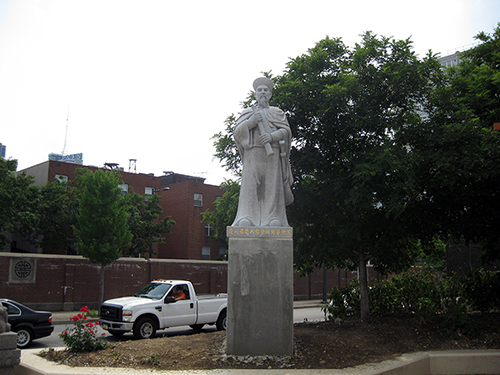 I returned to the Market East Station because I was eager to return to Manayunk and finally check in at the bed and breakfast. I was also supposed to leave the parking lot by 4:00 p.m. But before I left I bought a DVD at FYE in the Gallery at Market East shopping mall. They have a decent collection of foreign films on DVD so I bought The Flower of Evil DVD, a French film with the title of Baudelaire's major work but not based on his work. I also went to the food court and bought a milkshake at Burger King. These details are worth mentioning because you need to be aware of your resources while traveling. It is particularly important to stay hydrated on hot summer days while walking around a city. Traveling is like a treasure hunt in which you learn to use the resources available to you in a foreign environment.
I bought a ticket for the return ride on the Norristown / Manayunk regional rail line and managed to get to the A1 platform just in time to get on board the train. I really did not have enough time to make sure it was the right train so I lucked out. Once back at Manayunk I made my way back to the parking lot and left at exactly 4:00 p.m. so I did not have to pay the parking attendant more money. I then proceeded to drive around really steep one way streets trying to find a parking spot near the Manayunk Terrace Bed & Breakfast. This proved to be quite a nerve wracking hassle and I wound up parking quite far away at Mitchell Street and Markle Street. This meant I had to climb some horribly steep hills to reach my car from my lodging but I was not going to go through the trouble of navigating those streets again! Parking was the worse aspect of the entire trip.
I finally checked in at the Manayunk Terrace Bed & Breakfast which is the only lodging to be had in Manayunk. It was a very nice place with all the amenities. Nobody else was staying there over the weekend so the owner offered me the more spacious back room which I accepted. The bed and breakfast features a shared roomy sitting area with rustic gas fireplace, shared kitchen with microwave and romantic terrace. I immediately had a shower because I was hot and sweaty from walking around Philadelphia and Manayunk. The weather was very nice during my visit. I drank a lot of spring water from a jug I found in the refrigerator. After unpacking a few things I headed back to Main Street and bought some DVDs at Good Vibrationz, an adult gift shop, and then some rum raison ice cream at Chloe's Corner. I then ran out of ideas for things to do so I walked along the Manayunk canal towpath.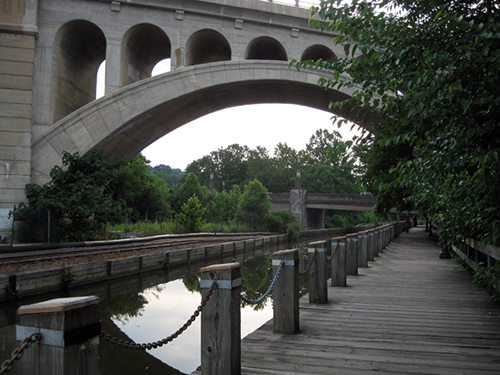 The towpath proved to be the most charming aspect of my trip. It has been converted into a long hiking and biking path along the Schuylkill River. Along the way I saw many ruined structures, bridges, and most interesting of all, new condo projects along the canal. This is further evidence that Manayunk has become a desirable community with many residential development projects. The canal almost made it seem like the Venice of Philadelphia. Many joggers and bicyclists passed me on the towpath. I can see why the locals would want to stay fit if they have to climb those steep hills. I also saw some ducks and geese and eventually found an active industrial plant along the canal. But it was a very scenic path and made it easy to forget you were in Philadelphia.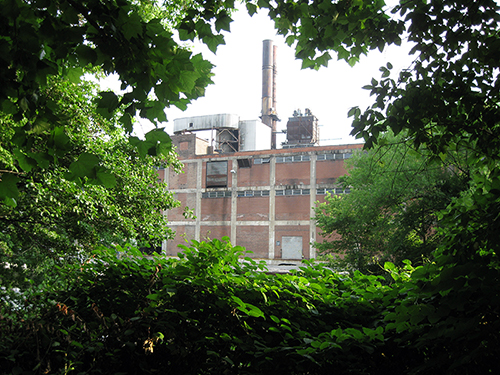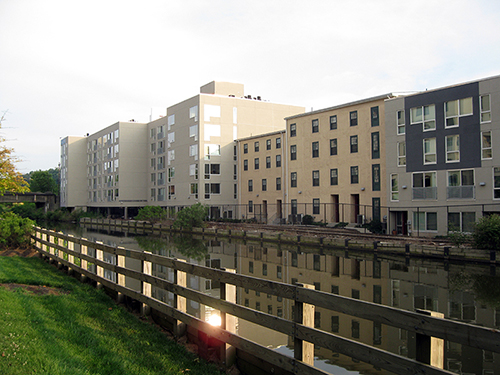 When I got back to Manayunk's Main Street I had dinner at a Turkish restaurant, Meze Café. Some of the customers seated on the sidewalk were smoking hookahs which was pretty exotic. I noticed that they had döner kebab which is something I neglected to try while I was in Berlin. It took a long time for my döner kebab order to be filled but I drank a full bottle of Pepsi and enjoyed the Turkish atmosphere. At this point Manayunk was looking like a good place to live since we don't have exotic restaurants in my neighborhood. The döner kebab was excellent and resembled a gyro. I was unable to finish it but the waitress put it in a clear plastic box for me to take home. When I got back to my room at the bed and breakfast I spent the rest of the evening planning my next day in Philly and watching TV. The bed and breakfast cable service had hundreds of channels including such curious things as local traffic cams, Spanish stations, and African American channels playing local content like the Bill Cosby show.