Today I continued my project to explore the state. I would travel to other states if they were close enough to drive to, but I'm stuck in the middle of Pennsylvania which is a big state. It would take me at least five hours to reach another state although lower New York State is nearby. Anyway, today I went to the tiny lake resort Eagles Mere and then the Worlds End State Park.
But before I drove all the way out there, I went to the Williamsport's Growers Market (aka Farmer's Market). I only went to the Farmer's Market to gawk at the Amish. There were a few Amish farmers selling produce. I suspect they live in Elimsport, an Amish community hidden over the mountain. I only bought a loaf of sourdough bread with raisins. I need to buy a shopping bag from the Weis grocery store to use at the Farmer's Market.
I managed to drive to Eagles Mere without taking any wrong turns. My driving is definitely improving. I am also improving my knowledge of local geography. Driving to Eagles Mere meant going through Hughesville and Picture Rocks which are small towns in Lycoming County. Eagles Mere itself is a tiny village with a population of 153. It used to be a big lake resort town with many grand hotels but it seems to have downsized to just a few cottages, bed and breakfasts, and inns. They do have a fancy strip mall of shops which is what I visited.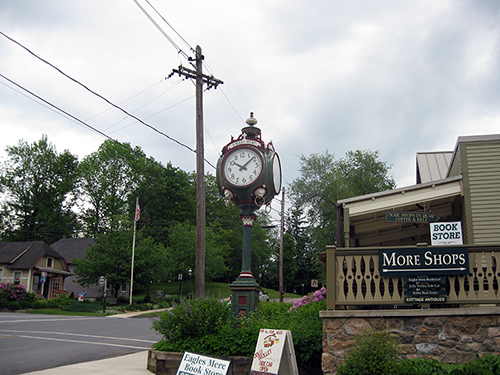 First I went to the Eagles Mere Bookstore, naturally. This used bookstore was fairly large and had an impressive selection of books. I bought a large picture book of London Then And Now by Diane Burstein.
Then I went to the Eagles Mere Museum. The museum was rather impressive for such a small village. It was also free of charge. The museum chronicled the many grand hotels which used to exist back when this lake resort was popular with the wealthy from Philadelphia and New York City. They used to get here on narrow gauge railroads which even had a station at Williamsport. Those railroads are long gone. I wish we still had those modes of transportation because I don't like having to drive everywhere.
After that I had breakfast at the Sweet Shop across the road. The Sweet Shop is an old fashioned Ice Cream parlor with 1950s décor. I ordered a western omelet but I regret not ordering the French toast after I saw the gigantic pieces of French toast that were served to another customer. So that was all I did at Eagles Mere. A village of 153 people doesn't exactly offer much for the tourist. However, you could rent a cottage or stay at the inn to enjoy the lake. Eagles Mere does merit a chapter in the book Weekend Getaways In Pennsylvania by Bill Simpson.
To make this trip worthwhile I also visited the Worlds End State Park. Although I've frequently been to Ricketts Glen State Park which is further away, I've never been to this state park. Ricketts Glen State Park is more popular because it has many large waterfalls. Worlds End State Park has views of the Endless Mountains region, hiking trails, and "rock gardens". There is also a swimming area and snack bar near the park office and visitor center which is where I parked. I climbed the steep Loyalsock Trail which damn near killed me. Then I walked along the Pioneer Road trail which was fortunately more level. I wanted to hike to the Loyalsock Canyon and Rock Garden but the Pioneer Road trail just took me to Route 154. On the way back I noticed that it was starting to drizzle a little so I didn't want to do any more hiking for the day.
All this was only an hour away from where I live. You just head east to the Lycoming Mall and then head north. I did stop at the Lycoming Mall for some shopping on my way back. Next week I have to attend the company picnic at Knoebels Amusement Park. I've avoided this picnic in the past because Knoebels Grove is far away. But since I'm driving around the state anyway, this makes for a good exercise. Besides, I did go to Knoebels Grove last year with my relatives and it was not entirely a kiddie park like I thought.