I spent today in Strasburg PA as part of my effort to become more familiar with the state and its highways. This was my second trip to Lancaster County. I have read about the Lancaster County tourist attractions in my guide books on Philadelphia. I was particularly eager to visit Strasburg because it has a scenic railroad which goes through Amish farmland. Pennsylvania is known for its railroads and Amish communities so the Strasburg Rail Road combines two of the most iconic aspects of the state.
On the drive down to Lancaster County, I pulled over to take a photo of the East Route 22, Route 322 road sign. You can see this road sign on Google Street View but the image is very poor. This is an important exit to make if you want to head east from Harrisburg towards Lancaster. Since one of my goals is to improve my driving within the state, I made sure to observe landmarks and road signs. This photo will go into my notes on driving directions to Lancaster.
Fortunately, I did not get lost driving to Strasburg although I did take the wrong branch around the Strasburg Antique Market and wound up driving all the way to Coatesville. That was all right because I was early and got to see many Amish buggies along the road. But for future reference, I will note that you should take the road on the left of the Strasburg Antique Market and remain on 741. You don't want to be on 896 South.
The first tourist attraction I visited was the Strasburg Rail Road which was the primary goal of my trip. I bought my ticket online so I had a computer printout with a barcode. The ticket office did not open until 10:00 a.m. and the first train did not leave until 11:00 a.m. Most of the other buildings were also closed until 10: 30 a.m. so I just wandered around taking photos. The Railroad Museum of Pennsylvania is just across the Gap Road (aka 741) so I was able to take photos of its entrance and some of the locomotives in its rail yard. Once the gift shop had opened I bought some model train cars as souvenirs. I bought a Pennsylvania Pullman Sleeper HO model for $50.00. It was expensive but this is one of the most iconic pieces in model trains and these Pullman cars can be found all over Pennsylvania. I also bought the Strasburg Railroad Marian coach HO model which happens to be the very same coach that I rode in that day!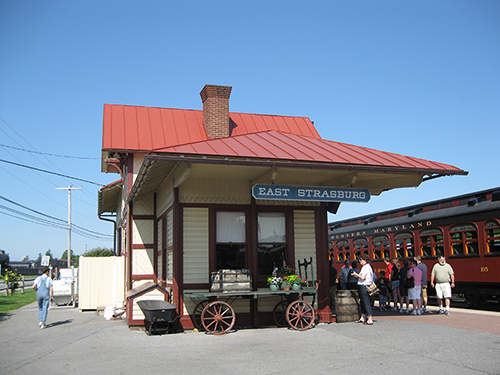 I bought a first class ticket so I road in the very last coach which is the fancy, Victorian First-Class Parlor car, the Marian. It had a bar, green lampshade type windows, ceiling fans, and padded seats. They also served refreshments on this car so I ordered a peanut butter whoopee pie and a Sprite. Not exactly fine dining but you could order wine. The train ride only took 45 minutes and takes you to the small town of Paradise in Lancaster County. Along the way we passed Amish farms and fields. It was a bright sunny day and the view outside the train reminded me of summers I've spent hiking up in the woods in my part of Pennsylvania. Once the train reaches Paradise, the steam locomotive detaches from the front of the train and drives along the other track to reattach to the back of the train for the return trip. That means I got to watch the steam engine back up to our railroad car. It gave us a bit of a jolt when it coupled up.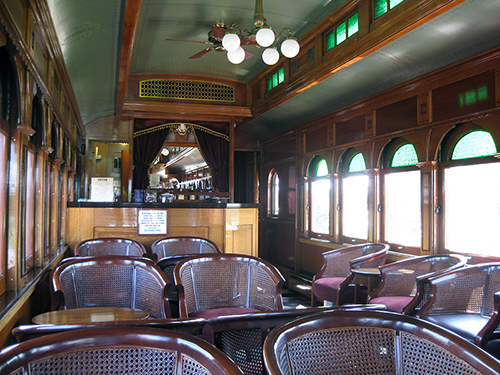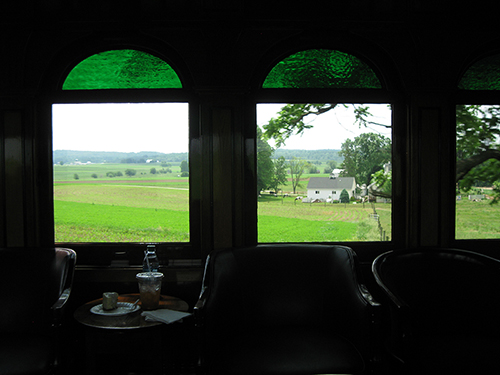 When we got back to Strasburg I walked across the road to the Railroad Museum of Pennsylvania. I bought a combined ticket for these two attractions so I just showed them my railroad ticket to get in. First I saw an elaborate model train setup. Then I walked into the enormous train shed where they keep their impressive collection of real locomotives. This is one of the finest railroad museums in the world and well worth a visit. You are allowed to take photos so I snapped as many as I could. I saw massive steam engine locomotives, electric locomotives, Pullman cars, a Conrail locomotive, and various other examples of "rolling stock". You could even climb down into a pit to see underneath a steam locomotive although there isn't much to see under there. It was an awe inspiring display of railroad history and quite an experience to be so close to such massive machines. After exploring the train shed I went outside to the train yard were more modern passenger cars and an old Amtrak engine are being allowed to rust away. These railroad cars are exposed to the elements and seem to be in much shabbier shape than the locomotives in the train shed. Upstairs I saw a small museum and art gallery although it did have a model train set up which was quite impressive, especially the city scene. Before I left I stopped in at the museum store and bought a nice book Railroad Rolling Stock by Steve Barry which has lots of photos of the tank cars and boxcars that are pulled by freight trains. I should mention that I actually work near a freight train yard owned by the Lycoming Valley Railroad. Sometimes a freight train goes by and makes me a little late for work. They offer occasional train excursions. I'll have to try to take the "Fall Foliage Excursion" this year.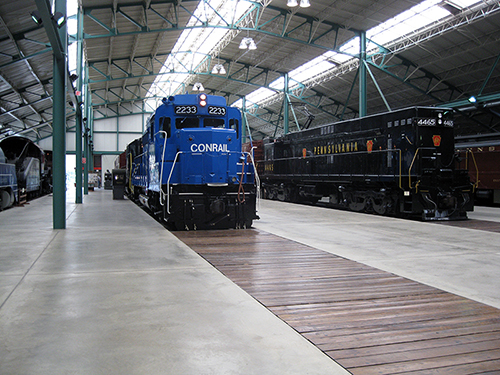 After the Railroad Museum of Pennsylvania, I went to the National Toy Train Museum which is nearby. This small museum features exhibits of antique toy trains and elaborate train layouts. I should note that Williamsport's own Thomas T. Taber Museum has the Shempp Model Train exhibit, featuring over 300 toy trains. That collection seems comparable to the National Toy Train Museum collection and may even be a little more extensive. But the National Toy Train Museum has more train layouts with working train sets. I was excited by one particular model train set gas station which I remembered from my father's Christmas train layout. He used to set up a modest but elaborate train layout under our Christmas tree. The museum store seemed to be geared towards little kids so I did not buy anything here.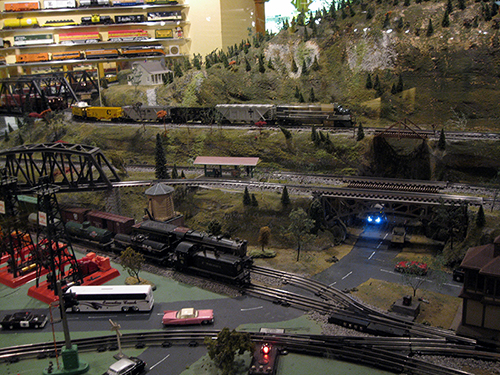 My next stop was at the Choo Choo Barn. The Choo Choo Barn is actually a strip mall of related businesses (aka The Shops at Traintown) so first I had lunch at its restaurant, Isaac's Restaurant and Deli. I ordered the Bird of Paradise, a combination of mushrooms, green olives, fresh lettuce and tomatoes, melted Swiss and Muenster cheeses on rye with mayo and a coke. I thought it was a delicious sandwich and even the chips were tasty. After lunch I visited the Choo Choo Barn, an elaborate train layout. This must have been the third train set layout I saw that day but it was the largest and had many cute details like a fire engine that goes through the entire process of putting out a simulated fire. When I went in the layout was in the dark to simulate night time and the lights were on in the model houses but dawn quickly came as the house lights went up. I had plenty of time to observe the details because the line around the train layout moved pretty slow. Before I left the Shops at Traintown, I bought a Center City Trolley by Rail King for $60.00. I was undecided about this expensive purchase but I think this is a Philadelphia trolley model and I was inspired by all the model trains I'd seen.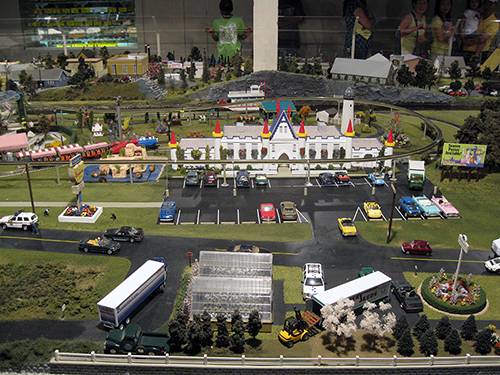 The last tourist attraction I saw in Strasburg was The Amish Village. This was the only tourist attraction on my list that was not related to rail roads. There was a large group of Indians (tourists from India) and some Asians in my tour group which I found interesting. I wasn't expecting such an international mix of tourists. The tour guide lead us through several rooms of a typical Amish house. Then we were allowed to roam outside where they had an "Amish Village". There was an animal shed with some real animals including a horse, a hyperactive young bull, and some ponies. There was also an Amish schoolhouse, a buggy in the yard, a blacksmith, and a store. I bought an Amish doll, buggy model, and a book on the Amish school shooting at the store which had actual Amish girls as store clerks. There is something almost sardonic (ironic?) about a native of Pennsylvania visiting such a cheesy tourist attraction on the Amish. But we "English" don't come into contact with the Amish very often. The whole point of their lifestyle is to live apart from the rest of society. Anyway, I rarely see the plain folk because Williamsport is in the mountainous northern part of the state where you cannot farm. However, I have seen them doing construction work right in my neighborhood.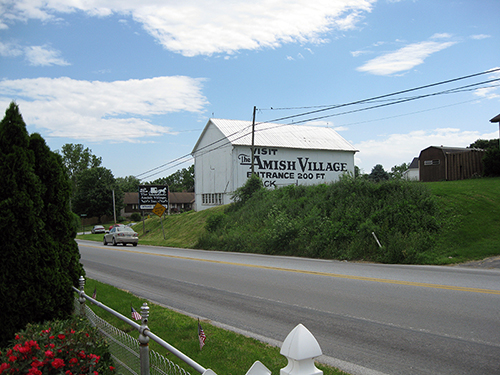 That concluded my visit to Strasburg. It was a great weekend getaway which makes me feel more privileged to live in this state. I managed to make my way home without looking at my driving directions even though it required finding many exits. There is one more thing I managed to accomplish on this trip. I finally stopped at the scenic overlook on Bald Eagle Mountain to take some photos. This overlook provides some stunning views east of Williamsport but I've always passed it by. It is slightly dangerous to stop there because it is on the curve at the top of a steep mountain road.